Pictures and Poetry
In these workshops, we use artworks as the inspiration for writing ekphrastic poetry (poetry inspired by pictures). They are run in partnership with Hereford Mind, Heffernan House, Hereford, to help people maintain their mental health and equilibrium, which is of course all of us! Now in the lockdown we are delivering these sessions via zoom. If you would like to attend the next online session, or add you poems to the ones inspired from this session, please message manager@poetry-festival.co.uk. We are very grateful to practitioner Sara Jane Arbury for changing to online delivery and sharing her transcripts for sessions. Scroll down for transcript of April's session on the paintings of Edward Hopper. 
Session 27 May.
EXERCISE ONE: This is a warm-up writing exercise called Words In Names
Write your full name on a piece of paper (or use someone else's name).
Now spend 5 minutes listing as many words as you can find that appear in your name. Try to find at least ten words and try to find words with lots of letters, for example, I have the word JANUARY in my name SARA-JANE ARBURY!
Next write a short piece/poem/story using as many of the words in your list as possible. You may repeat any found words.
This is also an unusual way to create unique messages for friends and family members by using their names as the starting point!
EXERCISE TWO: The theme of this exercise is JOURNEYS
This part is about looking closely at artworks and considering two example poems on this theme.
"People have always moved around the world. Early humans were nomadic, travelling in search of food, shelter, and safety. Today, people move for many different reasons, including economic, political, cultural, religious, and environmental. Sometimes, events beyond people's control, like war or natural disaster, leave them displaced and forced to migrate. Other times, people migrate voluntarily, perhaps in search of better work opportunities or a different lifestyle. For many artists, their own migrations and those of their ancestors shape their identities and the art they produce. As people move, they bring their traditions, knowledge, and beliefs with them. Often, as much as they absorb the culture of their new home, they influence it with their own traditions."
(Preface to Migration & Movement exhibition, MoMA, Manhatten)
Take a close look at the following artworks. Consider how they work as art, how and why were they created, how the artworks make you feel etc…
Paintings top row left to right:
René Magritte: Le Domaine d'Arnheim
https://www.christies.com/features/When-artists-dream-of-far-flung-lands-10390-3.aspx (follow the link and scroll down to the picture)
The Belgian Surrealist, René Magritte, named this painting after the short story The Domain of Arnheim by Edgar Allan Poe. In German, the word 'Arnheim' means 'home of the eagle', which is reflected in Magritte's imperious bird-mountain (look closely!)
Magritte had never been to the Alps, but in 1926 he came across a photograph of the mountain range in a travel brochure and used it as inspiration for his bird-mountain. He was so pleased with the results that he painted the Alpine vista another nine times. It became one of his most enduring symbols.
Carry Akroyd: Winter Thrushes Head Home
https://www.carryakroyd.co.uk/prints/ (follow this link and click on the title of the picture to call it up)
Third painting no commentary
Paintings bottom row left to right:
Ford Madox Brown: The Last of England
https://medium.com/thinksheet/how-to-read-paintings-the-last-of-england-by-ford-madox-brown-73eb9e41840f
This painting is in the Birmingham Museum and Art Gallery. Brown began it in 1852 when emigration from England was at a peak, with over 350,000 people leaving that year. The painting depicts a man and his wife seeing England for the last time. The white cliffs of Dover are disappearing behind them in the top right of the picture.
In the foreground a row of cabbages hang from the ship's rail, provisions for the long voyage. In the background are other passengers, including a pair of drunken men and a family. The father is barely visible except for the pipe he holds; his daughter has her arm around a curly-haired boy. There is a fair-haired child eating an apple behind the man's shoulder.
In order to mirror the harsh conditions in the painting Brown worked mostly outside in his garden, and was happy when the weather was poor – he recorded his feelings of delight when the cold turned his hand blue, as this was how he wanted it to appear in the painting. He was seen as strange by his neighbours who saw him out in all kinds of weather.  His diary noted that the "ribbons of the bonnet took me 4 weeks to paint".
Jacob Lawrence: The Migration Series, Panel No. 3 (1940-41)
https://www.phillipscollection.org/collection/browse-the-collection?id=1153&page=3
Follow this link to find out more about the life and work of Jacob Lawrence
https://lawrencemigration.phillipscollection.org/
The Migration Series is a group of sixty paintings by African-American painter Jacob Lawrence which depicts the migration of 1.6 million African Americans to the northern United States from the South that began in the 1910s. Lawrence conceived of the series as a single work rather than individual paintings and worked on all of the paintings at the same time, in order to give them a unified feel and to keep the colours uniform between panels. Viewed in its entirety, the series creates a narrative that tells the story of the Great Migration. Lawrence created the sixty paintings in the series in 1940–41 when he was twenty-three years old.
The panels depict the dire state of black life in the South, with poor wages, economic hardship and a justice system rigged against them. The North offered better wages and slightly more rights, although was not without its problems.
Now look at these two poems about journeys: Sea Fever by John Masefield
https://www.poetryfoundation.org/poems/54932/sea-fever-56d235e0d871e
and Out Of Africa by Grace Nichols
https://prezi.com/pudzhk1_zo3-/out-of-africa-by-grace-nichols/ (scroll down for the poem)
Think about the form, patterns and repetitions in the poems, the 'word music', what each poem is saying to the reader, how you feel when you read them, etc.
Jerri Finch: Abundant Splendor
http://jerrifinch.com/painting-journeys.htm (follow the link and click on the image of the man in the air on the far right of the screen as you look at it)
EXERCISE THREE: Write a poem inspired by an artwork on the theme of Journeys.
This part is about writing your poem.
Choose an image to work with. Make notes about it. What does it make you think about? What do you notice about it? How does it make you feel? What do you think about when you look at it?
Next, write a detailed description of the work of art. Include words that indicate size, shape, colour, light/shade, objects, figures, positions etc. You may notice details in the painting that you hadn't before.
Finally, write a poem in response to your work of art. If you need inspiration, look back at the notes you have made. Remember, there are many different ways to go about this.
Some suggested approaches:
•          Write about the scene or subject being depicted in the artwork.
•          Relate the work of art to something else it makes you think of or a memory.
•          Write about the experience of looking at the art.
•          Speculate about how or why the artist created this work.
•          Imagine a story behind what you see presented in the work of art.
•          Imagine what was happening while the artist was creating this work.
•          Speak to or directly address the artist or the subject(s) of the painting, using your own voice.
•          Write in the voice of the artist.
•          Write in the voice of a person or object depicted in the artwork.
Your poem could be written in the style of one of the example poems.
And, of course, you are perfectly free to do your own thing!
©Sara-Jane Arbury
Are you pleased with your poems? If you want to share one of your poems from this workshop, email to manager@poetry-festival.co.uk and it will be posted on this page.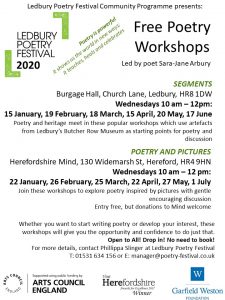 How about entering your poems in the Ledbury Poetry Competition?
Have you uploaded your Poetry of the Woods on our online submission?
Further on-line sessions will take place 17 June and 1 July – see the poster for details
The Festival is grateful to Arts Council England the Garfield Weston Foundation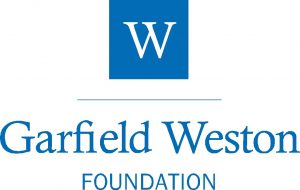 ---
Poetry and writing inspired by this session
The Last of England by Christine Hopcutt
I chose to write about this painting as I was fascinated by the facial expressions of the couple in the front of the picture, a mixture of apprehension and expectation.
Today we are leaving England
Sailing far away to start life anew
To a land filled with promise, sunshine and freedom
A new beginning for us, our baby, for our family
Today we are leaving England
Can't tear our eyes away from the horizon
Reaching out for one last glimpse of the cliffs
Before the view of land is lost forever
Today we are leaving England
We shall never return to these shores
No more greyness, drizzle, constraints
New experience awaits us in our chosen land
Today we are leaving England
Leaving our old privileged life behind
Looking forward to new fresh excitement
New country, new people, new living, new hope.
We're going for Gold! by PS
This is inspired by the painting The Last of England, as it was painted in 1855 in the height of the gold rush in Australia
We're going for gold!
Wrap up our souls with
the baby with the books.
Bundled and tossed, heaved
on a broiling sea,
Backs turned from home,
cabbages leading us forwards.
We're going for gold, our lives born anew.
Fallen Ones by David Winbow
The picture chosen was Abundant Splendor, by Jerri Finch, it reminded me so much of a statue in Funchal of a man suspended by chains, called the Fallen Angel, dedicated to the workers on the vertiginous levadas, which have supplied water to the crops for hundreds of years, the high-rise builders, and the bridge builders in the step gorges, who have died. Very poignant, few societies choose to remember such people.
Remember the Chained man, in the hot Madeira sun,
Reminder of levada builders, bridge makers-
forgotten fallen ones,
the unremembered.
Remember the crawling woman in Kampala,
holding out her baby in the hot sun.
Black flies, beseeching eyes,
the unforgotten.
Remember the airman climbing thin air
thinking he could touch the face of God-
knowing life was short, and fierce and hot.
The unsurpassed.
Remember the evasions, the time lost,
the polishing of haloes as the world dies
the balancing of wealth against the life of others,
the unforgiven.
Warm up exercise words in names; Divi by David Winbow
Divi, what's that? Not a question to ask in the Co-op, obviously, or Ena in the hairnet will tell you , at length, and life is possibly too short for that, and too precious.
A Divi, if Lovejoy were to be believed- and that would be a leap of faith- is one who by some magical impulse can sense the presence of a valuable antique
A Divi? Well there's divination, not necessarily of the divine, as you will find if you take to water divining, although the feeling of something outside of you moving the rods you are holding is perhaps a bit spooky. Although I can do it, I still don't fully believe it works. Being manipulated by some force outside of yourself, over which you have no control is a bit odd, maybe I should ask Dominic C about it.
---
Session 22 April.
EXERCISE ONE: A warm-up writing exercise called In Our Mind's Eye.

It takes the concept of Slow Looking as its inspiration. Here is an article about Slow Looking from The Guardian:
https://www.theguardian.com/artanddesign/shortcuts/2018/jul/24/why-taking-it-slow-in-an-art-gallery-could-change-your-life
Choose a picture that you have displayed on a wall at home. Slow Look at it like this: Study the picture for 5 minutes. Really look at it. Absorb yourself in the picture. Then write a piece about it for 5 minutes without looking at it. What do you remember about it? What impressions do you take from it? Is there something there you haven't noticed before? What is its essence? Finish your piece by telling us why you have the picture displayed on your wall.
EXERCISE TWO: The theme for this writing exercise is THE ART OF EDWARD HOPPER
Before you begin, take a look at this picture of Claude Monet's Water Lilies. https://commons.wikimedia.org/wiki/File:Claude_Monet_-_Nymph%C3%A9as_(1905).jpg
This link will take you to an article called Backing into Ekphrasis: Reading and Writing Poetry about Visual Art by Honor Moorman. The article contains two poems inspired by Monet's painting. One poem speaks to the artist in a spectator's voice and the other adopts the voice of the water lilies themselves.
http://www.tnellen.com/cybereng/ekphrasis.pdf
Now look at these paintings by Edward Hopper (1882-1967, American painter and printmaker):
Room In New York
https://en.wikipedia.org/wiki/Room_in_New_York#/media/File:Room-in-new-york-edward-hopper-1932.jpg
Cape Cod Morning https://americanart.si.edu/artwork/cape-cod-morning-10760
Cape Cod Evening https://www.edwardhopper.net/cape-cod-evening.jsp
Room In Brooklyn (scroll down for picture)
http://www.thelonelypalette.com/episodes/2016/12/28/episode-13-edward-hoppers-room-in-brooklyn-1932
Night Windows https://www.edwardhopper.net/night-windows.jsp
Hotel By A Railroad https://commons.wikimedia.org/wiki/File:Hotel-by-a-Railroad-Edward-Hopper-1952.jpg
Choose one of these images to work with and make notes about it. Why did you choose this picture? How does it make you feel? What does it it make you think about? Memories?
Make notes describing the picture – colour, light/shade, objects, figures, positions, shapes, etc.
Finally, write a poem in response to your picture. Look back at your notes for inspiration. Here are some suggested approaches:
Write a poem in the style of one of the example 'Monet' poems (addressing the artist directly as a spectator or in the voice of someone or something depicted in the picture).
Imagine a story behind what you see presented in the picture. What else is going on in the scene?
Write about the experience of looking at the picture. Relate the picture to something else it makes you think of, for example, a memory or your current situation.
With thanks to Backing into Ekphrasis: Reading and Writing Poetry about Visual Art by Honor Moorman
You might enjoy this article about why Edward Hopper is a telling artist for the coronavirus age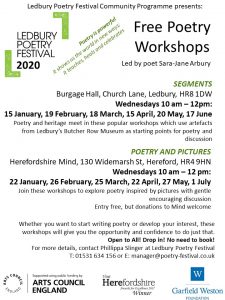 © Sara-Jane Arbury
Are you pleased with your poems? If you want to share one of your poems from this workshop, email to manager@poetry-festival.co.uk and it will be posted on this page.
How about entering your poems in the Ledbury Poetry Competition?
Have you uploaded your Poetry of the Woods on our online submission?
Further on-line sessions will take place – see the poster for details
The Festival is grateful to Arts Council England the Garfield Weston Foundation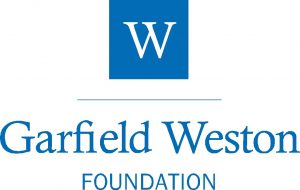 ---
Poetry inspired by this session
Questions by Christine Hopcutt
The woman in the window, what does she see?
Is it a man who has left her, her lover maybe?
Run through the bright  grass or sombre dark trees Was it a row, an argument, a tiff, maybe more?
She looks anxious, leaning towards the glass Is she watching a child playing in the sun?
Worried he's strayed too far in the long yellow grass Is he defiant, neither  looking nor taking any heed
Perhaps she's watching, waiting for her husband to come back Is she excited maybe not seen him for a while ?
Expectant, elated maybe he was a soldier in Iraq?
Watching waiting for him to appear through the trees
Or maybe she's not waiting for anyone at all Is simply happy to be there looking through the glass
Glad to be alive and living in the thrall
Of a beautiful day in the sun with a view
---
Room In Brooklyn by Malcolm Whitehead
Don't you get lonely?
Living by yourself
in a one-bedroomed apartment
on the eighteenth floor?
Look closely, I say,
look at the horizon beyond the rooftops,
see the white vase against
the browns of high rise buildings,
see how beautifully I have
arranged these flowers –
pinks and greens against
a pale blue sky.
Does that look lonely to you?
Do you ever wave to your neighbours?
Never.
Do you mingle? Socialise? Party?
Hardly ever.
But, surely, that rocking chair
is meant for the elderly –
and those views meant to be enjoyed.
This chair fits me perfectly.
This chair is entirely mine.
Gives me access to these views
whenever I choose.
I could not live as you do.
Your view of my life
is a view I choose to ignore.
Others will paint their own
pictures of my life,
but I paint my own pictures.
You are not required to view my gallery.
With or without your approval,
my pictures hang proudly on these walls.
---
Tableau by Gill Garrett (written to A Room in Brooklyn)

Beneath a vase of tall white blooms
she's arranged the light blue cloth with care,
half lowered the blinds,
positioned her chair at the open window
to catch the last rays of a dying sun;
Is this a tableau replicated
in countless other homes
across the silenced streets,
in shadowy redbrick buildings
whose inhabitants watch, like her,
as days and weeks slip slowly by,
their lives on hold,
a glimpse at a distant casement
their only brush with humanity?
---
Husband dear husband, I am furniture no longer by PS (written to A Room in New York)
I'm wearing my best dress
It's orange – your favourite colour
Just like your chair, and the lampshade
Am I furniture – like them?
I tinkle the piano, you don't hear
Engrossed in your paper, tie tight
You are buttoned up, waistcoated
Drawn into yourself
I look down, not seeing
the door behind me like a ladder up to the sky
Reaching outwards
An ascent to escape
If I but turn my gaze right
I would spy an open window.
Like a wisp on the night air
I would assume my freedom.
Furniture no longer
---
Hopper Haikus by Gill B
Poised to spring forward
Your feet in the starters blocks
Awaiting a sign.
Pent up energy
Sizzles in your orange frock.
You are trapped in time.
You're ready to leap.
You're peering to the distance.
You long for escape.
The shutters frame you
Captured in that one instance:
Arms, chest, shoulders, face.
What do you yearn for?
What burdens do you carry?
What fear do you know?
The woods are lovely.
The yellow field is airy.
To which will you go?
What silence is here
What patience do you wait in
Your gaze on afar.
What are you thinking?
Are you loving or hating?
Tell me who you are.
---
An English morning 2020 by Christine Shaw  (written to Cape Cod Morning 1950)

When you wake up in the morning
You believe that everything's okay
Then just as your brain starts clearing
You realise that you're not hearing …
anything
That eerie silence isn't normal
The day's plan is nothing formal
You get up and open the shutters
Birds swoop down to the lawn from the gutters
Dawn's early light hits the clapperboard wall
Reflecting it's whiteness, echoing its pall
The birds are singing like we've never heard them do
At times, they are singing, just for me and not for you
The clouds, the bay window, all a shade of Covid blue
My mood, ambiguous, less hopeful, easy to misconstrue.
I'm looking for an answer, I cannot meet your gaze
My emotions once expectant, now forlorn, I'm in a haze.
We are bound to be apart for many weeks, how will we cope?
We hear the briefings, and the podcasts, we must not give up hope.
I know that you are the best of the very best
You work all hours that God sends, you have very little rest.
The skies are clear, the stars are bright
We must all walk towards the light
This has been going on for weeks now, do not give up the fight.
Oh to be in England, now that April's here
I take comfort in good poetry (you won't find any here!)
The month has been exceptional, so many hours of sun
At least from my perspective the mental battle's won
But tomorrow is another day, and still we're overrun.
Let's pull ourselves together, and get on with another day
We will phone and write and text and our normal lives delay.
I won't look out of the window, so longingly again
But for your safety darling, I will pray and pray and pray.
©Christine Shaw, April 28th 2020
---
The Rainbow Bridge, Polperro – artist Carol Gowing – watercolour and ink by Maggie Sanderson (Warm up exercise)

Golds, aquamarines, peaches, greens, blues, black and grey
Wonky windows, sweeping shapes within shapes
Colours overlapping each other, taking my gaze from the water
Over the bridge, touching the rooftops, up to the hillside beyond.
Each stone, each slate captures the feel of this tiny, Cornish village.
I can smell he sea, hear the gulls, remember the peacefulness…….
On the corner is a favourite restaurant, The House on the Props, a pointer lives there.
Now I can taste the crab sandwich
Followed by warm scone crumbs falling onto the tablecloth
I tried to paint in this style later that week – colour on colour – shape upon shape
This painting spoke to me on the exhibition wall that summer's day.Maggie Sanderson
---
Anticipation by Maggie Sanderson
(inspired by 'Cape Cod Morning 1950' by Edward Hopper)

Edward,
You've taken me back twenty-nine years
To a single mum in her Victorian home.
Standing, waiting, anticipating
The clock on the wall was ticking
The children watching TV
And I was waiting for a car to appear
Now a distant memory
You've made me remember the solitary years
New job, new responsibilities
Learning, coping, sometimes moping ……
You've made me grateful for how far we've come
Happy families – no longer alone
Creating, sharing and always caring
Twenty nine years – long gone.
---
Lady In The Window by David Winbow
(inspired by Cape Cod Morning 1950 by Edward Hopper)

Where is it headed, this glowing boat of a room,
skirting the darkened shore?
No lookout ever more vigilant than this,
no figurehead more ready to part the seas.
It's not here yet, what is desired;
that is to come.
Perhaps the telegraph of the phone
will signal for some change of speed,
some new direction,
or halt things, midstream.
But, for this moment –
the momentous one,
tranquillity.
David Winbow
Imagine Billy Collins here
In this slow New England afternoon –
he could delight it with his chosen words,
captivate
finding depths not seen, but sensed,
my soul purring, a warm cat.
---
Poem inspired by Cape Cod Morning 1950 by Edward Hopper, by Maggie Matthews
So Mr Hopper
you think you know me
You think I am waiting
Waiting and expecting
Is it so clear?
I am alone yet well dressed,
An effort made with my hair
The light is on in welcome
But I do not know why
I search the distance
And why the dark wood
dominates my view, and my mind
I only know that night is nigh
The shutters will shut
Me efforts will go un noticed
'Til tomorrow when
I will live in hope again.
My aside to this!
This is by no means me –
Everyday is a bad hair day!
Everyday in everyday clothes!
The day is ruled by a to do list
Never fulfilled
But there's always hope for tomorrow.
---
In loving memory of Amanda Ingham, a long-time participant and dedicated supporter of Ledbury Poetry Festival's community workshops
Anonymity by Amanda Ingham
(Inspired by the painting WESTERN MOTEL by Edward Hopper, right)


In a motel room, what's her story?
Bags packed, ready, waiting
Battered, worn, holding their breath.
Just arrived or just going;
Sun coming up or going down?
She waits for a signal.
Streamers of light dull the details
Bare walls, bare floors;
Curtains barely wide enough to cover
Windows. The door unadorned with material,
Shut. Gripping the edge of the bed, stiff,
She looks through me.
Picture frame on the bedside
Incongruous, inappropriate,
Unlikely. Shares its space with
A light – functional, lifeless,
Unromantic. Bed, chair, solid
Unmemorable, leaving no lasting impression.
Just her, poised, waiting.
Waiting for what, who, why,
An anonymous life, a story
Untold, but not unrecorded,
This snapshot in time haunts
Me. Familiarity in anonymity.