Thank you to everyone who has submitted poems. The response has been overwhelming, which means that it is taking time to upload every poem. Thank you for your patience. All the poems I receive will be uploaded, so please do enjoy reading and keep an eye out as more poems are added to this already fascinating selection.
Poems written during Lockdown and the Coronavirus pandemic, at a time when it seems the whole country, and in fact the whole world is going through the same crisis. Though of course everyone's individual experience of this situation is unique. I am aware, as many people are, that for people and places in the world, the challenges are huge and sometimes extremely harrowing, compared to my own. Nonetheless, in reading these poems, I find reflections on, and insight into, my own experiences. As well as differences. Other ways of thinking about, or seeing, what is happening in this present time. I have found these poems extremely resonant, and I hope you will too.
Thank you to everyone for their contribution.
Chloe Garner, Artistic Director
Please complete the entry form below and your poem will be published on this page.
---
Poetry of The Lockdown Submission Form
---
Your Poems
Daily exercise
by Heather Wastie
Dad on bench, looking at his phone
Son on bank, sitting on his own
Little daughter riding her bike
up and down
up and down
up and down
Hope in Lockdown
by Heather Wastie
There is hope tonight.
There is steak, there are chips, there are peas tonight.
There are sofas, carpets and doors tonight.
There are walls
and holes in walls where birds make their nests,
not the best kind of hope but there's hope.
There is wine tonight
and a screen to distract from the lack
and we hope tonight
that the steak will be tender, the chips fat and crisp,
the peas sweet and green, the sofas supportive,
the wine soporific, the carpets expansive,
the doors locked and bolted, the screen sugar-coated,
the nests all deserted
for there is the hope –
in the song, on the branch,
on the lawn, on the fence,
in the hatchling I saw in the eaves,
too scared to move
as a magpie swooped and beat its black wings,
where later I cried at spatters of red
on the white window frame
Missing You
by Bronia Sawyer
I wish I could sit on your sofa
and half chat while we watched the tv
I wish we could sit and play scrabble
or have cake and a nice cup of tea
I wish we could sit in your garden
and talk about the plants and the weeds
watching the flowers all blooming
visited by sweet honey bee's
I wish I could come for a visit
and hug when we met at the door
I wish we could sit on your sofa
the way that we used to before.
… and here's the thing…
by Elizabeth Jardine Goodwin
and here's the thing…
my skin recovers from your hands
a drowned world of myths, maps and tides that have turned
floating wefts of silk and coloured books read after dark
a flourish of birds
flowers frozen in silent ponds
summer in a winter's night
touch
and after touching's glance,
a further tilt in the heart's happenstance
May-ditations
by Jessica Clark
Take a deep breath – relax –
run around imaginary green-field tracks
and download another mindfulness app
to ease the sting of the slap
of modern reality.
I need the internet now, to tell me how to feel,
and the air that I breathe is becoming less real
and the things I believe are shifting soundbytes only
but buck up, sit back down, don't let on that you're lonely –
we're too tired to fight.
All that glitters is not gold.
Screens beaming light give me jitters
and at night I feel cold
so I reach for another soul
through a dark square of metal and pixels,
but they've also been
developed in the same vice-like hold
of disintegrated normality –
all these human light-beams have also been sold
and impelled to hop onto
some sinister beast's dreams
so the succour they offer
is proffered from a tainted cup.
And none of us can get off it:
the treadmill we're born on of sex, death and profit.
Well, beautiful photographs are formed in dark rooms,
flowers grow inside us while dystopia looms
and somewhere, dust falls
around images muffled yet set to grow clear
between shadowed walls –
one of love, one of fear.
Just don't make the mistake
of making me take another few months trapped on video-calls
where the humans are fake…
with soul-truth lodged nowhere –
in the technological sphere.
Aye Corona!
by Sarah Miles
We battle on daily with Hancock's half hour
We wash and we scrub and everything scour
We only emerge to clap the front line
Otherwise quaffing on copious wine
We're busier than ever with meetings on Zoom
When not doing that we're wielding a broom
Or injecting our bodies with flagons of Pine
Watching our hair grow an inch at a time
And growing long whiskers strangely now grey
We're beginning to feel we are losing our way
When we wake in the morning to face each day
With less to do and even much less to say
Our soft toys stare out from our window sills
We've run out of loo roll and yeast and pills
The dentists are closed and that back tooth is throbbing
People in high rises are quietly sobbing
The golf course is thronging with picnics and poodles
Our diaries are empty save one or two doodles
Rainbows abound but with no pots of gold
The weather was lovely but now arctic cold
New Zealand's normal they've weathered all peaks
Whilst we lag behind dangerously by several weeks
Suddenly GB has become the Four Nations
But only the one will allow for vacations
Steer clear of your loved ones whatever you do
Though cramming on tube trains is no longer taboo
Wear a mask, don't wear a mask, no wear one – it's official
Even though the benefits, they say, are quite superficial
The Importance of Distance
by Susan Avril Adamson
Fibrous strands maintaining our bodies
Silken filaments hard wiring our brains
Fabric supporting our precarious lives
Precious underlying mesh linking us together
Are become
patchy
threadbare
unravelling
Invisible connections stretched
str – etch – ed – to – cap – a – city
Transparency trending
downward
towards
opacity
Senses dulled as culture and society held at bay
Existing on slithers of previous experience
Fractured in isolation
split
separate
apart
but
United by anxiety and incessant
waiting…… waiting…….waiting
Watching daily charts and graphs undulating
Hearing but no longer listening to the repetition of interminable questions without answers
Conflicting information
Confused advice
World in lockdown
grounded
confined to barracks
for the common good
to be understood
by entire populations
Survival feels as surreal as Salvador's melting clocks
Times as strange as sci-fi and still so many
dying……..dying……..dying……..
Dürer's Four Horsemen: a 2020 Vision
by Peter Sutton
Four steely, hard-edged assassins are squatting
in the fretwork sun by the scrimshaw sea,
swapping stories of shipwrecked sailors,
Odysseus, Aeneas, Canute and Noah.
They are playing a permanent game of poker,
holding their hands close in to their chests,
deciding which card to slap on the sand,
how they will harry bank holiday crowds.
The gloater in grey says he'll burn them to the ground.
He'll toss an old stub in the scrub and he'll smile
as the sparks fly spinning to the caravan sites,
watching as the wind turns the demon wild.
The sea dog in blue says he'll sweep them off their socks.
He'll drag them from their sunbeds and drown them in the deep,
leaving a legacy of pestilential land,
of sinking foundations and sewage and slime.
The greasy chap in green says he'll give the sods a snorter.
He'll snuffle and slobber and gob his spittle
at the jostling, joking, jaunty invaders
jogging on the gimcrack, jerry-built prom.
The brigadier in black says he'll arm the wretched blighters.
He'll laugh as they fight local folk over food
and lay waste their homesteads, hovels and harbours,
despoiling their fishing smacks, forges and farms.
The wreckers are restless and ready to roister.
They leap on their four-by-fours, level their lances
and surge through the woodcut spreading disaster,
fire storms and flood tides, infections and wars.
I'm not a hero… I'm me
by Alan Wynne Davies
I'm not a hero who saves lives,
Like a doctor or nurse.
I'm not a soldier or in the police,
Quite the reverse,
I don't fight for world peace.
I don't do good things
Like emptying bins.
I've never been in a fight.
I'm not a teacher
Who is clever and bright.
I don't lead the blind, giving them sight,
Acting as their eyes.
I don't work late at night.
I'm not rich or wise.
I haven't discovered a vaccine
To win a Nobel Prize.
I can't sing or cook.
I've never written a book.
I don't get paid lots of money
For the way that I look.
I'm not a champion, like a boxer.
I'm not a sailor or tailor.
I didn't paint the Mona Lisa.
I've never been to China.
I don't deliver letters.
I'm not a farmer who grows food,
Or a brewer who has brewed
Things to drink.
I don't think
Like a politician or musician.
I don't work with my hands
Like an electrician or magician.
I've never watched the Simpsons.
I've never seen the Giant's Causeway,
Or climbed the Eiffel Tower.
I've never met the Queen,
And never grown a flower.
I don't make the news.
I'm not famous for being famous,
Like people you see on TV.
I'm an ordinary person –
I'm me.
On Yer Bike
by Ian Rabjohns
I'm one of those old ones,
Those, folded in the pen
of over seventy with an
underlying……wish that when,
When I get out of this jail then
I'll jump up on that bike
like a youngster wearing
Lycra. I'll ride those big
fat knobblies up the hills
and bugger any spills along
the way. A dicky wrist is
nothing that need bother A or E.
But just right now it's the big C
that wears the crown, me
that has a frown,
a clock that's lost the time
and lost the day, and I
have lost the way I used to be.
All those unprecedented suits
are navigating routes and
claiming feet upon the pedals.
Promising to give out medals.
Aiming for a slow release
Not climbing second peaks.
with numbers dropping week by week
While I am pumping tyres.
Tweaking wires, and oiling chain.
Wrapping up the spares and pliers.
They are all in for some shocks
When MY feet leave the blocks.
It will be peak on peak on peak
My back already feels the creak
The pain will come I'm sure because
I'm over seventy with no apparent cure.
The Goat God Dances
by Adrienne Keller
The goat god of mischief
rules
The cozy comfort of home
wears
The soothing softness of touch
retreats
The steady stream of news
frightens
And yet, and yet
The eager earth of spring
abides
The persistent promise of tomorrow
beckons
And the lasting legacy of love
endures
Though the greatest of these
be love
Our time now
calls for faith
demands hope
requires patience
While the goat god
dances
on too many graves
One More Body
Sue Wallace-Shaddad
I talk to myself, more often than not
alone in my solitary nest.
I give the neighbour an update
as we meet 2m apart by the fence.
Nothing exciting to report
each day meshes into the next.
Suddenly I have news to share—
a pigeon has crash-landed
down the chimney, lies draped
in the grate in a swoon.
How it got into this pickle
is hard to work out.
Now I love all living creatures
especially in lockdown mode—
the sight of a bee or butterfly,
the scamper of squirrels, tap-tap
of a woodpecker. They stir
the silence of my shut-in days.
This pigeon however is dead
as if I need any more bad news.
I scoop up the feathered body
and bag it twice in blue plastic
before solemn dispatch to the bin—
one more for the daily toll.
Introspection
by Alice Lenkiewicz
Sacred light
Uncertain colour
Walk within the
Healing power of
Courtly sun and
Female moon
Connecting with earth
Nurturing truth
Defying inner fear and
Anxiety – a time to
Restore and
Revolutionise
As you exculpate the past
Embracing Neptune's healing
To become one with others
Towards altered states of being
Sublime mentor
Cleansing the world of this
Miasma
Unearth yourself in fine
Purification
Consuming sublunary
Light as you Ascend the
Violet Spectrum in
Admiration of this remarkable
Happening
This atonement
Rebirth of life
Purge and
Inner reflection
Copper Beeches
after Daniel Defoe
by Jane Salmons
When the dead-cart
rattles past
the red-crossed houses
doors daubed
Lord, have mercy upon us
the bellman calls
bring out your dead!
and the raker
carries off
the sweeping filth
of the gap-mouthed infected,
half a mile beyond
the screaming pest house
a copse of copper beeches
shimmers and stirs
in a haze of light.
Watching
by Lesley Ingram
I sleep, now, with open curtains
like I did as a child watching
Orion on those breath-tight
sleep-lost nights, watching
the belt, the sword, the silver
shield pushing, pushing
the sky past my window's frame
forever holding the scorpion at bay.
Nights are again breath-tight and sleep-lost.
The stars are missing, only the moon
blurs by. Age has become a blindfold.
We are sleeping in separate rooms.
But I can still feel your breath
on the nape of my neck, your hand
warm on my hip, your absence
my shield.
Week Six
by Hannah Connolly
I suppose it took a global pandemic for
me to realise
just how much I have always loved
the smell of wisteria.
Watching clouds drift
from windows,
rooftop bus rides to nowhere and
sipping rosé in beer gardens,
playing at sophistication and world-weariness.
I suppose it took a global pandemic for
me to notice
just how much I have always hated
the sound of early morning alarms.
Chaotic nights out with people I hardly know,
fuelled by fomo and fear.
Sitting frustrated
in smoky traffic jams,
long train rides home without a buffet cart.
It seems it only took the whole world to stop whirring for
me to feel the wild warmth of
wasting time with people
who make you feel safe.
Even if it is on Zoom.
Gratitude
by Alice Lenkiewicz
Aware of this world
Closing inwards
Forcing me to
Panic
Imposing limitations
Although I realise
I should be
Grateful as I wander
Through this green
Haven of beautiful
Luminous Daisies.
Perhaps there is
Some underlying force
Guiding us Leading us
To something more
Meaningful
A higher plane
Uniting us
Helping others
Respect for those
Who care – The
NHS – the homeless
The elderly and vulnerable
The invisible now
Visible
Opening our eyes to
Hope and love
Resonates like
A folk song
Passing from one
Generation to another
A time for peace and reflection
Giving back to the earth
As we seek the truth like
Huckleberry nomads
With rucksacks and poems
Free at last
On a wild freight train
Incoming
by Vanessa Pimbert
It began as a rumble, a small, but clear
Ripple of thunder in the distance.
Then came the noises of voices,
Newsreaders, politicians,
Lastly, of course, those in pain.
It continued with pictures, rushing,.
Oxygen tanks, faces crushed, airless,
Preparing for breath, or no breath.
Captive in graphs,
People were numbers, flattened by
The language of science,
Foreign and strange.
Then like the great swell of a monstrous sea,
It surged.
Consuming. Expanding.
Connecting, crowding in, multiplying,
Standing, waiting,
We paused…drew breath. Held it.
Then crushing, crawling, waves crashed
Coughing to the ground.
Leaving the caught, suffocated souls,
Drowning.
And we shut our doors.
Our mouths, our faces, our lives.
Hid in airless, stuffy rooms,
Prison safety,
To watch masks, on television,
All around us, shielding.
Now, friends are strangers,
Eerie, cloistered lives
Lived in away,
Rhythmic, distant, alone.
Like priests, or miners,
Enclosed by the familiar.
Exposed to unknown fates
As days becomes months,
Months became seasons.
We wait. We watch. We pray.
Not breathing,
But surviving
You are not just a number 
Peri Z. Cagirici
You all had faces, you all had names and a story that you left behind.
You turned into numbers, some not even counted,
just registered as figures on bar charts, line graphs and statistics.
You all left friends and relatives who never got the chance to say farewell.
Or even to see you before you closed your eyes on this world.
Many of you died prematurely but we were told, 'They were going to die anyway!'
Many of you died not even being aware of the deadly disease called covid-19.
Many of you died because of insufficient and inadequate health care,
relentlessly attacked year on year by governments dealing in private care,
with ten years of cuts here, cuts there and cuts everywhere.
Many of you died because you were told everything was under control
and you would be safe if you stayed at home.
Many of you died because you were made to believe the virus wouldn't kill you
unless you were old with 'underlying health issues'.
Many of you died because those you elected thought your life wasn't worth saving.
Some of you died heroically as you put others' lives before yours.
Some of you died because you were denied the right to be tested and the right to be protected.
Some of you died without being reported or even recognised as patients of covid19
but you will be recorded as dead from other 'underlying health problems'.
Some of you died because you were denied basic nourishment since you were born.
You all had faces, you all had names that will be turned into numbers in time.
Before then, here's hoping that we all learn lessons to pass on to the generations to come.
May all of you rest in peace, whatever your colour, religion, ethnicity and gender
and deep condolences to all your loved ones you left behind!
Dog
by Virginia Griem
He's back – says he's tired of being dead, has come to keep me company these weeks of lockdown. I wasn't expecting him or anyone else for that matter, so sitting by the river, remembering what home was like when there was husband, child, dog – well family – and how different the last few years have been without them, I didn't expect to feel that wet nose creep into the palm of my hand. Of course there's nothing there but damp grass, yet somehow as I walk back along the path there is a presence at my heel, and this time it stays, doesn't need a lead, doesn't go chasing after rabbits, or bark at other dogs. And I can take it home and let it lie on my feet as I type, feel the snuggle by my side as I read on the sofa, hear the thud of soft paws on the stairs. You've been away too long – I tell him. I did come – he replies – but you were always too busy to see me.
Through the glass
by Ali Webb
As the sun rises on another day,
The walls feel as if they are closing in,
Ten weeks alone,
Silence, broken, by the clock.
Tick tock.
Through dusty glass,
I see a world frozen fast.
Paralysed in time,
children's laughter;
A memory frozen in Amber.
The old man across the street,
Oh how he weeps,
Alzheimer's took his wife of 60 years
To a nursing home
Now hes alone.
He stands proudly upon his step
Solitude broken; for a fleeting moment
Hands raised to the heavens
And he begins to clap, clap for the nurses, the carers and the other key workers.
He claps for those risking all for his wife,
The cancer ward who are saving his life.
He claps for the heros to many to name.
He claps for the noise, hoping to stay sane.
For the virus is deadly,
Its already taken so much from so many.
Stay At Home (Thank You)
by India Kim
I count down the days,
While the numbers rise.
The world cries blood,
And the fever is high.
Sunny days not felt.
Don't look at the sky,
But instead at my hands,
That tremble under faucet.
Song hummed for 20 seconds,
A melody without meaning.
It's not my birthday,
But still I sing.
Anything to block out the terror.
The media runs wild,
The internet, a zoo.
We're all trapped indoors,
Complaining there's nothing to do.
Confined to my bed,
Chest laden with lead,
I can't breathe!
Hugs are a drug,
A junkie without a fix.
I smile for the camera,
Spread a message of calm.
That's all I can do,
There's nowhere to run.
The future is unknown,
An inevitable to follow,
All we can do now,
Is wish for a better tomorrow.
Night walk
by Ann Worrall
We took a walk around the garden.
Black night. You had a torch and
Held my arm. "We might see
Hedgehogs," you said, sounding as
Young as when we married, those
Forty seven years ago.
The air was full of drowsy scent-
Apple blossom we deduced. The
Trees are smothered in it.
A dog barked once or twice in the distance
The only noise that disturbed
Our silence.
You showed me the shrunken stream,
And where it had Winter-eroded the bank.
Wild garlic and chives surrounded the tree
With the blue tit box – you
Were sure they were nesting- and petals
Covered the grass like flakes of snow.
The hedgehogs were hiding. Even
Your torch could not find where. But
Solar lanterns lit the greenhouse.
You had placed glass pieces
Inside the one you had mended to
Reflect an eerie green.
And all the while, your hand,
Familiar, safe, moved me away
From where the orchids
Were beginning to show so we
Wouldn't crush them.
What a sight we made, me
In my too short pyjamas and
You with your worn trousers.
Old now. And yet I felt so
Young in wonder.
Sometimes
by Clive Grewcock
Sometimes I like to take a step to the side
Sometimes I will let life move past me
Sometimes I like to lean my head back
Sometimes I will close my eyes
Sometimes I like to breathe slowly
Sometimes I will also breathe deeply
Sometimes I like to enter a space called
Sometimes
Evening Walk During Covid 19 Lockdown.
by Melinda Walker
No ale at the creek
now. Black barns
brood hulk
Walkers exercise
their rights
giving wide berth.
Meeting friends
by accident,
obeying
two metre rule
is contactless
and bitter sweet.
Boats bob listlessly,
going nowhere
Custom house windows
gaze vacant with no custom.
On the way home
a cinema poster says
Time Runs Out July 2020
but Peter Rabbit is coming
Soon.
The Guildhall Union Jack
flaps from its mast, forlorn
without a breath in it today.
And then I'm home in time
to clap in my front garden
for the nhs
There aren't many
of us tonight. So I clap longer,
louder, Bless you, bless you.
Confetti mourning
by Greg Freeman
The children on their daily exercise
paused to admire the pink
explosion; the cherry blossom
turned heads, gave pleasure,
stopped people in their tracks.
One morning workmen arrived early
with chainsaws that screamed
with rage; within minutes only
a stump, small hole in the middle,
remained. They pointed to the hole,
said the tree had been on its way out.
My wife grieved for the rest of the day.
The workmen hurriedly swept away
the petals, embarrassed by unwanted
confetti, an unexpected funeral.
The Bigger C
by Glyn Bagnall
The power of a planetary pandemic,
To mutate from a mere epidemic.
Social beings in isolation,
Tv, Zoom and Playstation.
Home delivery feeds the nation,
Foodbanks spread like contagion.
Package holidays disappear,
'Mortgage holidays' stratosphere.
Homeless guesting in hotel rooms,
Sales of beer bleeding well booms.
Burglars and shoplifters with nowhere to steal,
Domestic violence before and after a meal.
People dodging bullets to avoid you in the park,
6 feet under if not 6 feet apart!
Trump's "gone by Easter", if only it was him!
Authoritarian Xi keeps all Chinese in.
Bolsonaro self- violates Brazil,
Poor old Boris gets very ill.
Empty roads, rail, and in the air,
Pollution reduced, no masks to wear!?
Bird song abundant, spring trees in bloom,
Nature unaware of impending doom.
The Big C vanquished by a MONSTER one,
NHS Worldwide savagely overrun,
PPE and masks in short supply
Inaction means 1000's more die.
Sunday services given online,
God to save us from dying?
It's the World at war with covid-19,
How long we pray, for a vaccine?
The Prisoners
by Karen Glen
the prisoners
are told how to organise their day
have breakfast at the same time every day
have lunch at the same time everyday
have dinner at the same time every day
the prisoners
have their work time everyday
have their recreation time everyday
have their exercise everyday
have their visitors everyday
the prisoners
have their lockdown everyday
have the TV to watch everyday
have their work training everyday
have their psychotherapy every day
the people
can't cope with organising their day
yet
they are in lockdown too
How learning
by Sarah Miney
Wern you at home you have nothing to do
But gess what the evli teacher give is a lot of work to teach us but it is bringing feelings
You have no one to help you your die to get help
Before the clapping starts
by Patrick Williamson
There they are again, the walkers
under the trees at twilight, when
the day is done, and the runners
pounding down silent roads, and
dogs padding along, straining at
the leash, and the clouds are
gathering, it's been another cold
day today as if autumn is upon us
as the sky is so dark, the weather is
turning, the tide is turning, one of
which is true, but there is a long
way to go and, like me, the trees
are immobile as if afraid to be
shaken by the winds, come out,
step out, reopen, move, but is it
time you say, be careful, or earth
shall rest lightly upon us
Self-isolation
by Lea Hojnosova
The whole world went silent,
the whole world went numb,
but the pandemic is not the reason
why we are locked down.
We isolate from our feelings
not to be harmed,
we isolate from people
not to be let down.
We isolate from our desires
in order not to sin,
and we isolate from living
in order to live.
Rewind on Lockdown
by Bridie Breen
Time, is ours to share
Be it on this Earthly sphere
or among the stars.
Separation is a temporary kind
Indelibly inked by connected minds.
Forged by wind, rain, joy and pain
A tapestry of life unfolds
Love, has its own infinity
Creates its own heaven
We are all part of the whole
A human bond remains strong
Steadfast through times of
challenge or sorrow
We hope for better days to shape our tomorrows
Invest our care in the here and now
Remind ourselves, constant presence in heart, possesses soul
Knowing deep inside, though apart, we are never alone.
Think beyond constraints
Lockdown is what it is, so no complaints.
April 5th 2020
by Kathleen Carroll
1 Yesterday
I wrote a list / I made a routine / I woke up and set about to interrupt and
disrupt it / I walked to a seat / sat with my back to the view / all aloof to a
silence that would sing / if a muffled ear was tuned / a friend wrote this inside
flat screen life is shite / she was right.
2 Today
I peaked too soon / went out early & too fast / my body wound like clockwork
waddled in a wood / where trees were felled / long lithe trunks in bits /
roguish bark / some landed upright / alert totems / tribal strangers /
people passed mostly at 2 meters.
3 Tomorrow
I'll try some of today / and more of yesterday / to make tomorrow a different day / I'll be better at this by then / this staying in and daren't go out / this shapeless shifting inside / unpeopled house / I'll be all present tense / stay in the 'now' / start close in / stare down the 'how'
note to self
by Colleen Keating
laughter of friends on zoom
is no more than a polished reflection
of its cosy
aura in real life
top priorities
when this isolation is over
warm greetings hugs
family
to touch
to touch again
stay closer than 1.5 metres
smell the vibrance of youth
milky scent of a grandchild
crowd in as many concerts
art galleries, picnics in parks
walks by the sea
note to self
never take your freedoms for granted
ever again
We Always Go Back
by Ellie Parnham
Mornings brisk brightly in solitude when
Silenced bodies are squeezed inside;
The trees make noise,
Scatter light that rocks the swing.
A drowsy council harbours empty litany, lets
The slick allotments overgrow another day.
Wetness spurs a change in the neat allotments and
A blackbird halts its song of solitude
without assembly or council.
Fresh bodies peep the soil.
Arms return, wielding, swinging
Close enough to hit the trees.
Swollen fruit drops from the trees and
Relishes it's liberty. The allotments bloom,
Untethered, flaccid leaves swing low.
Wizened men scratch in idle solitude amongst the leaves
Together, their feathered bodies touching.
The shirts and ties go back to council.
The rich are treated by the council.
Children climb the trees.
Bodies sweat together, blend, simmer,
Warmly bloated in the allotments,
partitions broken in impatient solitude.
The leaves stop swinging; erect, they stand ascending.
A pendulum swings; the scales tip.
The council hide their skin and
Children resist the solitude.
The trees, green, alert and standing, abscond the
Allotments hiding
Bodies underneath.
The alighted bodies kill the shirts,
Fists swing gut punches at the fore.
Detritus fever descends on damp allotments;
Divides the naked council wing from wing.
The giant trees shrug and move
As England returns to solitude.
Nothing grows in parched allotments where festered bodies spoil.
Instead in light of solitude they gather to beat the swing of lethargy;
Send council out to pasture beneath the swaying trees.
Gently Easing Lock-down; Decisions
by Amanda Lewis
Boris says we can go to the Park, for a lark, for sitting, for picnicking.
More, we can meet a friend
Just one. For fun.
I want to make it count
After eight long weeks waiting.
Which park? Which friend?
And who shall I offend
in choosing?
I'm thinking, deliberating
soon it will be raining.
I want to choose the perfect park, for my bestest friend
a memory to sustain us, should the great scientific experiment fail
and we all get locked in again.
Forever?
Who, where and when?
And then, what if
on the day I choose,
they say
they are busy meeting with their
bestest friend too?
A moment for reflection
by Amy Cornock
The word lockdown may sound like oppression
Or some may say a deep depression
But for me, I feel a deep connection
With nature, friends, family and my own mind
It's shown me the fragility and warmth of mankind.
Teachers, nurses and all key workers we salute you
Your valued part in history will see us through
Showing bravery and determination
You are all truly an inspiration.
Being told to follow herd immunity
Flouting the rules with total impunity
Fears of catching this deadly illness
Keep calm, carry on, enjoy the stillness.
Missed weddings, birthdays, holidays with friends
How can we recreate them? Can't we just pretend?
None of this matters, in the grand scheme of things
Your health and wellbeing come before that big ring.
PE with Joe Wicks, Zoom chats, online speed dating
With all of that, who's got time left for home baking?
Continuously trying to learn new skills
When some days you just want to run for the hills.
No pubs, shops nor holidays to Gran Canaria
For some that's Utopia, for others Dystopia!
But all of this is merely an insignificance
When we look at Mother Earth and her powerful dominance.
Clapping for key workers at 8 'o' clock each Thursday
Neighbours cheering and pots and pans banging away
Sprinting down the road full speed like Sally Gunnell
Hoping to see the light at the end of the tunnel.
So what have we learned from this global pandemic?
Fighting British spirit or empty rhetoric?
When historians look back on this what may they find?
Tales of survival, friendship and how life was a bind.
So let's take a final moment for reflection
Be kind, respect the planet, look after others
When all's said and done we're just sisters and brothers!
We'll become more humble and full of sorrow
As we now realise there may be no tomorrow
In years to come when we're all grey and old
Never forget these stories we once told.
The Selfish Isolator
by Simon Tindale
Week one
I bought all the bog roll in town.
There's not quite enough to go round.
Perhaps I should issue
You all with one tissue
To use when the shit's going down.
Week two
They cancelled my spring holiday.
The football's postponed until May.
The pubs are all shut
I've a pain in my butt
But the doctor says 'please stay away'.
Week three
Someone is murdering The Bangles
Now 'Angels' is going through the mangle.
'Stayin Alive' follows
'I Will Survive'
I'd rather hear 'Cats' being strangled.
Week four
The neighbour's no good at home schooling.
It's only himself that he's fooling.
Those ignorant brats
Won't learn English or maths.
Their bad language needs overruling.
Week five
Our leaders are out of their depth.
Their vision lacks clarity and breadth
Is it worth jumping in
when you're struggling to swim?
Are you better off saving your breath?
Week six
You may be surprised that this loner
signed up to become a blood donor.
A gallon of ale's
been instilled in these veins.
I do hope it chokes the Corona.
Life As We Know It
by Maisy Ashall
Life as we know it is tortured with isolation,
Each of us trapped inside a bubble,
We have become a separated nation,
Whilst the streets sit free of trouble.
Life as we knew it was filled with joy,
Carried over the void of emptiness with rainbows,
The virus appeared so it could destroy,
Watching from the sky as we suffer below.
Hope is lingering far in the distance,
Just waiting for us to arrive,
We must break free of the nagging persistence,
Of the virus that we will survive.
Day 21
by Brian Lewis
A two-tone hopscotch
on the pavement of my street —
twenty-one scuffed squares.
Think of a number,
remember all this colour —
pathways after rain.
Not So Alone
by Clive Grewcock
How old do you think she is
Taking root in her rigid chair?
Flaking bark, twisted branches
Thinning hair.
Don't judge before knowing her name
Don't reduce her life
To a simple guessing game.
Sitting in a skin barely asleep
Folded round memories good
And those still running deep.
Count the bands of the years
It doesn't matter how old but, for how long
Hollow cheeks cut with tears,
The wind blowing things unsaid
Remembering days not so alone
Swaying softly with blossom to spread.
Whisht Whisht
by Katya D'Oray
Whisht! Whisht!
Don't be so fast to scramble
over the deeper unfolding
of this new story.
Each erudite quote; considered phrase
acting as another handhold, foothold
as you strive to reach the pinnacle
and plant your flag at the summit!
Ah, the relief! Now you understand.
You've got this covered, under control.
It is This. It is That. It is the Other.
Named and categorised.
Fold it all up and put it neatly
into your clean linen drawer.
Now you can tell everyone else
what all this means. Bravo!
You, who are still unravelling
the traumas of your childhood
from twenty, thirty, forty years ago!
What if we stay with the tension?
Sit on the edge of an unknowing
that scares the hell out of us.
It hurts and it's so uncomfortable.
What if we carry our ignorance
to the foot of an ancient tree,
to the banks of a wild river
to a place on an open hill.
Cover our naked selves with ashes
and as we keen,
lean in, lean in, lean in
to the fear, the grief and the longing.
We don't have to know what to do.
We don't have to know how to do it.
Not yet.
Listen to the symphony of this change;
the last movement hasn't even been written yet.
The creative act is messy, convoluted, often lengthy.
Not tied up with a piece of string and done!
Maybe give it all some loving attention
before you wrap it up.
Listen attentively in this new quiet
that is circling our ears.
We each have our own insights,
inspiration and wisdom.
Let's settle in for the time being.
Time that we have been gifted.
Allow ourselves to be broken;
sometimes surprised,
occasionally delighted
by what reveals itself
from the remains of what once was.
Whisht. Whisht.
Whisht – a Scottish and Irish word meaning hush, be quiet! Often used to soothe livestock.
Lockdown
by AKM Abdullah
And— when the terrifies sticked on the designed handkerchief ; the walls of the quarantines trembled.Our heartbeats increased. Our breath became smaller. The latest projector became on automatically. And three colours scene displayed on the screen ; where,waved our inner symptoms.
And then the strange siren break the lockdown walls and come down ; we tie the survival yearns up with the head and jump in the Android-lake— but the radiation- palui break the glassprotector and captive us. And when we hear the Embroidery announcement— the Richmond park,Sayedabad bus terminal or Komla Pur rail station fell from our clapping gap's. Our lamentations become divided and lost in the crowd.
Oh ! If ever come drunken sigh grain from the corked bottle ; I will also be a story on the screen of survival time.
I don't know what I'm doing
by Julia Smith
Have you seen the world recently
Still and serene
From your secluded spot?
Packed, pressured, panicked
Cramped, crumbling, cracking
Cracked!!!
Crying over all the nothings
You have collected
In this abundance
Of silence
Monsters making merry
With your short memory
Monuments
Made on other people's mayhem
JUST STOP!!!
We weren't meant for this
And it's okay
To stand on rooftops
While others clap
And shout LOUDLY!
BECAUSE YOU DON'T KNOW WHAT YOU'RE DOING!!!
But you're doing your best
Even if it's just for now
Even if it'll be for later
Even if you're loud and angry and ridiculous
Even if you're like me
Who doesn't know what she's doing
But is doing it
All the same
Lockdown: noli me tangere
by Simon Stacey
The strangeness of it, too, is intangible,
As if distance measured a quite other world.
Out of touch by email or by suddenly-familiar Zoom,
We cross the road to pass by in charity, avoiding people.
"Wash your hands" now no mere matronly mantra,
Graphs shout, but the Samaritans take their usual calls.
It can never just be someone else's problem;
In the hospitals, they are about it: saving lives.
Concentrate on them: a nightmare of space-suits (or their absence);
The marker-pen on the whiteboards scribbling "COVID-19"
Endlessly; exhaustion and its conquering;
Sheer precision under pressure; and courage, like a gift of air.
A vicious thing, for sure, and me furloughed with my inadequate literary parallels:
Stephen Kumalo, ostensibly plagueless, crying for his beloved country
In the city or on the veldt;
Friar John with his message, sealed by the public health inspectors in an Italian town,
Ensuring Romeo and Juliet will never speak again, not face to face.
The pain today is pageless: loved ones in their thousands who can't get near enough
To say goodbye.
Outside, Spring seems to know nothing of dying,
May-blossom worn like a pristine white mask.
But dark love draws us close, under even a full-face visor:
In small acts of kindness, in the clapping of the steps of every hero.
"Do not touch me," he told her, risen:
Soon to go elsewhere, for now to stay awhile.
Many are taken before their time, we sense,
We know. "Go well, stay well", they say in Zulu.
And we cannot wash our hands of any of this.
Where's My Normal Gone?
by Helen Long
Fragile, headache, feel unwell and battered, Hot then cold, equilibrium tattered.
No one's at the tiller, no one's at the helm, Yet I'm transported to another realm.
This oblique world looks the same, but it's all wrong, The days and hours so interminably long.
To a parallel universe I have travelled, And now I seem quite unravelled.
I've gone through a portal, I know not how, But onward I must weakly plough.
I can't find myself, I've disappeared,
It's miserable, sweaty and horribly weird.
Whilst my happy memories have left and gone, I battle a fever that goes on and on.
No restful sleep can be reached,
All my defences have been breached.
This oxygen deficient state in which I'm hurled, Is a never ending and wretched world.
A blackout, an ambulance, a hospital ward, It's Covid virus and pneumonia I've scored.
'Til the antibiotics have been completed, All I can do is lie and be treated.
Ebbed away are my energy and vitality,
Surreal dreams make me question reality.
Beep-bleep, beep-bleep, beep-bleep, beep-bleep, The constant soundtrack preventing sleep!
This viral illness has left me so tired, Where's my 'normal?' it's all that's desired.
To breath with no effort, no cough, no aid, Is my goal, my aim, my slow crusade.
Perseverance, rest, remedies, supplements, The N.H.S angels have my grateful compliments.
Home again, exhausted; the miasma lifts, The matrix of misery, it slowly shifts.
It inches and slides back under its rock, While my recovery continues around the clock.
'It' retreats back to its dark netherworld, Where stolen vitalities lay tightly curled.
The unhappy descent of unwilling donors, Left them sucked of life and sorry loaners.
So, eventually I can say I'm well again, My health is my focus, my latest campaign.
My life was on hold, the pause button pressed, Now I'm thankful to be better and feeling much blessed.
Everyday minutiae is a glorious thing,
My perspective's adjusted, my step has a spring.
The memory is fading day by day,
As new events push it further away.
Covid-19 / Lockdown In The Suburbs
by Cosmo Goldsmith
No stirrings of breeze
no fidget of traffic
just the garden birds revelling
in these weighted silences
these new found lands
of suburban lawns and small town streets
And this world of old familiarities
has shrunk before me
into this pale limbo land
this grey indoors
of rooms and chambers,
this lockdown, this house-arrest
this strange transit-zone
of gentle confinement,
this muffled waiting-room hush
these stacked shelves and drawers
of suppressed anxieties,
this micro-climate
with its heavy atom spheres
pressing down upon us in tensions
of guilt and helplessnes.
And yet there are the strange cruel gains the deep solitudes of sky that have formed, creation glowing and rippling into brighter notes of birdsong than ever before, into the music of the trophospheres of flowing blue realms above us which the geese have reclaimed haunting the heavens with their cries of elation and lament unwavering in their flightpaths their seamless interchange of positions, the gloved swish and creaking of their hinged wings.
There is a healing here.
no ranks, no hierarchies,
anarchists of the heavens
offering up vistas of a parallel world
of new found lands and skies.
No stirrings of breeze
no fidget of traffic
just the garden birds revelling
in these weighted silences
these new found lands
of suburban lawns and small town streets
And this world of old familiarities
has shrunk before me
into this pale limbo land
this grey indoors
of rooms and chambers,
this lockdown, this house-arrest
this strange transit-zone
of gentle confinement,
this muffled waiting-room hush
these stacked shelves and drawers
of suppressed anxieties,
this micro-climate
with its heavy atom spheres
pressing down upon us in tensions
of guilt and helplessnes.
And yet there are the strange cruel gains the deep solitudes of sky that have formed, creation glowing and rippling into brighter notes of birdsong than ever before, into the music of the trophospheres of flowing blue realms above us which the geese have reclaimed haunting the heavens with their cries of elation and lament unwavering in their flightpaths their seamless interchange of positions, the gloved swish and creaking of their hinged wings.
There is a healing here.
no ranks, no hierarchies,
anarchists of the heavens
offering up vistas of a parallel world
of new found lands and skies.
When will the WiFi Die?
by Charlotte Ansell
A throbbing knee from too much exercise with crumbling bones
Sudden waves of heat, panic, wine give way to pleasant joy of freedom
A busy head of plans, courses, routes to new life without getting on a plane
Burying the debt calls and letters for surely now they will leave me alone
A Victorian day, build a circuit, apps and more apps, times tables, but PE or walk, run, Fortnite, panic comes again, the hateful battles
When will the WiFi die?
Essential Freedom
by Christopher Sedgwick
" Make sure you do not leave your home
Unless it is essential "
I think we now can all agree
Our need for freedom is most evidential
Comparing ourselves to caged animals in zoos Now sympathetically going mental
But think of those who didn't have freedom Before this event became so consequential
Like those locked indoors by abusive partners So mentally influential
Children locked away in their minds by unfit parents Stifling their full potential
Those locked behind the bars of their eyes With depression and anxiety, torrential
Or those who would love nothing more than the safety Of four small walls, the feeling so presidential
So although the suffering we feel in lockdown May be far from preferential
Let's just take a moment before we complain To consider those going through Something truly existential
The calm
by Brenda Read-Brown
It's been quiet here today.
The silver birch shivered
but didn't moan or cry;
the slow worms slithered
but didn't gasp for air.
The odd dog on a lead
didn't bark,
and its owners failed to cough.
No children shouted
or laughed.
No machinery whirred –
lawns remained unmowed,
and even my secateurs were well-oiled.
The wind chimes ran out of fuel,
and didn't ring for help.
It was as if someone had died,
but nobody has. Not here.
Not yet.
Cats and dogs
by Brenda Read-Brown
We are all puppies now,
on pause until we get our leads
and take ourselves for a walk –
every step a scent of freedom,
every leaf a new page of delight,
every path an escape.
And then we're kittens,
playing games we haven't thought of
for a lifetime,
eating whatever we're given by the freezer, curling on our rugs in a doze of daytime TV.
One day we'll be human again,
but we won't forget this,
this time when we remembered ourselves
and became puppies and kittens;
this time when grass grew under our feet in clean, unexpected air; this time when life and death went on elsewhere.
Sorry
by Brenda Read-Brown
I broke the rules today
and went out twice.
I'm the poet who declares
payments in cash,
but today I broke the rules
and went out twice.
And the second time
gave bare branches sketched
on a toothpaste sky,
the up-yours scut of a rabbit,
the stars of a grateful rocket
at 8 p.m.; a Thursday.
I was solitary in twilight,
guilty of staring at the half-moon
that reflected my sin.
I broke the rules today
and went out twice.
I'm sorry.
Lamentation
by Kate Gold
Stranger, I do not know you.
You died alone
Isolated from family or friend.
Away from those who may
have held your hand;
shared that final breath with you;
whispered words of comfort and love
as you fought to let air sustain you.
You died alone.
Stranger, I do not know you.
I lit this candle in the glow of dusk.
I let my tears fall onto the quiet earth.
I sang the thousand names of sorrow
at your leaving.
Called out in lamentation
to the stars as they appeared.
And prayed that your Beloveds
came to meet you
in joy and celebration
as they brought you Home.
Blue Plastic Gloves
by Gilly Hare
It came with lightning speed-the change.
The shift.
The armies of unnoticed rallying.
The key workers.
An invisible spectre
Haunting the streets
Blue-clad warriors reporting for duty
Wearing masks fashioned on 3D printers. The special ones.
Gripped by terror; the claps do not reach far enough.
But they will
Never let us see.
An invisible spectre
Putting hands on the unfortunate few.
Children and parents at kitchen tables.
Sat in bedrooms.
Some sat nowhere at all.
The sudden weight of it.
Sustaining interest.
Juggling. Managing.
The gradual realisation that school is more than a building. Its heart reduced to daily e mails.
An invisible spectre
Kept at the door with disinfectant and soap.
Drivers darting on the roads
Delivering, delivering.
Groceries in plastic trays.
Getting the this and that of daily life
To its destination.
Faces covered.
Gloved like
Nurses
Enjoying new status
Recipients shouting thanks across the two metre divide.
But it doesn't feel like that.
15 hour days. Just a living wage.
An invisible spectre
Clawing at the door of the van
On the networks of the land.
They propel buses and trains
From here to there.
Perpetuating the myth
That you can socially distance on the number 9.
Carrying the newly identified heroes in and out of town. Trying not to breathe too deeply.
An invisible spectre
Travelling through tunnels and rising onto the streets.
On the daily news
A shift from podium to spare room broadcasts.
National reassurance
We will fund.
We will provide.
But the systems are broken or slow
And the spare room cupboard is verging on empty.
The messages morph and change with no hint of apology.
An invisible spectre
Keeps us at home
We make pastry and make bread.
Our front doors shield us
We stay at indoors or in quiet gardens.
Protect the nhs.
Protect ourselves from the reality that the blue gloved army see.
Key workers.
Shielding the nation from reality.
The invisible spectre
Winds its fingers
Around blue gloved hands
And takes for its own
The unlucky few.
Those unlucky few deemed essential. Vital. Disposable.
A few given for the many.
Their sacrifice documented on breakfast television.
Marked with a social media portrait.
Clap for the nhs.
Clap for the key workers.
The spectre slips on a pair of plastic gloves.
And resumes his work.
Wide Landscapes
by Pip Heywood
We are each on the back foot
Thrown back on our devices
With no way of rushing off
To occupy the time
As though we are all in detention
With lines to write and pens
Well poised, we have to write
To say those things
Which there is never quite
The right time to set down
'Til now, to write or even say
Out loud to those locked in with you
Or say inside to you
Yourself, it may be hard but
If you do you'll see and say
And hear with a new prospect
To see beyond the brick wall
New spuds and spinach
Nudging through, new head
In this clasped space
To know head space and
Time are in our hands, and wide
Landscapes are just beyond the
Frame if we but peep and see
"Lockdown isn't so bad if you only… "
by Graeme Sandford
… write prose,
but, you really need to get out
and stop counting your toes;
you have to see the world
for your poetry fix,
let your mind be uncurled,
and do a 'three-Weetabicks'
the skies and the birds,
the fields, vales, and trees,
as Little Miss needed Curds,
We need to feel Breeze.
So, when all is safe,
and freedom returns,
our minds can unchafe
and Nature relearns,
writing will flourish,
our thoughts fly from prose,
and counting the fingers
we stuck up our nose."
Easter Day 2020
by Laura Jerram
Ten thousand souls have said goodbye
Ten thousand more perhaps waiting to die Ten thousand doctors called time of death Ten thousand nurses witnessed someone's last breath Ten thousand partners and ten thousand mothers Ten thousand sisters and ten thousand brothers Ten thousand families all grieving alone Ten thousand reasons to stay at home
Mutation
by JP Seabright
It passed across the species barrier
and then along the food chain
gifted through the shaking of hands
perfunctory pleasantries in business meetings received in the reassuring hugs between parent and child in the open-mouthed kisses of lovers in the sharing of teacups the flying sweat of the dance floor the choosing of fruit at the supermarket trips to the pub and the post office from my face to yours from being to being through touching through breathing
Covid
by Ian Jones
Mortal realisation ascends today,
Whilst compulsive cleanliness slides inside every decision made.
What have I touched
Who have I held
Unseen enemies stain the affection I share.
Loneliness resides along the safe road home.
Lockdown Love Letter to Ledbury Poetry Festival
by Susan Evans
Dear Ledbury Poetry Festival,
Since you kindly asked:
I am loving loved ones like
never before. I hug myself.
Home is refuge & prison;
a heavy closed door. Behind,
perfume & bleach compete.
I feel like Susan Sontag's "Alice
in Bed." Angry. I long to escape.
I meditate to create calm.
Social media is mostly doom &
zoom ~ Spring upstages us all.
Pause book launch for "Shift
Happens" (no sh*t Sherlock).
Applause from windows &
doors, every Thursday at 8, for
the over worked & underpaid ~
may we all see pots of gold
at the end of those rainbows…
Jamie Oliver rocks the lockdown
with 'bed hair' for his new show:
'Keep Cooking & Carry on.'
I carry on more than is deemed
necessary; fuelled by anxiety.
I can't wait for a dinner date…
VE Day, 75th Commemoration,
I am more Vera Gin than Lynne.
In war, does anyone truly win?
(Fascism is still happening…)
Moved by WWII drama, the
Guernsey Literary & Potato Peel
Society. & new Lee Miller
documentary. Stay home. Binge
Radio & TV. The new 'social
responsibility.' Learn to 'make do
& mend' again. Embrace precious
air time. Appreciate the new social
distance dance of the socially
minded. Navigating those on 'Planet
Janet' (this is hedonistic Brighton)
bit more of a task:
"OVER 30,OOO UK DEATHS!" I yell
inside my head, as 'space cadet'
violates my person; triggers panic
attack & an overdose of anti-bac.
(I am labelled hysterical & paranoid).
But apart from that, I'm fine!!
Dreamt of red wine; symbolic of life
force. Still writing of course.
Have started writing for the Daily
Haiku. How about you? Sx
A Butterfly in Moonlight
by Jobe Berrington
it's things so strange as
these stranger times
that makes me long
for the strangest things
After
by Sascha Akhtar
& when you choose who
You will see first &
What you will do, first – what if
Another chooses you first?
& your lists of doing &
Seeing – they will never
End & in the aftermath
the greatest tragedy will be
Offense – taken by us
when all those wonderful people, we
longed to see – have gone back
To being impossible to see
& we all need to make appointments, again
To see, each other, maybe
At some point – in a future
That is all speck &
possible illusion.
Rise to the Bait with Faith
by Krushna Mishra
It all came with a thud
with the television set
screaming to a sobering silence
to push us all to corners where
fear only now lurks and our own
dear long united part from us
imparting the lesson of nearness
over a distancing that cures
not like a curse bitter and dry
but a help that asks us to try
if the virus dreaded be to
a crushing defeat stashed
till safety in a bang returns
and all drifting apart now
in good knowledge cheer
all those turn safe and hear
the world is saved and gods
in labs have created the magic
to inject with abracadabra
and end the pandemic with
its panic sighs and hushed signs
to make life bloom again ending
the gloom of millennia for
lessons we will carry into
centuries unborn now to
teach us to love and live
leaving life in all forms
safe for a friendly planet
in a wise flood of clean boldness.
Cry no more if you love and
know you are loved in turn ,
know your love will be safe
when you stay separate sure
defeating the virus virulent
with a heart clean and pure,
know the key to life is love,
to love to live is the lesson hard,
dead are all that don't love ,hear,
rise to the bait with faith you bear.
Mason Bee
by Richard Hawtree
I've lost this morning's brightest words:
fenland blooms that nudge, bodies that fix a secret course across the universe.
Outside the fluent mason bee,
testing the gap in tired bricks,
consoles with homespun clarity.
Refuge
by Brendan Hawthorne
My home was once symbolic
of lifetime achievement
What I came back to after a shift
A haven in which to relax
Dwell upon the day
Celebrate and debate
through the parallax
of half empty wine glasses
The world was out there
just through the picture window
the other side of my front door
past the bins and down the path a bit
before this seed of destruction
raised the social contact drawbridge
on the preservation of self isolation
In here the air is less polluted
but out there more contaminated
And the world has moved
into my field of vision living room
A world within an LCD screen
delivering packages of survival through
hot wired firewalls that pressure cook
mental health well being
on social media platforms
validated by approval ratings
It's all there in high definition
to download and encounter at will
I will have to go with the flow
Swim upstream
Drown in terabytes of guilt
when others seem to be doing more
with their enforced withdrawal than I am
I see you through the window
Down the file path
Beyond the junk bin
I'm really well connected
but have never felt so alone
Hardship
Michael Thomas Hill
While we keep our heads, those
In government departments
Are losing theirs, blame us for
Their downfall
We trust them not to care a lot, they
Think of only themselves and
Not others.
Tired of listening to their lies
And not speaking a word about it
We keep our thoughts to ourselves
Treat each other the same, can't take
The truth when told to their face
Or get through to the base
Talk with friends or walk between crowds
Of people, through town centres, forgive
Them not their pain
They to stand in the rain
Waiting for a train
Watch them wait and pass them by
Have no dealing with hate.
Them not be man or woman
And breathe not a word to them
About your dreams
What they don't know can't hurt them
They'll never be told or out in the cold……?
They're not human' putting people out on
The streets with no food to eat…. or shoes for
Their feet……!
Through a Time Darkly
by Marie Papier
There is no resemblance
between being locked up
in the broom cupboard or
the order to stay
at home, forget trade,
forget time, the name
of days, enjoying
silence and the song
of birds, until your flour
and oil, your wine have
run short, your hair is
turning white. Then
you begin to think life
is not what we've lived,
unconscious of
the origins of oil
and flour, the labour
involved with growing
the grapes until the end
of their captivity in dark barrels
down dark cellars until
the wine shines in cristal glasses,
swills in the mouths of connoisseurs
who know the slow maturation of life.
Locked In Syndrome
by Alan Wilson
Shall I compare this to a Pinter play?
No, it is more like a bit of Becket.
I see no one and ease my arid day
With verse, vainly trying not to wreck it –
Compare my lot to Godot's hapless chums
Anatomising melancholy.
The good news can be counted on my thumbs; Bad, an endless fingering of folly.
To bear my bird I binge on Radio Three
While browsing with old friends of whom I've got A shelf-full, consumed with draughts of tea Alfresco, now the sun is getting hot.
Summer's reprieve recedes, parole postponed.
Day after day the scythe is honed.
On living alone (with new plants)
by Nicholas Wong
The Spring sun
fills my house, painting it
oranges and yellows.
I turned off my radiator, and now
my new plants,
friends,
live there.
The evening is colder
than expected
without sun, or
friends.
Do I choose the cosy warmth of plants,
friends,
or the loving embrace
of central heating?
I think the answer
is clear.
Seven
Jumpers.
A Crush
by Julia Travers
I'm taken with you.
Mooning out of windows,
sharing a breath with you
through the door,
finding chores
that bring me
closer.
I lay down my schedule
to be with you today,
my face warms, lifted,
my chest buoyed,
ribs at full tilt,
limbs alight
with the electricity
of your generous beauty
quiet care
unassuming dance
I answer, Yes!
to your primal draw,
seek your love and forgiveness
grateful
enchanted
I drink your Honeysuckle nectar,
mouth all a curve,
skipping,
discombobulated, tipsy,
a mess,
all asunder,
in my crush
on Spring.
Two days in April
by Duncan Taylor
6 April
Locked inside on a cruel blue day
the leaves on my luscious foliage plant
feast on the sunshine
blossom on the cherry tree
about to erupt
silence reigns
the virus roams
out there, somewhere.
12 April
Bliss is the translucent blue sky
the achingly pink blossom of the magnolia before me a gentle breeze wandering bird song empty public places a forgotten garden overlooked by throngs holed up in isolation here is a community with nature a carpet of daises daffodils past their best hanging on grimly the first leaves of the majestic oak greet the warmth with gratitude and thanks for the Spring.
A sonnet for the NHS
by Ian Irwin
This Thursday night at eight o'clock I'll clap
With heartfelt thanks: an echo off the bricks
And glass, for those who strive to help the sick,
Their sacrifice designed to help us cope.
The honour and the glory theirs to keep
Their resolution strong and hard to break.
These restless spirits fighting for our sakes
Are not remunerated or equipped.
Resounding claps are not exchanged for food.
The children can't be clothed in gratitude.
Blue propaganda cloaks truth in lies.
The NHS is still our greatest prize.
It must be taken off the talks for trade
And selfless, honest workers duly paid.
Everything Under the Moon
by Amy Bacon
Blame the hipsters and youths –
don't blame the government.
Blame those without gardens,
cyclists, sun-seekers in parks.
Don't question the government –
blame the clumsy ones queuing
at A&E, the bed blockers
and those who lose the fight.
Don't blame the government –
blame the maintenance crews
on £8.72.
Blame the panic-stricken –
the self-centered ones clenching
their hoards.
Don't blame the companies
scraping up the earth,
or the foreign president
calling to mine the moon.
No Remedy
by Derek Sellen
He waits at the late-night pharmacy
for the tablets to keep his heart in sync.
He doesn't speak to Next-in-Queue.
Balms and salves for all ills
line the shelves. This week's miracle –
Vitamin D – is sold out though.
Clutching his bag of chemical tricks,
he sets off into the dark. Cautious,
he'll detour around teen hangouts.
The wind rustles up sounds of pursuit.
His torch scans to left and right.
Why does it skip and tumble in his chest?
He fears,
more than the beat of other feet,
what might stalk the pathways of his breath.
A Forgotten World, an exaggeration of current events.
by Ethan Cartwright
I've woken up an a world I don't recognise,
A world of strangers, confused and afraid.
The authorities say it'll all be okay,
"There is no reason to be dismayed"
The cities are desolate monuments,
Concrete remnants of a forgotten past.
Nature has taken over,
A constant that will everlast.
We see only through the eyes of technology, Or through the layers of glass.
Out there the world keeps turning,
But here, time doesn't pass.
The streets are damp and dirty,
In shops, there is only violence.
A stray dog may bark at the darkness,
Besides that, there's no sound but silence
The world has forgotten compassion,
Lost what it means to love.
This isolation seems eternal,
No olive branch for the dove.
What Price Normality?
by Flloyd Kennedy
Don't go out! They said.
Stay at home.
Keep your distance.
So what's new?
What's new was that it wasn't just me
It was everybody.
I felt quite chuffed, to be
At last, part of a community.
How strange to reach my time of life
Always an oddity
But my way of life was now the new normal.
Ah, those were the days,
Filling the hours with novel ways
Of generating ideas to play with,
Writing, knitting, planting seeds to grow with, And tap-dancing – Re-creating my childhood only this time Without the guilty sense of time wasted, Of potential spilt.
It couldn't last –
There is no pleasure without pain.
At first the dips and dives into gloom
Were few and far between;
Miniature downward spikes that came and went Without leaving a seeming Trail of destruction in their wake.
But slowly, surely, as is their wont
They expanded to full strength, making
The return to light a struggle hardly
Worth the fight.
And then, I realised I still was not alone!
CoronaCoaster is the new name
For the new norm.
Hooray for normality.
Not.
Hopes to regain
by Trishita Dey
Maybe it wasn't meant to be like this,
how cruel, how mean!
Maybe it wasn't meant to be such
a devastation
where the happiness of spring
turned into a state of demise
for the mankind.
How the beautiful dawn of
cherry blossom lost
in middle of the way.
It became standstill.
It was enough heartbreaking.
We became monotonous
with no patience left in us.
But you, yes you reading this
don't loose the hopes.
With every fall, the leaves
regenerate and grow again.
So will we.
This period gave us the
precious gift of time.
This is the time to work
for our own self
and on our
culpabilities.
Whatelse happens!
but the hopes shouldn't go
and yes we will be
getting through this.
When all the world stops
by Sian Banfield
When all the world stops,
Doors close in and
Close out
Cars cease their
constant, droning crocodile,
Keyboards click only
at a distance.
Then we become busy.
We think,
We read,
We talk,
We play.
We bake biscuits,
Butter-gold and crumbly.
We learn to listen
And we understand our
full capacity
For love.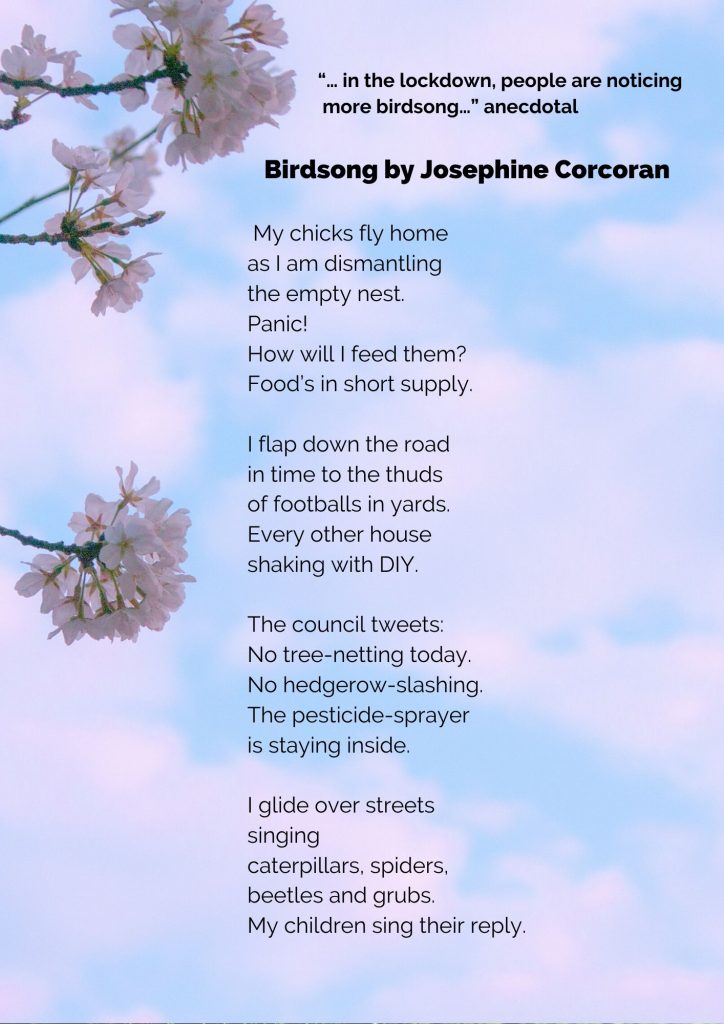 Plagueground
by Steve Day
Today is not quite like any other
they are running a long haul fever
flight to recover their senses
left at the only address
identified as home.
Blue sky morning's weather reporting
broadcast through a bright light of stripes flagged in slate and shadow; back where they believe they belong, dropped into a spring of locked down potency; no children's games in the playground, bolted chains at the gate, this landed land is now their plagueground; re-entry arrival running late.
Already the white wood anemones are open, scattered across the rosary moss and beech cutting below a dry stone gully, blackthorn hedging the edge of hillside into seclusion.
Walking this path because this path is not usually used at such a partisan hour. This path is only known to those in the know and those in the know will either have visited earlier or at dusk, after their animals have been fed, watered and put away behind bars.
For the moment this path is the escape route out of the house for the once-a-day-act-of-exercise with no encounters with neighbours, or worse, strangers.
Where did these masked people come from?
Possibly a long haul fever flight to recover their senses close to where they imagine someone else's handiwork might help them find their own.
Coronavirus
by Jean Frances Parrott
A strange and unseen ghost
Has us in its grasp
Slow…Indidious..creeping round.
Hard to track,cannot be found….
Started slowly….Slyly….far away..
In Cathay…
Not the first to come from there….
Far too soon, spread everywhere….
Then appeared in Italy..
Now it's rampaging free…
A World Pandemic….
Anyone..
Can get it……
We are all trapped,
Rich and poor,old and young….
Life on hold,the clock has stopped.
Each day ,death toll
Such sad cost….
How to protect those we love…
Cherish our young,shield from the worst…
Not part of our life plan,this Curse….
Stalking the land,spreading contagion….
Nation,by Nation……
We aged,have been here here before..
Some of us lived,survived a war…
This though,. is an unseen enemy…
Invading,Infecting in home territory….
We will win through….we always do.
Outside its spring,sun shines,birds sing…
We are just a small part
Specks on our planets face..
Whirling,turning,revolving in space
We strange evolution…the Human race….
We will continue….life will go on…
Win through again…..stand brave in the sun…..
Coronavirus …lock down…
by Jean Frances Parrott
Early this morning,day dawning.
Moon shadow,blue sky.
Sun streaked,pink golden hue…
So beautiful…..
Breathtaking view……
Heart breaking too….
Such beauty all round…
Natures rejoicing,bird sounds….
While we
Listen to the daily death toll…
On TV.
That roll call,of lives lost…
Coronavirus
Fearful cost…….
It will pass,not last….
Try if you can ,to hang in there…
Do not despair…
Keep your eyes to the sky…..
Live well my loves
Enjoy each day….our time is short
Dreams fade away….
Love lives in many little things
A butterfly,a wedding ring,
In the sun which touched your cheek
With the wind stirring your hair…
True love lives…..Do not despair…..
Wondering
by Ian Rabjohns
Sitting on my garden bench in isolation….
Wondering
If all the little things that live here
were to go.
Who would care, who would know
that they were gone.
I would care and I would know that
something here was wrong.
Those few that dig and delve and try
to understand that world of little things have, built into their bones, the cycle of the year and what it shows.They have found the tapestry; all sewn together, each one dependent on the other now.
I see them all around my feet and busy in the flowers, and wonder what was here before; when it really was their world.
Not ours.
Blues for Alan
by Jane Hemmings
Well, I've got the Lockdown Blues man – round and round in my head, Yeah, I've got the Lockdown Blues babe – round and round my bed, Wanna see my friends and family – but I gotta stay alone instead.
You know those Coronavirus blues, well they're playing on my mind, Yeah those Coronavirus blues, well they're playing with my mind, Wanna reach out and touch you – but I know that wouldn't be kind.
We're all doing our best here – trying with all our might, We're doing our best – yeah, we're trying with all our might, To look after each other and check that everyone's all right.
We might feel like frowning we might feel like the world's all bad, Yeah, we might feel like sighing and think the world's gone mad, Being kind and gentle to each other will stop us all getting too sad.
Gotta take good care to let our loved ones know how we feel, We've got to take good care to let our loved ones know how we feel, Cause staying away will prove our love is really real.
We got to keep on being patient till that virus is on the run, Yeah, we got to keep on being patient till that virus is on the run, When it's over the horizon – then we'll really have some fun!
(Alan is 94, a life long player of piano blues. Being well looked after in the care home, but missing visits from his wife and friends. His dementia makes it harder for him to understand. He asked me to write him a blues….)
Goose Jazz
by Philip Foster
When spartan dorys from down South
spatchcock our tartan-fielded valley,
when they've done us in good and gone,
will our paths be smooth with velvet moss, will distressed ochre eat red wheelbarrows; will tapped engines leak pearls of black and broken stepladders lean against themselves like hemlock philosophers.
And will we grow with the patience of plants in the gaze of tinned-up factories.
Will we placate our vagrant cocks
with painted mirrors dangled from string and carve again to make arrows, to cover the kayak with animal skin – is this when we will remember the art of swimming, when we reinvent the words for things.
Will these be the neat rows of kindling
at the end of everything; will this be
the rusted locker or deadman's chest
of our legacy, the black fingernails,
the stale patchouli, the worn green
and handrolled of our prospectus; and will our music be the two-note goose jazz, the two-note goose trombone of the future?
Lets
by Lorraine Wood
Let's
…fly amongst the bird song
breathe the uncontested air
of spring,inhale the night-scented
stock,a memory from childhood
when the stars were our good night
kiss,pages turned over through the storm.
Let's fly above the white cliffs find
our names at the waters edge,catch each letter and fill our pockets before the tide returns.
Let's fly into that starry night now we can all see,while nature rearranges the landscape an abundance of new life swims free.
They locked up Grandma
by Becca Johnson
Someone's locked up Grandma,
She's not been seen since tea,
I think his name was Colin,
I'm sure it began with C,
Someone's locked up Grandma,
I've seen her at the pane,
It's been two weeks and counting,
Do you think she's gone insane?
Someone's locked up Grandma,
Thank god she likes to read,
As we haven't heard a single word
Of when she will be freed,
Someone's locked up Grandma,
They got my parents too,
We think they might charge entry,
To our corona zoo.
lockdown
by Roger West
stocked up stacked up locked up in lockdown
cocked up fucked up puckered up and put down shacked up hacked off handcuffed hand me down loved up gloved up puffed out and sat down
slow down hoedown show up to the showdown zonked out funked up bunkered up and hunkered down cranked up motown good god y'all get down stuffed up zippered up slippered up eiderdown
shop shut snapshot belt up and buckle down ramped up damped down working for the clampdown phased in phased out maxed out in melt down back down crackdown get down stay down
Lockdown Buzzcut
JLM Morton
This is the time of kind-hearted dispensations
when kids hold scissors two-handed, garden shearing a father's hair – open mouthed in concentration, squealing at the mists of water spray.
When time comes round for the game to end and mother takes the clippers, it's been weeks since they've touched.
Her fingers furrow the pattern of his follicles and he's a mole, flinching through old locks.
She thinks she wants to press the whorl on his hairline where a cowlick used to be until they connect – or he disappears.
Entrusted with flakes from his scalp, the molluscs washed up on the wold of his skull, she thinks she wants to stoop and taste the earth on his neck.
She trims around the ears, grades the edges and his shoulders slacken.
Both of them gulls at the plough,
their flight an act of faith.
Plague Diaries
by Sarah Davies
These are the same plague diaries
that we have always written –
your great grandfather, his father before him, their wives in the embroidery of linen and the blood pin-pricked in error,
on parchment and on vellum,
the binding of our body and the politics of being. Candlelight is darkness, electric is the darkness,
how we have the dark times,
each to our own blindness,
and each age changes witness, ours
to a confinement and the dangers
of our touch, when this is what is needed through the testament of screens and the ghosts, familiar voices – the proof here on the skin that solitude's contagious
Jewels of evidence at witch trials
where we offer up our brothers
and our sisters to the gathering of public name and shaming , all rituals and pastimes
And your last wife at the stake,
flowers round the may tree, cherry blossomm are wasteground dandelions, are people lost and wondering at their own small, greening gardens Shall I mention an Arcadia?
These are plague diaries, the same as always written in the dark come after first sleep – Dear Husband light the candle, the ink upon my fingers, like the blood of some old sea God
because this is an island
which no man is, nor woman
but I wonder as I tap, if the sea will reach my window like the floods of winter
my darling has forgotten?
This is why I write, and who I write for – my children and the fish, the bloggers, widows, and the archivists
Lockdown
by Sarah Davies
Some people are bad
at keeping distance- they stick
to the world like glue-
world sticks to them too.
They look into dark mirrors
or at shimmer screens
for information
and signs of when it ends,
this separation
Waiting to buy fish
by Charlotte Pearl
Of all days it was good Friday
And we stood there in a line,
Holding our breath.
Heart in mouth. Two metres apart.
Heart in mouth. Weighing up our options, Readying our order, Just waiting to buy fish.
And the sun spilt out
On everybody waiting.
Weighing up their options.
Wishing it was over now.
Wanting to be home again,
Recoiling from passers by,
Just waiting to buy fish.
And everyone was silent.
Silently worrying.
Thoughts like thunder. Two metres apart.
Everybody waiting.
Wanting it over now,
Everybody waiting,
Some just waiting to buy fish.
keep calm
by Jonathan Mayman
out in my garden
I can hear the traffic
from the motorway
if I close my eyes
I could be driving
down to your place
I'm trapped for now
here in my garden
you in yours
we can see each other
on our phones
speaking words of love
keep well keep strong
it may not be long
the miles will melt away
Statistics Can Never Lie
by Alun Robert
Statistics can never lie …
but those who mine data can
and those who analyse the facts
and the experts in R0 extrapolation
and those who proffer interpretation
and those who present these results
and those who invent explanation
and those who try to camouflage
the truth behind the facts; can.
How does this affect all those
who take action on such statistics
knowing that they are not the same
as the true facts they appear to portray?
For they blame those wet behind the ears
when their flawed actions cause abject chaos
of wrong turnings and dubious decisions
and then claim in their defence that
… statistics can never lie.
Repatriation flight from Peru
by Tim Toghill
Repatriation Flight
Dusty military airbase buildings, eyeless windows Bright sun gives way to gazebo shade Busy clipboarded FCO officials Gleaming flag carrier plane
Lines of aircraft tarmac bound
Hot intense midday equatorial heat
Stamp on passports, tagging of bags
Helpful uniform clad men bustle
Eager tired passengers form orderly queues Exotic airbase location hidden from city eyes
Memories of extraordinary times, of gracious people, of Peruvian sun
29/30 March 2020, 12 hours, 6,000 miles.
And the BA crew all volunteered. Incredible.
Reemergence
by Usha Akella
We retreat and reemerge from our rooms
like waves meeting by the shore of the window, this dance of three happens daily now like three needles crocheting a new pattern of reality.
Simple human actions, eating together, cooking, washing dishes, a new alphabet in an unhurried world of harmony, kinship and family—we are reconfigured in a lucent house breathing a cornucopia of light, limpid walls and tiles seem fluid like water rippling a chiaroscuro, outside, that—the red streak of a cardinal's winged surge, that—the squirrels serrated scampering on trunks, that—the unhurried drift of a dandelion.
Spring too is upon us—this too is reality— the sun's golden bombarding drenching suffusing, this beauty is undeniable—a world savaged by light, saved by light, singing with light, rains baptize the streets asking us to rise anew, the streets are rivers cupping reflections of the oaks and cedars, blue bonnets and Indian paintbrush splatter the streets, scarlet berries bud like miniature poppies on the dark green reminiscent of a red whirring virus leaving shadows of painful stories, this war unfolds as wars have always ravaged the earth, some mine woe for profit, some simply try to keep bone and skin together, the human mind is rarely pellucid, we understand what we can and mostly move on in acceptance.
A locked down seagull
Uday Shankar Durjay
I used to see the reflection of sunlight dancing on your lips, sparking and glittering like pearls on the golden grass. Now a deadly frustration circumambient me.
An invisible animal is out to vanish all the lights. We are getting disappeared in the dark day by day. Can we remember 1820,1920? and now 2020. Is it nature, taking a piece? We may mention it's a revenge of nature. We never expect this incompatibility to our life ever but this literal to our life. This is also truth we didn't care about our world. We are using a huge plastic bottle and container and through to the sea water. We are clearing the natural state an acre and acre. We are killing animals for a million purposes.
Now a day everything has stopped. The nature is getting so green though. Animals are in open yard like a free verse poetry. A huge fresh oxygen around us like kites are flying in the sky, soft breezes are blowing over the building like seagulls are set free to roam.
Don't move inside out.
Delivery vans are dropping the goods, Uber eats delivering the client's order. But we are completely locked in the wall. We can't enjoy the time, we have been just waiting for new day. We have been waiting for the new light.
Day by Day
by Peter Moorhouse
It seems a long time ago
Since I was immortal.
Now, in old age, I am a threat
And threatened
At one and the same time.
I smile and comment to strangers
As we weave our invisible paths.
But I am just a pupating statistic
In the daily list of numbers
Read out by frightened,
Power-drained, blank faces,
Clinging to slogans.
Crowd
by James Pertwee
Last night I dreamt that I was in a crowd.
Jostling and pushing, elbow to elbow,
We surged forward, making for the gates
Pressed tightly together, with good-humoured banter.
Once through, we poured into the vast stadium,
Filling it, shouting and cheering and chanting
"Up the reds!", "come on the blues!",
"You'll never walk alone!"
Marching onward and tightly packed, with our placards,
We snaked through the streets, a different chant:
"Whaddawe want?! When do we wannit?! Now!!"
There must have been thousands of us
Bound together in the camaraderie of a common cause.
Out into the countryside we went
Among the tents and the portaloos
Raising our arms high, some with our girlfriends on our shoulders
As the rock anthem blasted out,
A vast sea of bodies throbbing and pulsing, as one, to the beat.
And in the crisp clear air, wrapped up against the cold,
We started the countdown – ten, nine, eight, seven, six…
Until the bongs rang in the new year.
A huge roar went up! We threw our arms around each other,
Kissed, shook hands with strangers!
As the echoing cheers and laughter faded away
I came to, woke up,
Alone again.
Change
by James Pertwee
Everything has changed.
Contained, constrained, confined, locked down, An Englishman's home is his castle… …or his prison.
And nothing has changed.
The sun comes up and the sun goes down.
The birds are singing, summer is coming.
All is as it should be.
But everything has changed.
A trip to the shops a risk-filled mission.
Every foray into the outside world
A game of chance with high stakes.
And yet nothing has changed.
Humanity is as it ever was.
Shared hopes and fears conveyed in another's smile Without a word being uttered.
Two strangers complicit.
But no, everything has changed.
The whole world is in turmoil.
Presidents, kings, labourers and dispossessed, The richest of the rich and the poorest of the poor, All are in fear.
And still, nothing has changed.
The rich manage much better than the poor.
Most governments try their best.
Some make good decisions.
Some make disastrous ones.
Just as always.
So what has changed?
The whole world is in danger as never before.
The whole world is fearful as never before.
Many are panicking just as ever.
Many are selfish just as ever.
Many are idiots just as ever.
And most are kind, just as ever.
And when we come through this
What will we have learnt?
Everything and nothing will have changed.
The Corona Raven
by Henry Herschel
I'm sitting here pondering away my hours
Thinking about this world of ours
Wishing I didn't think that I had to rhyme I should take some time To learn a different way of doing things I wish the world would think Something similar not hollow rings For the normal not right gone before Like the Raven, Nevermore!
Sword
by Benjamin Skomorac
I spend days, nights,
without being diagnosed with this madness.
I am floating on the ceilings
dressed in a heavy blanket
who bends me in the morning,
shows what I'm getting ready for.
I cut my knee with my sword
like two hills,
stranded on the shore of my limbs.
I live without them equally, lifeless.
That will be tomorrow,
I'll calm down,
take off the burden of immortality.
Live Life
by Jane Moorhouse
Everyday
There are
Chances to die
There have
Always been
Chances to die
Everyday
Perhaps the risk is greater now
But it is still small
So instead of fearing
Our chance to die
Let us embrace
And celebrate
That we have been given
The chance to live
For at least another day
The chance to
Sing and
Dance and
Smile and
Make connections
And put our stamp upon this earth
More firmly than we did before
The chance to
Hear the birds sing
Watch the plants grow
Smell the blossom
Breathe in the less polluted air
Walk in the deserted streets
Death will come regardless of our fear
But life will only happen if we let it.
Clap for the carers
by David Bleiman
and here in bungalow belt
where neighbours hardly ever come within two metres we went out in our ones and twos thinking to clap the lonely sky until we heard the thunder of solitude rolling up the wide road and shared the lamplit smiles of solidarity
Let's call it a day
by Mark Saunders
I can't believe it's Friday, and the same
goes for Thursday and the day before that
which was …. what's its name.
Let's call each day Day.
Today's Day the spring weather holds
so out of isolation I step feeling bold.
My neighbour outside his door stares
as if we haven't seen each other before.
I wave across the hedge and call out Good day!
I do believe it is what used to be called
a Friday.
Ha, those were the days!
he replies with a smile and tips his hat,
as we go our separate ways.
Anaesthetic
by Kathryn O'Driscoll
Today I am slack jawed
with my brain stung with lidocaine.
Nerve endings spasming,
ticks without feeling,
someone has numbed me city-wide.
Today my eyes are empty shop windows
displaying all of their best solutions
to insurmountable problems
on tiny invisible display tables of nothing.
Someone has anaesthetised my brain.
Today I am on lockdown.
No contact, silent park lands
wet with Spring wilting without notice.
My mind is echoing white noise and riot gear and I can't taste my teeth anymore.
I am a quarantined country
noose-quiet and cyanide-sickly,
bleeding out of brickwork I no longer feel – and finding fog-filled alleyways and cobblestoned depressive episodes feel familiar even in this half-lit death.
Corona Cough
by Adam Munthe
Yesterday, today,
rioting spring dusk and swallows high,
grasshoppers still scratching in the thickets, the cypresses are robed, bending like friends with a tiny breeze for conversation
A road to the goatherd's for cheese and yogurt, the car pottering, we smile, pull into the long grass, subside to let them pass
The driver paused beside me
our windows open,
a baby face, nascent moustache,
three friends to laugh at him
A kind of funnelled breathlessness,
he sized me precisely,
twisted his mouth into a kiss,
and spat
We jumped, stopped, paralysed
he backed up, our faces close enough to cough I made to rise, "We gave you the road to ride"
"Fuck you," he whispered, and then drove off
Actual despair?
A bate?
A game of dare?
It felt like hatred
The car ditched,
still pottering
louder than the grasshoppers.
We furious to know.
Stretch (You Are All Right)
by Richard Skinner
You are a pilot through the days' yawn,
the rod of iron down your back
aching in the sunshine.
The streets outside empty of people,
of crime, horseplay, pit bulls.
The numbers and letters on the tops
of buses speak to the sky.
It's the only talk you'll hear.
We clap every week.
Downstairs, the drilling carries on—
they must have got through by now.
The cherry tree in the courtyard sways
every morning, swishing to itself.
It yearns to reach the sun.
We have all turned into sunflowers.
Dogs look up, cats sleep. Cars
furtively turn corners, roar out of sight.
The church steeple looks worried.
It is pink in the rising sun, facing it, telling it to make sure to return tomorrow.
Death Obtains
by Mara Adamitz Scrupe
Death Obtains
as seeds' spawn barren of two decades'
sparing
Death obtains as rosemary clenched in sucking scale/ veins'
closed system
Death obtains as dried bugs & mouse ribs/ an abandoned breast pump in a shoe box
Death obtains as choke knots/ writhing/ noosing/ periwinkle's grip on my garden beds
Death obtains as emerald borer in leafless ash/ spiny in April's flush & mantling
Death obtains as fossil mosaic/ contagion/ a stone road shivering beneath the world
On Mute
by Barry Taylor

Among the twenty-seven
new native species
of silence:
the stifled explosive
roars stockpiled
in the stadium;
the stunned interval
marking the distance
from one safe house
to its neighbours;
the mosaics
of voiceless selfies
on the evening news;
the hush of rush-hour;
the vacated stage
where the blackbird
improvises morning.
Under the startling
new-green trees,
the silent tremoring
of walls and worlds
at a passing breath.
Roshan and Aisha make lots of cups of tea, stick to new daily routines created to maintain cheer. They stare out of the window. They want chocolate bars which they are too scared to go and buy.
Josh, who never had the courage to leave the computer job he hates, and has always longed for an alternative lifestyle, has dug up his small back garden and plants spinach and garlic to bolster his immune system.
Wojcek is desperate to get back to Poland, to see his family, but is worried that if he gets there he will never be allowed to return. He drinks 4 cans of strong lager, starting at 6, every evening.
Liz weaves bright new futures in her mind, of a world that has learnt its' lessons, and looks forward to the autumn. She sews scrub bags for the NHS, plans to make recycled masks, knit rainbows.
Jade can't get her usual supply of methodone, but has found some cheap spice. She likes the sunshine. Although she is hungry, she's got the gang, and her lockdown is flying by.
Stephen, aged 75, cupboards overflowing with cheese, ready meals and whisky, thinks it is Xmas. He Facetimes his son every evening at half past six. Eats and drinks like there is no tomorrow.
Lorraine spends 10 hours a day on Facebook campaigning for the cure of Covid19 by a combination of turmeric teas and yogic breathing.
Rob develops business plans for using the last reserves from his bankrupt cafe business, and some thin Government support, for a start-up in developing video games – his teenage passion. He is in discussions with his landlord about unpaid rent.
Chris and Kerri lie in bed every morning, rowing over how much screen time Ben and Gemma, aged 8 and 6, should have every day. Ben and Gemma are downstairs creating alternative worlds in Minecraft.
Alexandra texts Gilly that a G and T at 5 tonight in the back garden, with 6 feet between them, will be completely fine, surely darling.
John is alone in his flat, sweating in bed, waiting for his twice-weekly call from an NHS volunteer telephone befriender.
Louisa bleaches the front letter box, the front door bell, the wing mirrors of her Citroen Picasso, every morning at 7am.
Rashida has spent 2 days weeping for her Mum, who died aged 52, for lack of PPE. She is also a nurse, goes back to work tomorrow.
Mike eats Monster Munch and reads online conspiracy theories and analysis that show that Covid19 is a statistical myth created by capitalists to increase global control over consumer populations.
Melanie, asthmatic, wakes up thinking she has Covid every morning. She spends her days on Facebook looking for posts that will offer her lifelines for her more precarious than ever mental health.
Jane is on 80% furlough, and now she can no longer go to restaurants or on holiday, is better off than when she was working. She reads, rings friends, listens to Guardian recommended Spotify lists. She loves lockdown, but knows it is not right to say it.
Ashley clings to the wreckage of S.S. Hope, stares across the grey, choppy sea.
Unwittingly, and despite best efforts, the small corner shop spreads Covid19.
The pub is closed.
The pigeons coo-coo, coo-coo.
Callum, aged 4, draws pictures of giants every day. He loves his Mum and Dad at home together for this spring that seems to last forever.
[Untitled]
by Sandi Sterck
March ends . Fallen leaves dance on the lawn, fly up on the wind into the air like birds. They do not sing.
April begins with all it's promises. Animals and birds copulate in anticipation.
Should mankind do the same?. or submit to the dark clouds ominous warning.
Let's hide from the light and sunshine, furrow deeper into ourselves. Or instead, look up to the stars, embrace the light, and look forward to tomorrows dawn.
March 2020
by Frances Meadows
If I die of Coronavirus
Don't make me just another number
Just another statistic
Remember I was alive and well
Remember I lived a life
Remember my children, my loves,
My learning, my style,
Remember the things I wrote,
The things I did, the people I helped
The students I taught
Remember the meals I cooked
The presents I gave
The times I hugged you.
Remember how I
Kept the law, braved the worries
Listened and supported.
Remember the veg I grew
The bulbs I planted, the birds I fed
Remember how I picked up litter
Recycled plastic and paper
Remember how I walked the paths
Loved nature, cared for you
Remember Aunt Flo's chocolate cake!
It's not about the death you've had
It's about the life you've lived
Habitual Sea
by Claire Clint
Drowning in your habitual sea,
Dragged by surging waves that push and pull me,
To the depths of intrigue and shallow safe shore,
Sands strewn with shells the limpets once wore.
A foot strongly grounded, gripping rocks, scarred for life,
Soft inside hard shell, programmed to survive,
Tides turning gently, daren't loosen the latch,
As waves of hungry fish come to take their catch.
Children bring buckets, scoop up empty shells,
Sparking joy in those they cling to, ringing familiar bells,
Filled once more with sunshine, dry away salty tears,
Purpose reimagined, new habits drenched in ancient fears.

7pm Shout Out
by Paula C. Brancato
At sunset, we headed toward the East River,
a tidal basin, cool fingers of sea slipping slowly in and out.
We walked the empty streets and sidewalks,
the dog's nails tick tick ticking,
traffic and church bells silent,
pavement licked clean by rains,
past Mandicati's, Bellwether, Centro's, Chairman Sun, Bella Via,
shuttered against the coming wave.
Sniffing empty tarmac,
hunting mice, rats and food scraps and finding nothing,
Myrtle bit into the black of a garbage bag and pulled out a bone,
Kentucky Fried and battered, half eaten.
Any other day, I would have pressed my fingers
under her snout into the soft fleshy fur of her jaw.
and forced her to release it.
Bones wound the stomach, hurt the heart.
No one on the streets,
No one on the walkways,
Nothing but the sound of Myrtle crunching on that bone.
Will she survive it?
My mother, I mean. And so many others. Though the virus is abating, now.
From buildings blocks away, separated
by clouds and nothingness, people we could not see
whooped and hollered and clapped.
Noisemakers chirped like crickets. Horns bleeped.
No way to imagine who the revelers might be.
A last shot of amber closed the sun's eye.
Through the pink and purple dusk, a lone bus honked and hollered.
Another Fine Day?
by Adele Cordner
Should sun still shine on this beleaguered land, make blossom pink and white on cherry trees, light curls of lambs, scent daisies to draw bees, let gentle waves lap swathes of untouched sands?
Should wind not rage as humans battle on?
Should litter not be whipped through empty streets and rain not gush from gutters while we weep for all sick souls whose lives are not so long?
But sun has kept us calm through all the pain, made us look up while storms might rage within.
So nature steadfastly has played her part.
She spares us from the deluge of spring rain that we might step outdoors and there begin to find a pathway to a lighter heart.
The Viral War 
by Christy Galligan
Your Poem With creased brows they never tried
Giving solace where there was death,
Tired beyond exhaustion while all
Around the noise of gasping breaths.
Isolated boxes of bodies
Wrapped in double shrouds,
No mourning by loved ones or families
But placed in sacred grounds.
Where is the humanity in dying
Where sickness claims so many lives,
While eyes stare forlornly
Behind shield and formaldehyde.
No longer our heros fall in trenches
Not by bomb, bullet but by tentacles,
Death envelops us all
No word will undo this spectacle.
Soare a though for those who've succumbed And those who will, we realise, For mother nature has endured Our destruction of that which was pure.
Corona
by John Nightingale
The virus is a crown of thorns. It brings
a lockdown Sabbath to the earth.
Life will never be the same again – or will it?
Take deep breaths and feel
the pain and love, become aware
of changes in the air
we breathe. See the people walk
through fire and flood, on a long road,
past field and slum. Imagine that they come
to Birmingham,
where guns and chains gave way
to bicycles and cars, where jewelries
became munition factories,
and back again.
Now may the chain
of motorways no longer choke,
the smoke
replaced by cleaner air.
Cast out despair, prepare to be
a city of sanctuary
for every heritage,
for refugees from poverty
and rage.
But can it be
we surf each obstacle?
'Twould be a miracle.
However, there is one miracle already,
that we are here at all;
then, though we're small,
together, when we share
our bunch of sacred stories,
challenge despair,
our faith the more is.
And, while we live,
our actions stretch into the future, give
the lie to those who only think of death.
So may we, with every breath
inhale the oxygen of love
and breathe it over others, a new story,
we hope a crown of glory.
NOTE: This meditation was read at the end of a gathering for Earth Day organised by "Footsteps: Faiths for a Low Carbon Future". The proceedings were conducted online through zoom because of the corona virus lockdown. The name corona (latin for "crown") is given to this group of viruses because of their crown-like shape. The poem mentions two crowns of Jesus referred to in an Easter hymn, a crown of thorns and a crown of glory. There are also allusions to some of the presentations, eg the Jai Jagat March for Peace and Justice.