Sandeep Parmar wins £5000 inaugural Ledbury Forte Poetry Prize for second poetry collections with 'sharp, contemporary and lyrical' Eidolon
Eidolon by Sandeep Parmar has today been announced as the winner of the inaugural £5000 Ledbury Forte Poetry Prize the UK's first prize dedicated to second poetry collections. Published by independent press Shearsman, Sandeep Parmar's Eidolon is partly a modern revision of the Helen myth, which meditates on the visible and invisible forces of Western civilization from classical antiquity to present-day America.
The winning collection was chosen by judges Vahni Capdeilo and Tara Bergin and announced at a special event on the first day of the 21st Ledbury Poetry Festival. Selected from a shortlist of six titles, Vahni Capildeo and Tara Bergin say 'Sandeep Parmar's Eidolon rises slightly above the rest in its combination of intimacy and sweep. The language is sharp and contemporary, but also very gentle in places, and lyrical. There are lines which seem to reach far back (to Whitman and Shakespeare and Sappho, and of course to the book's basis in the Helen of Troy myths), and there are other sections which use the stilted language of contemporary reports and news and snatches of conversation. A strange and compelling mix.'
Sandeep Parmar is Senior Lecturer in twentieth-century literature and creative writing at the University of Liverpool, the Reviews Editor of The Wolf magazine and author of a critical book on Loy, Reading Mina Loy's Autobiographies.
On winning the Prize, Parmar says 'I'm very grateful to the judges and the festival for awarding Eidolon the Ledbury Forte Poetry Prize. For me, writing a second collection was liberating – I felt able to strike new ground and it took shape much more quickly than my first book. Eidolon is a conversation with the recent and remote past as well as the authors who shaped my thinking: Hilda Doolittle, C.D. Wright, Rachida Madani, Whitman, Euripides, among others.'
When Eidolon was published by Shearsman in January 2015, poet Valzhyna Mort said in Poetry International that the collection reflected the work of 'a stunning poet arguing with the failing authority of her culture, the whole Silk Road curled up and hissing by her feet'.
Shortlist for Ledbury Forte Poetry Prize For Second Collections:
Judy Brown – Crowd Sensations (Seren)
John Clegg – Holy Toledo! (Carcanet)
Emma Hammond – The Story of No (Penned in the Margins)
John McCullough – Spacecraft (Penned in the Margins)
Sandeep Parmar – Eidolon (Shearsman Books)
Sam Riviere – Kim Kardashian's Marriage (Faber & Faber)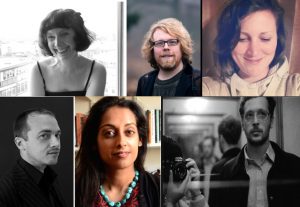 From Sam Riviere's Kim Kardashian's Marriage to Emma Hammond's The Story of No, the shortlist for the inaugural Ledbury Forte Poetry Prize announced today recognises the work of 'serious writers' and 'ethical word-wizards' whose poetry made judges 'rethink what a book, or collection, of poetry can be'.
The shortlist for the £5000 Ledbury Forte Poetry Prize for second poetry collections, the first of its kind in the UK dedicated to poets' second collections, was selected by judges Vahni Capildeo and Tara Bergin. The biennial Ledbury Forte Poetry Prize is a response to poetry's increasing emphasis on debuts and seeks to shine a light on poets' more accomplished, though often overlooked second collections, which can be poetry's version of 'the difficult second album'.
Judge and 2016 Forward Prize winner Vahni Capildeo, says 'the shortlisted writers expanded my horizons. In re-reading, even more than first reading these collections, I was repeatedly taken out of myself, asking: Can language do this? Can imagination go there? How might the next poem, and the next, invite readers to be transformed? Each of these publications made me rethink what a book, or collection, of poetry can be. How do changes in the way we experience life and process information, via new technologies and twenty-first century predicaments, mesh (or not) with older (dare one say 'universal', or least widespread and widely-understood) modes of appreciation and expression? And what does it mean to reward a second collection? These writers are ethical word-wizards whose already astonishing poetry I want to endorse because I believe in its process of becoming'.
Poet and judge Tara Bergin says of the six titles on the shortlist that 'every one of the writers shortlisted here strikes me as a 'serious writer' in the sense that John Berryman defined that term: 'something of an inquisitor', who encourages the reader to put to themselves the same questions about life that the author has put to him or herself.'
The Ledbury Forte Poetry Prize shortlist is entirely made up of collections published by independent publishing houses, including small presses. Chloe Garner, Artistic Director of Ledbury Poetry Festival notes that 'this perhaps reflects the particular commitment of independent publishers to nurturing poets beyond their debuts and to supporting poets who take risks with their work, pushing their themes, style and language into new and exciting territories'. Garner adds, 'fundamentally this prize is about bringing poets to readers and the range and quality of this shortlist means each book is a dazzling read.'
Ledbury Launches Ledbury Forte Poetry Prize For Second Collections
Ledbury Poetry Festival is launching a new poetry prize for second collections, to be given every two years and called the Ledbury Forte Poetry Prize worth £5000. The prize is for a second collection published in the previous two years. A shortlist of six books will be announced in June 2017 and published on the website. The winner will be announced at the 21st Ledbury Poetry Festival in July at a reading given by the winning poet and this year's two main poet judges, Vahni Capildeo and Tara Bergin.
Tom Chivers, Editor at Penned in the Margins, says "Why must a poet's 'difficult second album' be difficult? No: it can be dangerous, risk-taking, liberating and wildly ambitious. I welcome a new prize for second collections, to shine a spotlight on work that might otherwise fall down the gap between the excitement of the new and the confidence of the established."
Ledbury Forte Poetry Prize Submission Guidelines
Ledbury Forte Poetry Prize Submission Form
Neil Astley, Bloodaxe Books Editor, presents the rationale behind this new Prize:
'It seems for some time that there's rather too much focus now on first collections — and there are half a dozen prizes for first collections awarded in Britain and Ireland — or on "best collections" of the year (another half dozen prizes for those also), and that the one area given very little recognition and little appreciation of the struggles involved is the second collection, and poetry's version of the "difficult second album" syndrome.
Poets who've made a splash with their debut collections are under pressure to produce a follow-up collection which builds on the achievement of the first, and yet when they do produce a much stronger second book, it very often gets much less attention and even sells fewer copies, even though it's the better book. Or they may have said their piece in their debut book and the second collection is more or less a re-run of the first; and the publisher drops them when they submit the third collection MS a few years later, because their work hasn't really gone anywhere. Second collections can be included on "best collection" prize shortlists, but rarely are. And if the poet is someone who has a job or other commitments, and hasn't been able to assist much in promotion of their work, or do many readings, an excellent second collection may well be completely overlooked; and the discouragement that brings may affect where the poet goes from there.
So in order to create more interest in the "difficult second collection", Ledbury Poetry Festival is launching this biennial second collection award, with a shortlist and a prize of £5000 for the winning second collection. At present there is funding to run the prize for six years (so three awards will be made, in 2017, 2019 and 2021, after which the Festival hope to raise more funding).'
Ledbury Poetry Festival gratefully acknowledges the generosity of Olga Polizzi whose contribution makes the Ledbury Forte Poetry Prize possible.