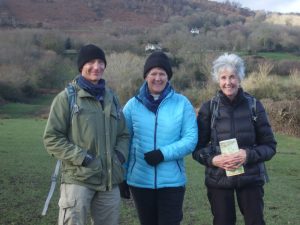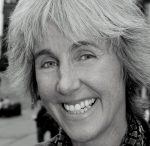 Troubadour of the Hills, Jean Atkin was commissioned to write One uncertain history of the Malverns by Ledbury Poetry Festival and Malvern Hills AONB. Please feel free to add your own poem, using the form below, inspired by the Malvern Hills or your own hills. As Jean says, "We are looking forward to reading small mountains of new poems."
Update, March 2019: Troubadour of the Hills went walking with BBC Radio 4's Clare Balding for "Ramblings"! Read about it and listen to it here.
One uncertain history of the Malverns
Wide horns and white
medieval flanks.
Heavy as August
the cattle linger
by a shrinking pool.
Bromesberrow          oaked          milky
I'm lit along the wood-edge.
Blond light off corn stubble,
a sky full of rain and light.
In one ear, press of hide on saplings,
the unseen deer retreat
Raggedstone              steep               sallow
A bellwether sheep
leads a long file past me,
roman nose to soiled tail.
They beat the cloven common
into the common
Hollybed           pale               trodden
Come out at the car park
red car, yellow car, sweet,
seedy blackberries.
Rain runs down me,
down the hill, and down the hour
The Gullet       fogged           viridian
The hills are always here.
They wear away.
They stay, grip close
the patience of the igneous.
Their fossils sit me out
Midsummer Hill         bedrock          bowl-sky
Banked with shades and shadows,
winding up inside a slope
the deep lane remembers everything
forgets            remembers.
I misremember everything, I know
Chase End Hill            white cumulus           concrete trig
Jean Atkin | Troubadour of the Hills
Launch Event 4th October 2018
This project was launched in an event at Ledbury Books and Maps on National Poetry Day, 4th October 2018.
Visit the podcast and listen to a recording of the event.
Submit your poems using the form here.
Work of the Malvern Hills AONB
Areas of Outstanding Natural Beauty are like National Parks, but tend to be in areas where humans have had a more visible effect on the landscape.
Their primary aim is to conserve and enhance the natural beauty of the designation, and to do that the AONB partnership receives an income from central and local government.
We do a wide range of projects from landscape restoration – orchards and commons; community projects -setting up car clubs, helping with neighbourhood development plans; and helping people appreciate the landscape they're in – mindfulness walking and the arts.
All are intended to cultivate a sense of landscape beauty, either on the ground or in the mind of the observer.
For more information see our website www.malvernhillsaonb.org.uk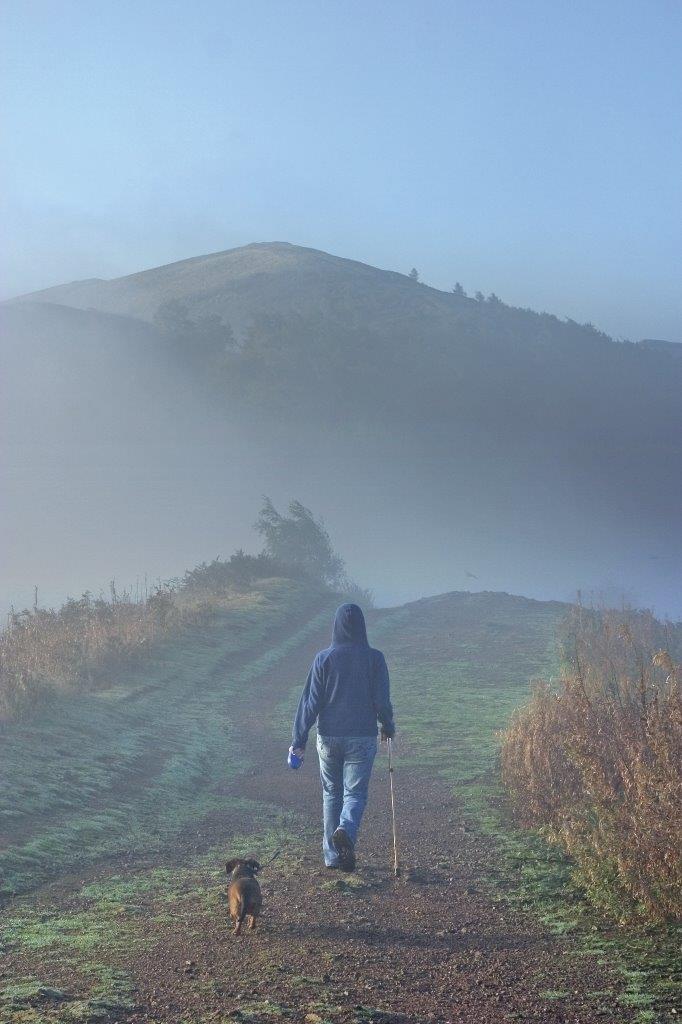 Walking Rodborough Common
by Frances March
Motherhood always had a hill to climb.
Walks across the common
or beneath scarp-tucked larches
stretched limbs and minds.
These grasslands cool the head,
steady on limestone shoulders.
There's constancy in the Severn view
and purple hills of Wales.
Ancient custom brings springtime cattle
to tend the sward
till autumn light dims to sunset over Randwick.
Delicate charms mark our path,
milk wort, nodding harebells,
cowslips and buttercups radiating sunshine
beneath teetering skylarks.
Once glanced at by quarry men,
orchids surprise in the tapestry:
twayblades, spotted, early purple.
Art Nouveau fairy wings,
Adonis Blue, Duke of Burgundy
flutter past our fingers in a shared moment
seeking star stones and Roman snails.
Today, grey clouds still drift east,
carrying late summer rain
leaving fresh sprinklings over the land
for future footprints.
Rodborough Common is situated on a central plateau of Jurassic Limestone with a number of dry valleys dissecting its margin. The wide variation of slope and aspect is reflected in the species composition and character of the vegetation, which is primarily that of unimproved, herb-rich, calcareous grassland supporting a varied invertebrate fauna. From the official citation for Rodborough Common Site of Special Scientific Interest (Natural England naturalengland.org).
Welsh Mountain
by Lorraine Munn
I creep under your leaves Skirrid Fawr, wrestle with the gateway guardian
ancestor-invoked and place at the marker my stone,
trapping a demon inside to ward away the demon inside yours. Hah!
Cleverly you pull my biggest fears out of their poscket, out of my soul
and give them bat wings of lichen dripping venom in rain drops.
Next you set muddy traps in the mist among the rocks,
hawthorn spurs behind smooth rivers of bark which I grab
dropping blood into your greedy mud. I mix my wounds
with the tannin in dropped leaves and foil your invidious plan.
The badger back of your crest, rearing up to meet the great bear
drags away my eye from edges sharp and sudden, but I hear the cronk
of my raven far below and place my mark on your summit.
Difficult to Grasp
by Veronica Aaronson
I don't mind
that barely-held
stones give way,
my feet slip,
knees collapse,
body slides
belly down
over tough
rough terrain
again
and again
as I struggle to the summit.
I don't even mind
that parched grasses,
cut my hands
as I grab at anything
to slow my fall
What I do mind
is how quickly I lose
that fullness of heart filling chest
at the sight of
delicate buzzards' underwings
against solid blue of sky.
On Chase Hill
by Kathryn Southworth
I cannot distinguish between hills —
you need to be local to know them,
to love some better;
and, though to look at other hills from their top
is what you do,
it seems almost like cheating.
And I like the way hills absorb things,
from below the cow and sheep and dog sounds,
and up here bird songs all about,
and the sky, of course, in its circle
of white puffs weighed down with pewter,
that sense of you're being at once aloof
— and right at the centre of everything.
Climbing the Malverns
by Greg Freeman
Picking strawberries, soft fruit caking jeans,
socks nibbled by something in the barn at night.
On a free Saturday, after Friday night revels,
accompanied by hangovers we climbed the Malverns,
all Herefordshire and Worcestershire beneath our feet.
You were a schoolmate I didn't know too well.
I bowed to your knowledge of British blues bands,
admired your cool. We tried it on with the Irish girls,
then walked on the beacon, wind wiping
school slate clean, landscape misting in the distance.
I had this plan of hitching to Cornwall;
you had it all mapped, a job in cartography.
Children of the suburbs and the Kingston bypass.
White boys' blues from the Thames delta;
black magic guitar of New Malden's Peter Green.
Life happened to you. The early wedding:
I look at the picture, the long-gone friends.
Afterwards you headed west. Occasional news.
Children, divorce, another marriage, more kids.
Out of the blue, a school reunion; that old, lazy smile.
A few years later, another message came. Now,
in first flush of our son's vows, we find ourselves
climbing the Malverns in apple harvest time.
Confetti showers of October leaves. The love
we saw in their faces. Albatross on the pub jukebox.
I raise my glass of cider, Kevin, remembering you.
Old As The Hills
by Gill Garrett
These sleeping giants,
ossified by time –
their gaunt passivity belies
a previous incarnation –
sired by fire,
mercurial in youth,
restless, reckless in adventuring.
Wind and weather have stripped
flesh from their bones,
stolen the breath
that once gave voice,
stilled the pounding heart
that beat beneath the arching ribs.
Yet under the weight of years
they stand unbowed,
and to their cracked carapace
the past, like the turf,
clings by its fingertips.
On Midsummer Hill
by Carol Graham
Scattered clouds
hang like pictures in the sky,
and on the steep hillside
May has rolled out
her carpet of vibrant blues.
Each flower,
each single fairy bell,
is dipped in luminous colour,
mixed by the magic
of another realm.
Then drawn into
an intricate tapestry,
and woven with
the fresh green.
Scale
by Jacqui Rowe
On Brown Clee, I'm bigger
than the sheep, but not by much
when they band together
in the road shade, bigger
than the van below
than Cleobury, Tenbury
in offline map view.
In slow descent I match cyclists,
dominate hedges, could be people
on the pavements outside
little Sunday-open shops.
Heat dwarfs me. Sheep
are tiny as cat's eyes on the blue hill
and I remember all the tales
when I don't look back, of stopping
for lattice tart we never found again,
of crossing one Clee
or the other in a storm, when
all it was to me was rain.
Our land
by Ian Jones
Walking free holding mother nature's hand
along a lane lined with oaks pushed by an easterly wind.
Leaves rustle like wrapping paper on Christmas morning,
occasionally falling to form an orderly line along the hedgerow.
Birds gather and sing lullabies to each other
like loved ones about to say goodbye.
The scent of nature's pallet reveals itself in every direction.
Fields role off into the distance and climb hills into to clouds,
shafts of light climb down Jacobs ladder as they gently carry on with
their day.
In the distance, clouds melt and wet the land beneath them, they hurry
your way.
The air turns dusty as it patters at your feet,
and then as if a switch has been flicked, it passes.
Allihies Flowers
by Carol Caffrey
The hills, weathered grey and downy brown
by ancient rock and moss stand sentinel
along the way. The hedgerows have shut up shop
but there are still a few dishevelled lemons
and oranges among the sensible greens. One last
turn where white caps roll into the bay
then you face the guardians of this place:
the Caha and the Goula, Slieve Miskish mountains.
There is a certain peace among the stones
that stand above you now. I'm grateful for
the quiet air, the distant rolling of the tide.
Here's some monbretia, feileastram dearg,
gathered from the roadside for your graves.
Monbretia. I never knew their name before;
called them Allihies flowers until you told me.
There's some in our back garden, too, stowaways
across the sea that fell in Shropshire soil.
They are keepsakes of that place of high sorrow,
the precious ground of home that holds you all.
Here's some monbretia, feilestram dearg,
gathered from the roadside for your graves.
I'll scatter them for you here and there
until my bones lie down along with yours.
Walking on the Malvern Hills
by Shirley Nicholson
Song lifts from the grass,
a bird rises on a stairway of air,
a stream of song
over hills filled with summer.
Warbles float through wavy hair-grass,
quiver in foxglove trumpets,
drop on nodding harebells.
The singer pauses, then another climb.
A small boy clambering up the hill path
clutches his mother's hand and cries out
"I will keep remembering this song!"
Indian Summer
by Bob Woodroofe
I heard a skylark sing over Bredon today,
I wished it was yours, I could only pray.
I know my ears did not deceive me
as the notes rolled sweetly away, over
the fresh brown earth, newly ploughed,
above the spindle with pink fruit bowed.
Spread your wings, so I can hide in their shelter,
among bones of Cotswold splintered wide.
Somewhere here, there is hope, there is love.
On this green hill, peace from blue sky above.
My tired feet walk ancient tracks, in my mind
I know that love is all that my heart lacks.
A stag roars, reverberates through Ashton wood,
echoes my thoughts, to be with you, if I could.
See the pale glow of slanting beams spread
ghostly, between the gaunt trees stream.
Strung, as if you could pluck them, compose
a tune, played against a blue sky silver moon.
High on the ramparts of the fort
the wind is keen, see the sun has caught
the mist coiling in the vale below.
Lit by its pale autumn glow,
small frozen bells still hang blue,
as sun melts ice, turns to dew.
The expanse of green, the cool of air,
warmth of sun, wind in hair.
Busy hum of life below the lip of hill,
drink the peace up here, cure the ill.
Now only flowers of stone deck the slopes
where our names once spelt out our hopes.
Fool Ensures The Guideposts Are Striped Black and White
By Rennie Parker
Sheltering trees are rushing their branches across —
here it is never still, you could swear
the roads had twitched their skeins overnight,
a new passage opens, departs.
In a meadow between two bridges
Fool pegs out a brand new demesne.
This one, O this one, Fool
will have free entry. No appointments are needed.
A hoverfly with its helmet of eyes
inspects and settles for a while.
Tok! Tok! go the fenceposts, deep underground
connecting descended heights, one to another.
Approach with silence and reverence:
the rowan with its hands full of berries
the harvestman bowling in its wheel of legs.
The sky blows hot and cold in its work for existence.
There is rubble, stuck through the hill's motley coat
And dry-wired plants
the matchwood houses can't outlast —
loose doors are ripped from their hinges overnight.
And Fool is climbing the limestone terrace
more long rails than you'd ever imagine
bristling from her back. They're going in,
nailing the shifted pastures
to their last known positions.
Lifeline
by Nina Lewis
As children we would walk up your back,
scrag legs on low brambles,
giggle as we chased each other up your spine.
We would lose our breath and catch it,
stand still only
when we reached the top.
Look out like giants
over the town
at the bottom of the hill.
Mum would tell us she could see our house,
we sometimes saw the hills around our valley,
Clent, Lickey.
The North Hill, a moderate walk
unless your legs
were as short as ours.
The rugged rocks became our dining thrones,
lunch boxes lacked chocolate treats,
we were glad for juice and sandwiches.
Setting off, my brothers
would run ahead
I was too afraid of falling.
Those hills never-ending in childhood,
rambled through adolescence,
paths and rocks climbed.
Routes altered the same day out,
all to see Worcestershire spread out below
like a lumpy picnic blanket.
Confidante
by Dawn Gorman
I asked the hill what she thought of this
and she said don't think,
just pick blackberries, let their warm
purple juice
stain your fingers
and the brambles prick your wrists
and hear your own curse of protest,
close your eyes and put your face
right into your
plastic takeaway box
and breathe them in.
Then taste hawthorn berry flesh
like apple,
climb up across my curves
and watch the harvester below
fold in the rape
and release
a liquid flow of seeds
down that long, improbable arm
into the tractor's trailer
and think, then,
of damsel flies mating
and do what you must do.
Light Dusting
by Tamsin Pearce
Dawn light breaks
North Star remains
Faint crescent moon
Rich aqua haze
Hillcrests dusted
Peppered snowfall
Crimped field edges
Frozen footfalls
Snow Queens cloak
Drapes her surround
Landscape lies still
Winters fierce chill
I Am Meltwater
by Angi Holden
April's sun blossoms the hillsides. Its gentle warmth coddles
the icy hollows, and streams dribble through tangles of couch grass.
The breeze drifts over the fells, carries the songs of distant mountains:
Scafell, Helvellyn, Skiddaw. It stirs me, spins me, swirls me.
I tumble down the rockface, gasp for air, splash and splatter against outcrops.
I grasp light and cast aside its fragments, I thrust and whirlpool:
rub, erode, abrase, before plunging on, handrailing across the geology of ancients,
landscapes scarred by wind and weather. Lower there is mud, soft as flesh,
pathways, a tracery of footprints. I am pulled into the river's eddy,
my chill and rainwater's sweet balm mingling, flowing, seabound
picnic on Beacon Hill
by Diane Jackman

sports jacket
open neck
grey flannels
monochrome
curled snap-shot
on the trig. point
he stands easy
hands in pockets
adding more height
to Beacon Hill
a willowy youth
fair haired good-looking
before the army
takes him fattens him
up for total war
too soon he disappears
slips sideways out of time
his uncle still recalls
the Brownie box bought new
for idle summer days
Pre-Cambrian
indifferent
Beacon Hill
remains
The Hill Walking Club
by Keith Chandler
Where has Bob gone? I hardly knew him
but he was a regular. Every month turned up
with that mocking smile. I can see him now
looking up red faced from lacing up his boots
with an off hand comment. Hardly a friend
I came to like him for his corny jokes
on our uphill slogs. Knew little of his life
or just such glimpses as we allow ourselves
to share with tea and gossip on our halts.
Sometimes these treks into the Borderland
seem pointless. A miserable trudge in fact.
Sleet in your face or sliding down your neck…
Why ever do we do this? I used to ask.
No answer, except because we can
still get a kind of oxygenated kick
out of our bodies. Plus the odd reward.
That time we stood like Cortez on a peak
and all was gold, gold, gold. Another time
we counted seven fading rainbows parked
as if by some old artist, hoop after hoop.
And once Bob did surprise me, pondering
the chance of other universes ranged
like parallel ridges in the mist…Or like,
he said, those voices that you cannot see
climbing beside you up a different path.
I knew about his diabetes. And the hip
he expected eventually to be replaced.
But where is Bob? I miss his teasing voice,
his whooped exuberance on a downhill stretch.
And when we close up into single file
to round some col or semi-dangerous edge
I feel the gap in our chain. Getting back
to the cars, it's almost as if I half expect
to see him, having taken a short cut,
perched on the tailgate wrenching off his boots
and looking up with that defensive smile:
'So, will I see you guys again next month?'
Up and down
by Pascale Roura
Up and down,
Glorious life,
Up the hill,
You can celebrate victories,
Down to heal,
You can bend on your knees,
Up and down,
Like a broken piece of porcelain,
Adding some golden lacquer,
To create a brand new piece,
I am broken not rubbish,
I have the power to renew,
I have the strength to rebirth,
I am up, I am down, I am here,
From caterpillar emerges a butterfly,
Through the power of a metamorphosis,
The transformation,
Remain the growing pain, the growing scars,
With delicate teachings, and wings
That can go up and down,
When Monday morning was still Monday morning
by Ruth Esther Gilmore
When Monday morning was still Monday morning
and the earth was not split into eight, four, or two,
I scrubbed my face and went up to my hill,
my assessing hill, and plaited
my emerald yearnings with dew.
And with the jabbering of the winging jays,
I was flung into the furious and curious
property of your poetry mine, flanked
by the mushrooming of the woody hills
and ballooning of life's tedious circus.
Between bumbling bedrocks I wrenched my sock,
lined in red-satin blue, a twin-twined block of adventures gone,
and with it I manufactured a lace of candied lanes
for the hillside mice with related kin
to form their hopes, hamlets, and free homesteads on.
Rebound the tracks and traces, the paws leading the pack,
my contentment endures in circles and endowed cricks,
for the light of my mind, a line-woven trick, is honed
between the reader's noble nibble
and the critic's bitter-sweet-bitter tongued licks.
What more did I do with my life, I strayed far
from jealousy and strife,
lit up the gloomy rooms
– wherever I went –
what more could I do?
I eased burdens whenever I could
and I helped whenever I could,
and I would – if I could –
now wish, my assessing hill,
for a lenient assessment from you.
Look to the Hills
by Ruth Esther Gilmore

Down the stairs a vanished step
reveals the oncoming dark-dusted veils,
the false architecture misses my uncertain foot.
Spent choices under turned boxes,
covered by wintery down and bones;
the embracing light snuffed out.
My dimmed eyes search for the truth,
akin to a dragonfly's voice sawed gradually off,
having reached the radiant mesh.
And I lift up my fractures unto the hills, waiting,
knowing, like the queens and the kings of yore
looked to the hills, from whence help always came.
Me, a pivoting windmill, brushed in pain,
my keening mounts to the hills,
from the blessed summit promised help is coming.
May Hill
by Owen Williams
Clouds scud across the landscape, precipitation within sight, wipers gesture furiously at the cloudburst. We stop the car and then curiously, the rain stops too, a filament of blue against the grey. The sky lightens, and the sun edges around a silver lining. "Let's do it" she says "walk to the top" "For Edward Thomas" I reply "It's been a hundred years". We amble through an autumn meadow; the gentle cows regard us with indifference. She opens the gate, My words echo to the rattle of the metal catch; "As English as this gate, these flowers, this mire" "That's from Lob, my favourite poem" We trudge up the gentle slope in the silence of concentration, for the grass is lush and wet, slippery under foot. The summit is clumped with pines, visible for miles. We sit on a bench, fathoms deep in thought, the view is breath taking. The Severn below winds its course leisurely, rocking the fish to watery sleep in its lap. "This is where Thomas wrote the poem Words" I say, breaking the silence.
Back in the village we buy postcards of May Hill crafted in wool. Later I will frame them. "As a memorial to Edward Thomas?" she asks. "And the walk" I add.
Up
by Graham Burchell
Because he led me up the garden path, up above Cornwood to a hedged terminus with sentinels of nettle, I feared that the me he saw would be teased from the body he knows I fail to service, to run enough, like a car left to rust in the quiet of its garage.
We managed a stile, a horse field, plodded a lane, followed a track to a creaky gate and climbed beyond farm buildings (tired too it seemed of being up), up past a free- flowering buddleia kissed by a silver-washed fritillary and its nymphalid cousins, up until it looked hopeless.
We'd expected a wood or open moor, so we retraced to a car still cooling its engine, took the road to the left, crossed a bridge and swayed between maze-high hedges. There was too much up to talk, just heat, heart thump, campion, and grass growing through tarmac.
We turned north to a path that became dry scatter leading us up until we did come to open moor; a rising treeless field of flowering gorse, bombed with granite boulders in some ancient Olympian war. I found one to sit on, had coffee and chocolate.
We could have driven up, I said. He nodded, pulled his rucksack on to his shoulders, asked if I was up for it. Everything the underside of his boots touched, inclined, yet still I followed, up over Rook Tor; not really a tor at all, and he pulled ahead, grew smaller.
The me inside my struggling body (just there to feel its pain), set challenges. Just get as far as that flat rock. I was going to make it. He was already there, hand on hip, king of the castle, looking down on me, knowing I wasn't physical.
Forty years before he had to show me how to kick a football to keep it low, to get it to go, under a goalpost. Yes, he tried hard not to pose, while for me, the last steps to Penn Beacon's great cairn burned in my blood and joints.
I touched the placed stones, felt how cool they were, stepped into them, reached for the highest, released my frown, smiled at the sky, smiled at him, knowing the only way from there was down.
Valley Deep
by Tamsin Pearce
Peach soft swathes
Bathe distant horizon
Wild starlings soar
Effortless timing
Silver grey mists
Mask valley deep
Silhouette tree frames
Guild faint hillcrest
Gentle north winds
Muffle natures call
Sheep flock together
Cattle lie huddled
Golden light washes
Across panacea
Illuminating beauty
Winter is here
Walking the Cloud
(Bosley, Cheshire)
by Harry Owen
Sky washes down, leaches
into the pale mineral of hills
where everything arrows to earth:
grit, shale, the hesitant green
of pasture deepening past lake
and road to a dark underbelly of trees.
From the west, a rhythmic march
of cloud, a tide turning over sand,
the glare and lick of it
as colour thickens into lump
and water flattens to dull foil.
To this cleft clings winter fern,
bald beneath the winds;
grass lies silvered with last night's rain;
lichens blotch the rusted stones with age.
Yet I feel no itch of thunder,
no grumble of approaching storm
above these glinting iron roots,
hear only an echo of wounds,
whisperings of an army's soul,
a hushed apology of windsniff.
April on Clunbury Hill
by Colin Fletcher
Knarly blackthorns,wretched trees,
above paddocks stitched by hedges.
Flower bells ringing for moths, for bees
at Clun River's mud-trampled edges.
Solitary oak, windswept and shorn
marks the path from Clunbury to Clungunford
Badger lolloping with Cubs just born,
Lamb wobbling, trailing its birth cord.
Dandelion clocks ready to be blown,
grass frisky, as stag beetles discover,
Magpies clack a clack while gliding down
Damson blossoms as the hedgerows recover.
Yearlings file down on Winding paths.
Dawn chorus a medley of rhymes
Chain harrows heap feg* into tidy graphs.
Tractor burbles as the church clock chimes
I am walking, watching, stopping to stare
at the sky for the year's first swallow,
Spring's brave herald slicing the air,
Whose singing defies all sorrow.
*feg brown, frost-bitten dead grass.
To walk the Welsh Borders
by Tina Cole

To walk the Welsh Borders
is to lift your face to a past,
of hill top farms with time
vaporous as this low slung cloud,
soft, plump breasted hills
with wild vistas are clothed
by the sour drift of wild grasses.
Scum coloured skies
illuminate a time when the beat
of life was slow,
when solitude was stitched
into the daily tapestry by stray
skeins of sheep wool,
windows were sewn shut
by cold fingers of rain. Quarry
and mine, foundations
now scattered and companioned
only by nettles, mark their long losing
battle with grist and season.
Between history and history
we fasten known to unknown,
the relics of everyday
warmed by peat bog
memories, all wick and smoke
and gaps rag filled
we imagine lives
before they turned their backs
and left all to the distant watch of Cader Idris.
Kilimanjaro
by Brenda Read-Brown
The day before the summit
there is a long plain.
You can see where you will be tomorrow,
and only slow steps in thin air, pain,
between. You borrow
a solitary boulder's shelter,
and defecate where every other walker
has shat before you.
Slow-motion skelter-helter,
inevitable anti-gravity, you climb.
You have tried to cover yourself
but unexpected burn
hits unprotected, forgotten parts this time –
ears, hand-backs, nose-tip.
Inside is a still chill.
And the peak stuns. You learn
why, for one moment,
and then it's all downhill.
Silbury Hill
by Lesley Ingram
When the ants are flying
we begin: a gravel heart, clay clods of bone,
a skeleton of shells, hazel, oak.
We bury the stars with Saracen stone,
charms with moss and mistletoe,
strength with flint and ox –
then shine its skin with the whitest chalk
to dazzle! To blind. To baffle. Even the birds,
wise with suspicion fly around and by
as we, generations of we, balk
at their dances, their secrets, their songs,
their incomprehensible intentions.
One day we, overshadowed, will have gone
and they, overshadowed, will vanish
and the green will come.
View Point
by Tamsin Pearce
Dusty rubble sand track
Pale golden barley fields
Sea of mauve cornflowers
Giant dried thistle cones
Tortoiseshell butterflies
Alight upon lone bale
Partially opened gatefold
Beside tired rusty plough
Sun soaked arid hilltops
Patchwork of meadows
Blue infinite sky scape
Panoramic rural idyll
The Kushti Hills
by Raine Geoghegan
Three weeks it took us to travel to to the 'ills in Worcestershire. Malvern was the last atchin tan 'afore we settled in Bishop's Frome for the 'oppin' season. We pulled up on the common, untied the grai, got the yog going. The chavies were running around, 'appy as yer like. The rackli saw to the 'obben and I liked to walk about and look up to the 'ills, a kushti sight if ever there was one. Soon we'd go to the spring in the bank and drink that pure panni. There was a gillie we used to sing.
We've come this far, let's atch fer a while, dik at the kushti 'ills.
We've come this far, let's 'ave some mesci, dik at the kushti 'ills.
The panni runs a through it, the finest you'll ever taste,
Grab the bottles, climb the slope, let's not time a waste.
We've come this far, we're drunk on panni, dik at the kushti 'ills.
We've come this far, we're ready for sov, dik at the kushti 'ills.
There are some things in life that poshes can't buy, fresh panni's one of 'em, but yer don't need me to tell yer that, or do yer?
Romani words: Atchin tan – stopping place; Grai – horses; Yog – fire; Chavies – children; Rackli – women; Hobben – food; Kushti – very good; Gillie – song; Hatch – stop; Dik – look; Panni – water; Sov – sleep; Poshes – money.
Me and Mrs Fisher
by Laura Potts
The world lit its lights
and hung pearls in our eyes
like trembling moons
under darkling stars.
The night
saw the city asleep
and aslope
as the land fell away to the left and the right,
the sight of the globes in your eyes
nightjars in pale pools of light.
I remember you
walking the walls
the moon in your stride
the dizzy tomorrows
full in your smile,
a starlight for two,
the glowing darkness
and you,
all the days of my life.
After that,
the hills candled bright.
Fifty years away
and we are still in this place,
where a distant future, beautiful,
chimes.
Observer
by Simon Cockle
The hills across the valley
reveal themselves in winter
when trees discard their leaves.
March to September, they hide
behind the green canopies
I cannot breach by sight
because I do not walk the hills;
I sit where table-lamps gather
and the faint sun of the laptop
walks my shadow to the ceiling.
I mind the land through windows,
tap out code it cannot hear
or return. I wait for Spring
to pull the blinds, and hope
we will return, unmoved.
Lake District Love Song
by Angela Topping
I have seen this land under snow:
drumlin swarms nestling together,
Geography lessons proved true,
Sheep placidly eating and shitting
half- way up fells, shepherds
strolling up steep slopes easily,
their dogs to heel.
I have seen this land under rain:
Grizedale Forest leaves dripping,
damp boots and socks, map
pulping at the creases. I've seen
a bright day turn suddenly chill
as clouds heavy with water
burst over Windermere.
Bird-watchers in the Picos Mountains
by Gill McEvoy
Below us there's a wall-creeper,
the shyest bird,
clinging to the steep side of a swallow-hole
to rest and preen.
It spreads its wings out; we can see
the flash of red
among the gentle greys
of feathering.
We hold our breath and watch.
Until that woman Brenda,
already far ahead, crests a hill
and yells Cooee! Cooee!
We shake our fists in her direction.
She takes our gestures for acknowledgement,
waves back, dancing on her vantage point.
Cooee, Cooee! she calls again,
Cooee!
We draw back from the frightening edge.
The bird, of course, has gone.
Rooks
Patrick Williamson
Banking the flanks, dense to horizon,
never believed so many undone,
night is starless, where you go
no-one knows, cloud concealed, see
we merely slack wire, tumble scree
shade encroaches, head to hollows
protected by grace – damn the rooks,
dive out of mist, through the gates,
to the hidden pasture, take shelter
in the valley, there in the shadow.
Point of View
by Maggie Reed
Looking back
I realise
this is where I live.
On the flank of the Hills
to the West
facing sunsets.
Early morning fogs
feed through forests.
The plains of Herefordshire,
Shropshire, Wales.
The greens, greys
pulse the days.
Looking back
I realise
This is where I live.
Night Visitor
by Maggie Reed
On leaving the den his dark shape ripples.
He follows his route up West Malvern Road,
slips through a hedge, disregards a fumbling moth.
He flattens bluebells, snorts through moss to filch
richer earth in our back garden. Worms turn
for the last time as he trenches the lawn,
spills pots of geraniums, claws out tulip bulbs;
munches darkly, not seeing the stars.
Rasberry trail
by Sue Wallace-Shaddad
Wild raspberries line the route,
little pink rosebuds of taste,
simple woodland offerings
as we climb Kinnoull Hill
to reach its ancient folly
towering over the Tay.
Down below, the river embraces
the valley with its tidal arm.
The view from the summit
is matchless, mountains edge
the far horizon
like rumpled bedsheets.
Clouds balloon in the sky
waiting to burst.
We hurry homewards
down the trail. Raspberries
give way to blackberries
but we have eaten our fill.
half climbing
by Patricia Leighton
the windward side for the view
a fall and sweep of fields
leeward
the dotted habitations
church spires
of the calmer slopes.
I choose windward a stiffer climb
wind buffeting the ear
so close
it roars itself into silence
press on up a wide traverse skirt
hillocks and sheep runs
the sky an ever-changing
scud of sun and cloud
summit marker ahead I rest
catch the breath
eye up the ridge path
the run out of further hills
so familiar
my boots could all but
walk themselves on
I chicken out
drop back to take
the tedious path down
divert – to temptation –
a narrow side path
offering a quicker return
mistake
a blunder into one-foot-at-a-time territory
tracks all which ways
petering out
ground-clouds of dead
undergrowth obscuring
safe descents
muscles and breath tense
I think turned ankles,
slump in coarse grass
above last year's brambles
map out defeatist bum slides
to get safely down
but first
a last look at
hills skies fields
suddenly
two larks rise in song
angel-hover in wind
my eyes track their ascent
into air once shared
send them
on their way
with burnt-out kisses
of goodbye
Uphill
by Alwyn Marriage
When we embarked
on the steep incline
earlier this morning,
it was encouraging to see
the brow quite clearly
but as we climbed
towards where it had first
appeared to be, our goal
receded, keeping nearly half
an upward mile further on
after an hour of trudging
into wind, the ground
started to descend,
but only for a few short
quickened steps
before it rose again:
our hard-won hill top
clearly just a milestone
on the way to
greater heights
The Narrow Wind
by Ian Glass
The narrow wind blows waves
of brittle grass across the hillside.
Inscrutable rocks nod
an imperceptible greeting.
Clouds race in brief existence,
rolling with turbulent joy.
Balanced on an instant,
I fill my lungs with tight cold air,
then exhale. The moment is gone;
fixed in the stones;
while I race, wind-blown,
to a bright horizon.
Shelter
by Ian Glass

It starts with a whisper,
closing from the West
ripples across stooped hills,
grows grumbling to a moan.
Light dips behind low clouds;
wind presses clothes to limbs,
then rain slants sideways
cold from the weighted sky.
We crouch by tall stones, curling
weakness behind their enduring bulk;
safe in the hollow moment, while
the day blows into tomorrow.
The Blue Hill
by Michael Coley-Smith
From where we stand the blue hill
has a presence
shaped by its steep sides,
its smooth summit hump.
Like all hills it begs to be climbed.
The final stretch to the top has us
snatching air, our hearts
working overtime.
We gaze in awe at the orange landscape
spread out before us.
Is this why we went to all the trouble,
two hours plodding upwards?
Up here on the blue hill we have
a sense of exhilaration.
The air is crisp and clean.
In the distance we see another hill.
You might say it's predictable,
there is always another, beckoning.
This far hill is yellow,
it's top faint against a white sky.
Banking Crisis
by Andrew Quine
Here amongst the rugged hills, the wind upon the slopes,
the landscape rolls beneath us and draws us further out
straining for the margins of an everlasting sea,
and puts into perspective, our limited control:
the hilltop is surrounded, with elongated rings
of excavated trenches and built-up earthen banks,
concentric layered defences – a hill fort for the wise.
"This is our security", the ancient Britons cried.
When the times were dangerous, they'd add another ring.
The legionaries came then, with interlocking shields,
with siege machines and armour to cut through hilltop banks.
Whilst crying invocations to their capricious gods,
the druids called down curses upon invading men
who sliced through the defences, indifferently as one.
Our ancestors primeval – their worldview seems naïve
looking down our telescope towards the narrow end.
The brazen banks have faded, the cries lost in the wind,
mournful earthworks mellowing, and carpeted with grass,
successive rings just ripples that reach our farther shore…
…where in our greater wisdom, we've trusted too in banks
and protocols of checking, to ring-fence what is dear;
more laws and regulations, a fort that walls us in,
procedures to protect us, a mirage to pursue:
'a world entirely harmless, if all the gaps are plugged'
– with checkers checking checkers, in propagating rings,
a priesthood of inspectors, those authorised to curse
and sacrifice our freedom to bureaucratic gods,
whose messengers are lawyers, with litigation threats,
deterministic worldviews to allocate the blame.
The cause, they claim, is justice, but look at the effect.
So on some sacred hilltop, perhaps one day we'll find
a pile of unused sling stones, a rotting javelin shaft,
weathered old ballista bolts, decaying paperwork:
a health and safety manual, a legislation draft,
auditors' assessments of the regulation team
that oversees the body that organises checks,
fear-full ideology, that's flaking into rust.
But still …
the one thing that is missing, from up here we can see,
the one ring that is missing is someone we can trust.
Lost World
by Justin Moriarty
He emitted theories; a Victorian gent,
Interplanetary, for example,
If searchlights bore on the snow-capped Malverns,
Then Moon-people would observe, respond;
But now the moonly magic's gone,
First steps of squalor there –it's just deep freeze,
With creeks of mute ice and rocks;
No dreamy cities
Where the sphinx presides.
The hills here also deceive,
Even under the fleecy lift
Of a Spring afternoon;
They should impart joy ,
Anticipation in the heart,
But they are steeped in sadness,
As I walk by, without the flesh and bones
That once clothed sympathetic souls,
Who shared the climbing paths with me.
Midsummer Hill 1956
by Miriam Obrey
Midsummer's eve as all the clocks of Malvern
chimed the magic hour
children climbed
no path on any map to search for little folk
among the bilberries and heathers
where peacock butterflies and skippers
glimmered in the scrub
larks rose
becoming black notes in an orange sky
as boys and girls watched beetles'
hide and seek among the grass
ate cake and cherries
out of back-lit paper bags into which they blew
skrewed tightly at the neck
and punched
till each bag popped
releasing a shower of crumb and cherry stones.
Swathes
by Tamsin Pearce
Morning sunlight
Meadows bask
Westerly winds
Shadows masked
Afternoon slumber
Low mists creep
Sheltering hilltops
Disguising ravines
Twilight sky scape
Silhouettes revealed
Bare expanses
Wintry feel
Midsummer on the Stiperstones
by Alison Nichol-Smith
We climbed together –
You forging ahead at first, then stopping,
Turning, looking behind, to see
Me stumbling and staggering among the tussocks,
Too old, it turns out, too unfit for this game.
At last you took my pack, along with your own.
I clumbered on four-footed, sweat-drenched, cursing,
Hauled in the end by your warm, down-reached hand
Till there we were.
We aimed to meet the sunset but
It was already darkening,
So hurriedly unpacked and launched our tent,
Wrestled with groundsheet, struts and pegs.
Put it up wrong first time, all inside out,
And had to start again.
Unscrewed at last the vacuum flask of coffee
Poured in a head-torch light.
We barely slept that night. Having failed to allow
For the chill, the tearing of winds
Over the stretched black spine of the Devil's Chair.
Didn't appreciate how fine the skin
Of soil, what hardness lay so close beneath,
Cold and ungiving as time.
Heads burrowed, noses snuffed in sleeping bags
We huddled, waiting out midsummer night,
Straining to reach the dawn.
Never again will we climb to share a tent.
You have your own life now, your own adventures,
And one to share them with.
And me, I'm past it.
That last trek, up to the Stiperstones,
Gave me the message. Quit while you're ahead.
So I stay grounded, down on the valley floor.
And the pain of missing you
Weighs in my gut hard as a cold black rock
Prized from the Devil's Chair.
The Lost Skylark
Red Hill Farm
by Peter Branson
There's houses on Ten Fields these days, Red Hill
beyond a barren unmade grave till one
stray pilgrim flings its bubbling shadow high,
lost soul, a breviary to time and tide.
This lure, its line invisible, soon shrinks
to insect size. Lone seraphim, sweet grace
notes drowned, one blink through holy water eyes,
trace memory, rag rhyme, it's gone for good.
The Crescent Guard
by Jason Conway
The crescent guards the serpents slumber, cursed to sleep so man can
wonder.
It once lived free and fed on stars and hope was lost between its jaws.
Mankind obeyed its scaly wrath as light was lost above its path.
Till moons anger cast a sleeping spell and in a trance, the trickster fell.
The ages pass, new stars were born, glittering heavens where once were
torn.
We stare above and wonder why, snake tried to steal the joy from sky!
Lye Brook Falls, Vermont
by Hope Andersen
You have to walk a rocky path,
careful not to twist an ankle
or stumble and fall,
the stones tripping you up
like character flaws
reminding you to be patient,
careful, mindful.
Your legs will burn,
your thighs will be on fire
as your heart throbs inside your chest
like a grandfather clock,
every beat felt resonating
through your body
to your brain.
You will bump your head
on the low branches
and fallen trees that arch
over the path,
cursing.
You will traverse streams
over slippery stones
telling yourself you'll fall
don't fall
you've got this
as your sneakers get soggy
and your toes are mush.
Your throat will be parched.
Your spirits will lag.
The path
both beautiful and endless
will beckon you.
Sprays of feathered ferns
and soft emerald moss,
gurgling brooks and mushrooms
popping up from the
loamy forest floor –
trios of tiny mustard colored parasols,
shelves of honey caps lining rotting trunks,
filmy white pipes,
huge prehistoric platters
will catch your eye as you trudge,
swatting mosquitoes
still wondering why you came.
Then the air will grow thin.
You will push through blackberry bushes, excited
Suddenly, you are there.
A vertical river of white
pouring out of the sky.
Heaven slides down
through the trees
like a frothy bridal train.
The water thunders, whispers.
Don't look for rainbows.
There are none.
Only the magnificent falls
dappled with sunlight
toppling through this
sea of green.
Bredon
Peter Sutton
From here you see the soft swell of Bredon
where ploughboys and their belles once peeled and lay,
Trojan horses snorted boustrophedon,
and churches blest the sowing in the hay.
By Severn, Avon, Wye, Teme and Leadon,
bowing, whispering elders pine away,
dreaming of a slow, caressing Eden
when they ploughed the old Arcadian way.
This is a gilded long-remembranced land
of fecund soil, a golden book of hours
where Celtic sylph and new-age settler meet,
where sturdy, cross-bred, long-limbed saplings stand
and Shropshire lads go picking fresh spring flowers
and lay them down in the burgeoning wheat.
Wittenham Clumps
Amanda Bonnick
Mother picks over chalky earth
searching for pottery
and flints.
We look askance at sheep
and hide in hedgerows.
We could never choose
which to climb first,
out of that strange duality
of hills.
It was one of many pointless
battles of childhood.
We resolved it
by running
very fast
downhill
from both.
Bredon Hill
Amanda Bonnick
In the lee of Bredon Hill
winter ringing
ears singing.
Thin grey clouds
silver brown fields;
stark hills against sun.
Wheeling buzzard;
he drops in one
heart-stop.
Your red hat ahead.
I follow, horizontal,
hand-holding grass.
We reach the top
heel-rocking in streaming air.
Rain is coming in.
Castle on a Hill
Judy Dinnen
In a flat place,
known for its low fields,
glistening mud, for crazy-paving
water edges, reed rooves,
painted houses, ancient churches,
the Romans found a hill.
Claudius built a temple,
overlooking fields and tracks,
the winding river down below.
He built walls and gates,
circling the hill top,
recycling grey stone and red brick.
The temple stood proud,
looking out, watching
for intruders. Later Normans
built a castle, wisely on that same
base. Years on, Cromwell's
troops surrounded the town,
gathered in the hill's skirts.
They looked up
the winding track,
the huddled housing
to the iconic castle,
lording its strength
over all marauders.
She still dominates,
stands proud, sings her
song of triumph, of
height and presence.
Around her, flowers,
fish pond, swings and slides.
She watches over tourists,
school children,
a dog and a tramp.
A small tree grows like a flag from one turret. (Colchester Castle)
Ice Horses on the Pentlands
Rebecca Gethin
Kelpies are sketched in snow
across the arc of the hills
that rise like a fin above the plains.
Frozen in mid gallop,
their backs curving like a bow,
heels a fling behind, necks
pointing into the winds
the herd moves between rivers
and lochs. For now, they are outlined
by cold but even when they thaw
into vapour of sweat and breath,
they won't stand while nails
are hammered into their feet,
nor bend their heads to a bridle.
Raven at the Watershed
by Chris Kinsey
Nine years old – our first long car ride
over hills only seen close in family stories
an imagined geography of remote relatives
and rivers, this time: Teme, Mule & Ithon.
Now, at the watershed, this moorland
matches my craving for openness.
Clouds rustle sheep and wild ponies
sun sets them dozing on common land.
Down by Black Gate, a raven lands
on a leaning fence post. Persecuted
almost to mythology then, this bird
holds down the updraft and coraxes.
Silenced by wind and windscreen, I fancied
it said: You'll live near here one day.
Pitching north over springs and ditches
it hitched me to the pass and aimed me
over the wide blue swoop of Severn
out to the summits of Aran & Cader.
Scale
by Myfanwy Fox
I trudge the last steep reach of Wearyall:
at my feet puddles double as a county,
a map I cannot fathom.
Still Levels rising, horizon rain-close
where eels feed in easy streets
and sticklebacks the size of whales
might lek on village cricket pitches.
November Castle
by Bob Woodroofe
Sunlight filters through golden leaves
that still cling fast to the spreading oaks
by the stream that flows underneath
the wagtail chip-chips as she flits away
the old stile leads off into the field
striped green rows of winter wheat
march up the slope towards the hill
where bright pheasants strut and preen
the castle above is divided by slants of light
luminous green ramparts edged in dark ditches
from the treetops jackdaws chack as they
launch themselves to sport in the updraught
spider skylines waft lazily in the breeze
while the silk netted grass glistens below
a lone figure trudges slowly around the field
follows the pathway that winds on and up
past the castle and through the dark woods
labours on to the very top and the tower
to be rewarded on a day such as today
when the seven counties must surely be in view
Sometime after 5.17am
by Bob Woodroofe
we climb to greet month and day
follow their passage through the dew
soles imprinted in soft earth
in the wood crushed bells of blue
the garlic tang of Ramsons underfoot
they loom out of the semi darkness
startle the horses that roam the hilltop
gather and shiver in predawn coolness
huddle together under the old pines
the heat from their bodies rising
the golden orb breaks over Cotswold
reaches slowly across the vale
lights the glistening S of Severn
adds long shadows to the trees
stretches over and enters Wales
choose the tune to greet the dawn
and prance the merry month away
search north to Malvern beacon
cross the vale for panorama tower
where others dance to celebrate
trace the patterns weaved
worn in grass by stepping feet
pieces of bark ripped from sticks
a strip of colour loosed from a coat
by the energy of the dance
to crown it all stop and listen
to the first clear Cuckoo's call
the elongated 'oooooo'
lifts from the woods below
echoes in the still spring air
May Hill
by Sue Johnson
We have come to pay homage to you
on your special day.
Many times we have seen you
from the motorway
added you to our list of places to visit.
As we enter the grove of pines on your summit
we notice a drop in temperature
as if the spirits of this place have gathered
for their own celebration.
We walk around outside of the circle of trees
notice ponies grazing
their rough coats a range of colours
from cream to caramel, chocolate and black.
A black and white foal follows its mother on shaky legs.
They ignore us as we walk past,
boots sinking into soft grass.
Overhead a buzzard mews as he patrols the thermals
between England and Wales, earth and heaven.
Bredon Hill
by Sue Johnson
I climb to where harebells dance
in late August sun
knowing you will never dance
on this earth again.
I feel sick with longing for you
but know the only way is forward
with my life.
As I look at the names
written in stones by the old fort
I feel an urge to create
a memorial for you.
I remember how Mum said
your beliefs were almost Celtic
a grove of trees was your cathedral
and God spoke to you
on the wind that stirs the grass.
I will look for you
in the still place between each breath
and know you are with me.
Sligo Hills
by Helen Kay
They are horse
heads, rubbing
noses over valleys
their bay coats
warmed by leafy
green blankets,
not just green, but
a hundred ways
of being green.
A lone crow is an
eyelash on the sky's
plumped pillows.
The lough looks solid
as cement, holding
the hills in place.
Unafraid of tides,
the trees foam over
the water's edge
soft as fur trim.
Stone farms are
sewn neatly into
the strong fabric
of this world,
firm as duffle togs.
Carn Ingli
by Jackie Biggs
We saw her first from the old stone cross
down in the dreamy valley –
you catch your breath as she imposes
sudden on your world,
she seems close, yet is far away.
Her strength is on the air.
She doesn't assist the climb
over this shingle-slipping, stumbling land
yet she draws you to her as she sucks moisture
through rock to new springs;
and the sky above pulls
and sweeps out to the farthest space
beyond even her reach.
Folk at work on her slopes in ancient times
watched the distant seas
as strangers arrived,
their sails crowded with the west wind.
Is that where angels lived?
And where saints rested to gaze
and touch their wings?
Now, rough rocks, like pebbles to giants,
lie all over this place.
Icy currents stir around the summit;
there is a darkness in her swirling mists,
as her power reaches out.
My silence carves
by Catherine Baker
I am grey and grim. Fixed in my stones.
I was pushed and pressed to soar.
I'm barely covered during earthly seasons.
Winter whitens me.
Ice crystals drift and clot.
Life shudders, hidden and pale.
Summer glows me.
Yellow gorse glints, sweet islands.
Stone walls lurch the purple heather
and cotton grass bobs under my breath.
Sheep tracks curve my flanks darkly
like black blood spilling out.
Stunted, wind twisted oaks sting my skin
and always, water, beats and licks me,
I drip with it.
My silence carves up to the heights,
as flickering skylarks lead astray.
And far off, the sea, a sparkle,
a blue myopic eye glittering between bone.
Walking the Hills
by Kate Innes
"I distinctly recollect the desire I had of being able to know something
about every pebble in front of the hall door."
Charles Darwin
On this illusion of solidity
continents have crunched their bones,
inner earth has spilt its heat.
The scar is this gravelled spine of hills,
sweetly covered in mossy, heathered coats.
The Lawley rises to a ridge,
that points to future sky.
Caradoc follows, glancing back.
From here we are travelling north
by a fingernail's width each year,
the millennia trailing after us,
scattering rocks across the world.
The ground beneath our feet
has flowed and frozen and thawed
into lichen puffs and flowered grass.
We continue on our path,
finding the pebbles, gazing at their souls,
as if they were the events of our lives,
as if they were maps for us to follow.
They tell us deserts have turned to stone,
been built and fallen into ruin.
Bogs have squeezed and sucked to coal.
Rivers have redrawn the world
sending out their ribbons of mud,
their rippled sediment.
Everywhere trace prints
and carapace remain –
space-gathered
animate elements
pressed in layered pages.
We walk this earth
from which we came,
every pebble known
and unknown,
we walk and return –
becoming dust,
making stone.
Growing Up
by Gary Longden
Thack Moor rests still,
No longer a hill,
In a moment something more.
By three quarters of an inch
It is, by a pinch,
Now a mountain.
Men, GPS besotted,
Have visited and re-plotted,
Stark Cumbrian thrust.
Its straining bleak peak,
Now exceeds two thousand feet,
Without pause, or hiatus,
Gaining rightful status
Neither moor, nor tor,
But established for sure-
As England's mountain, two hundred and fifty four.
May Hill Firs
by Roger Hare
It takes distance to see them;
royal giants, sharing the sound of the sea
with each dawning breeze.
The shape of water hidden in cells
that reach to fly clouds like kites.
They stand against
rain, snow, sun and gale,
fortified by tales of the faraway
gleaned from the wind,
lips of strangers
and remembrance of
Masefield, Gurney, Finzi and Foley.
There's longing;
to cross the Vale,
dip roots in the silver Severn
and climb to savour the view
from the Cotswolds edge.
They've become legend
a celebration in paint, pixel
and notes on a stave.
Hod Hill
by Morag Kiziewicz
sun tracks the curved brow
spotlights ash and willow
before shadow fall
the River Stour heaves and slurps
a weight of water coming
from seas and storms
pushes at boundaries
steals over the limits
creeps on to the floodplain
rises ever rises
breaks through bridges
erases roads built by Roman armies
rises and fills the valley
Hod Hill becomes an island
where people paint themselves with
copper-tainted clay
shake their fists at a dark sky
Arthur's Seat
by Rachel Burns
You and the kids take the steep incline
I choose the long way around.
Gorse heady and sweet glints
like fool's gold in the April sun.
The hills are already packed with tourists
speaking different tongues
their feet grinding the red mountain into dust.
I make my way slowly, knees and ankles ache.
I watch a hawk soar then dart and swoop down to its prey.
The view over Holyrood and Edinburgh
Is vast and long. Georgian New Town
and Medieval Old, the Gothic
the Neo-Classical, the skyscrapers
the sea, the mountains beyond.
My son high up on the hill, waves down to me,
he seems so far away
the distance between us grows
as he nears the summit.
I watch you and the kids
slide out of view. A girl with red hair
declares her love in the shape of a heart
in small stones. I wonder what the stone
heart looks like from up high
from Arthur's Seat, where her lover sits.
I wonder if their love will endure.