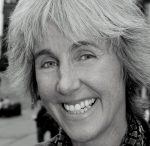 Troubadour of the Hills, Jean Atkin was commissioned to write One uncertain history of the Malverns by Ledbury Poetry Festival and Malvern Hills AONB. Please feel free to add your own poem, using the form below, inspired by the Malvern Hills or your own hills. As Jean says, "We are looking forward to reading small mountains of new poems."
One uncertain history of the Malverns
Wide horns and white
medieval flanks.
Heavy as August
the cattle linger
by a shrinking pool.
Bromesberrow          oaked          milky
I'm lit along the wood-edge.
Blond light off corn stubble,
a sky full of rain and light.
In one ear, press of hide on saplings,
the unseen deer retreat
Raggedstone              steep               sallow
A bellwether sheep
leads a long file past me,
roman nose to soiled tail.
They beat the cloven common
into the common
Hollybed           pale               trodden
Come out at the car park
red car, yellow car, sweet,
seedy blackberries.
Rain runs down me,
down the hill, and down the hour
The Gullet       fogged           viridian
The hills are always here.
They wear away.
They stay, grip close
the patience of the igneous.
Their fossils sit me out
Midsummer Hill         bedrock          bowl-sky
Banked with shades and shadows,
winding up inside a slope
the deep lane remembers everything
forgets            remembers.
I misremember everything, I know
Chase End Hill            white cumulus           concrete trig
Jean Atkin | Troubadour of the Hills
Launch Event 4th October 2018
This project was launched in an event at Ledbury Books and Maps on National Poetry Day, 4th October 2018.
Visit the podcast and listen to a recording of the event.
Submit your poems using the form here.
Work of the Malvern Hills AONB
Areas of Outstanding Natural Beauty are like National Parks, but tend to be in areas where humans have had a more visible effect on the landscape.
Their primary aim is to conserve and enhance the natural beauty of the designation, and to do that the AONB partnership receives an income from central and local government.
We do a wide range of projects from landscape restoration – orchards and commons; community projects -setting up car clubs, helping with neighbourhood development plans; and helping people appreciate the landscape they're in – mindfulness walking and the arts.
All are intended to cultivate a sense of landscape beauty, either on the ground or in the mind of the observer.
For more information see our website www.malvernhillsaonb.org.uk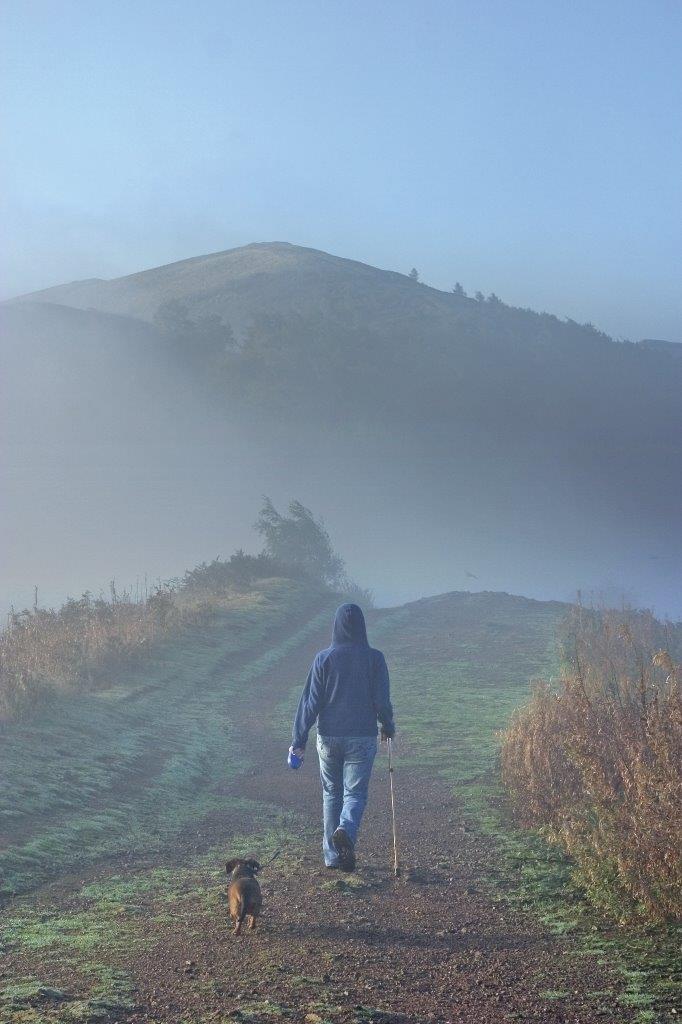 Scale
by Myfanwy Fox
I trudge the last steep reach of Wearyall:
at my feet puddles double as a county,
a map I cannot fathom.
Still Levels rising, horizon rain-close
where eels feed in easy streets
and sticklebacks the size of whales
might lek on village cricket pitches.
November Castle
by Bob Woodroofe
Sunlight filters through golden leaves
that still cling fast to the spreading oaks
by the stream that flows underneath
the wagtail chip-chips as she flits away
the old stile leads off into the field
striped green rows of winter wheat
march up the slope towards the hill
where bright pheasants strut and preen
the castle above is divided by slants of light
luminous green ramparts edged in dark ditches
from the treetops jackdaws chack as they
launch themselves to sport in the updraught
spider skylines waft lazily in the breeze
while the silk netted grass glistens below
a lone figure trudges slowly around the field
follows the pathway that winds on and up
past the castle and through the dark woods
labours on to the very top and the tower
to be rewarded on a day such as today
when the seven counties must surely be in view
Sometime after 5.17am
by Bob Woodroofe
we climb to greet month and day
follow their passage through the dew
soles imprinted in soft earth
in the wood crushed bells of blue
the garlic tang of Ramsons underfoot
they loom out of the semi darkness
startle the horses that roam the hilltop
gather and shiver in predawn coolness
huddle together under the old pines
the heat from their bodies rising
the golden orb breaks over Cotswold
reaches slowly across the vale
lights the glistening S of Severn
adds long shadows to the trees
stretches over and enters Wales
choose the tune to greet the dawn
and prance the merry month away
search north to Malvern beacon
cross the vale for panorama tower
where others dance to celebrate
trace the patterns weaved
worn in grass by stepping feet
pieces of bark ripped from sticks
a strip of colour loosed from a coat
by the energy of the dance
to crown it all stop and listen
to the first clear Cuckoo's call
the elongated 'oooooo'
lifts from the woods below
echoes in the still spring air
May Hill
by Sue Johnson
We have come to pay homage to you
on your special day.
Many times we have seen you
from the motorway
added you to our list of places to visit.
As we enter the grove of pines on your summit
we notice a drop in temperature
as if the spirits of this place have gathered
for their own celebration.
We walk around outside of the circle of trees
notice ponies grazing
their rough coats a range of colours
from cream to caramel, chocolate and black.
A black and white foal follows its mother on shaky legs.
They ignore us as we walk past,
boots sinking into soft grass.
Overhead a buzzard mews as he patrols the thermals
between England and Wales, earth and heaven.
Bredon Hill
by Sue Johnson
I climb to where harebells dance
in late August sun
knowing you will never dance
on this earth again.
I feel sick with longing for you
but know the only way is forward
with my life.
As I look at the names
written in stones by the old fort
I feel an urge to create
a memorial for you.
I remember how Mum said
your beliefs were almost Celtic
a grove of trees was your cathedral
and God spoke to you
on the wind that stirs the grass.
I will look for you
in the still place between each breath
and know you are with me.
Sligo Hills
by Helen Kay
They are horse
heads, rubbing
noses over valleys
their bay coats
warmed by leafy
green blankets,
not just green, but
a hundred ways
of being green.
A lone crow is an
eyelash on the sky's
plumped pillows.
The lough looks solid
as cement, holding
the hills in place.
Unafraid of tides,
the trees foam over
the water's edge
soft as fur trim.
Stone farms are
sewn neatly into
the strong fabric
of this world,
firm as duffle togs.
Carn Ingli
by Jackie Biggs
We saw her first from the old stone cross
down in the dreamy valley –
you catch your breath as she imposes
sudden on your world,
she seems close, yet is far away.
Her strength is on the air.
She doesn't assist the climb
over this shingle-slipping, stumbling land
yet she draws you to her as she sucks moisture
through rock to new springs;
and the sky above pulls
and sweeps out to the farthest space
beyond even her reach.
Folk at work on her slopes in ancient times
watched the distant seas
as strangers arrived,
their sails crowded with the west wind.
Is that where angels lived?
And where saints rested to gaze
and touch their wings?
Now, rough rocks, like pebbles to giants,
lie all over this place.
Icy currents stir around the summit;
there is a darkness in her swirling mists,
as her power reaches out.
My silence carves
by Catherine Baker
I am grey and grim. Fixed in my stones.
I was pushed and pressed to soar.
I'm barely covered during earthly seasons.
Winter whitens me.
Ice crystals drift and clot.
Life shudders, hidden and pale.
Summer glows me.
Yellow gorse glints, sweet islands.
Stone walls lurch the purple heather
and cotton grass bobs under my breath.
Sheep tracks curve my flanks darkly
like black blood spilling out.
Stunted, wind twisted oaks sting my skin
and always, water, beats and licks me,
I drip with it.
My silence carves up to the heights,
as flickering skylarks lead astray.
And far off, the sea, a sparkle,
a blue myopic eye glittering between bone.
Walking the Hills
by Kate Innes
"I distinctly recollect the desire I had of being able to know something
about every pebble in front of the hall door."
Charles Darwin
On this illusion of solidity
continents have crunched their bones,
inner earth has spilt its heat.
The scar is this gravelled spine of hills,
sweetly covered in mossy, heathered coats.
The Lawley rises to a ridge,
that points to future sky.
Caradoc follows, glancing back.
From here we are travelling north
by a fingernail's width each year,
the millennia trailing after us,
scattering rocks across the world.
The ground beneath our feet
has flowed and frozen and thawed
into lichen puffs and flowered grass.
We continue on our path,
finding the pebbles, gazing at their souls,
as if they were the events of our lives,
as if they were maps for us to follow.
They tell us deserts have turned to stone,
been built and fallen into ruin.
Bogs have squeezed and sucked to coal.
Rivers have redrawn the world
sending out their ribbons of mud,
their rippled sediment.
Everywhere trace prints
and carapace remain –
space-gathered
animate elements
pressed in layered pages.
We walk this earth
from which we came,
every pebble known
and unknown,
we walk and return –
becoming dust,
making stone.
Growing Up
by Gary Longden
Thack Moor rests still,
No longer a hill,
In a moment something more.
By three quarters of an inch
It is, by a pinch,
Now a mountain.
Men, GPS besotted,
Have visited and re-plotted,
Stark Cumbrian thrust.
Its straining bleak peak,
Now exceeds two thousand feet,
Without pause, or hiatus,
Gaining rightful status
Neither moor, nor tor,
But established for sure-
As England's mountain, two hundred and fifty four.
May Hill Firs
by Roger Hare
It takes distance to see them;
royal giants, sharing the sound of the sea
with each dawning breeze.
The shape of water hidden in cells
that reach to fly clouds like kites.
They stand against
rain, snow, sun and gale,
fortified by tales of the faraway
gleaned from the wind,
lips of strangers
and remembrance of
Masefield, Gurney, Finzi and Foley.
There's longing;
to cross the Vale,
dip roots in the silver Severn
and climb to savour the view
from the Cotswolds edge.
They've become legend
a celebration in paint, pixel
and notes on a stave.
Hod Hill
by Morag Kiziewicz
sun tracks the curved brow
spotlights ash and willow
before shadow fall
the River Stour heaves and slurps
a weight of water coming
from seas and storms
pushes at boundaries
steals over the limits
creeps on to the floodplain
rises ever rises
breaks through bridges
erases roads built by Roman armies
rises and fills the valley
Hod Hill becomes an island
where people paint themselves with
copper-tainted clay
shake their fists at a dark sky
Arthur's Seat
by Rachel Burns
You and the kids take the steep incline
I choose the long way around.
Gorse heady and sweet glints
like fool's gold in the April sun.
The hills are already packed with tourists
speaking different tongues
their feet grinding the red mountain into dust.
I make my way slowly, knees and ankles ache.
I watch a hawk soar then dart and swoop down to its prey.
The view over Holyrood and Edinburgh
Is vast and long. Georgian New Town
and Medieval Old, the Gothic
the Neo-Classical, the skyscrapers
the sea, the mountains beyond.
My son high up on the hill, waves down to me,
he seems so far away
the distance between us grows
as he nears the summit.
I watch you and the kids
slide out of view. A girl with red hair
declares her love in the shape of a heart
in small stones. I wonder what the stone
heart looks like from up high
from Arthur's Seat, where her lover sits.
I wonder if their love will endure.