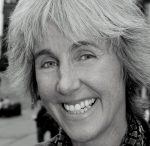 Jean Atkin has been appointed as Troubadour of the Hills in collaboration with the Malvern Hills Area of Outstanding Natural Beauty.
In an event held on National Poetry Day, 4th October 2018, Ledbury Poetry Director Chloe Garner introduces the project and Jean to a small assembly in Ledbury Books and Maps bookshop.
This event was during normal opening hours so some bookshop sounds are present in the background.
Ledbury Poetry Festival would like to thank Ledbury Books and Maps for hosting this launch.