Maps of the Imagination
Greet the new year as a time to try something new and get the creative juices flowing!
Maps of the Imagination workshops, led by artist Andrea McLean, are about adventure, journeying, exploration and discovery! Reflective mapping is an opportunity to draw, write, collage and be inspired by different kinds of maps made by artists and writers throughout history. They are open to everyone, including writers and artists, at whatever level of experience.
Saturday 8 January
Medieval and Folded Maps, Make your own folding Mappa Mundi
Barrett Browning Institute and online via Zoom, 10am – 12.30pm, £20
Tree Mapping, Connecting maps to the natural world
Barrett Browning Institute and online via Zoom, 2pm – 5pm, £20
Saturday 22 January
Poetry Maps – This is a full day workshop
Taking inspiration from poets who worked with maps such as Thomas Traherne, William Blake, David Jones and Medieval writers, create maps of poems and exploring different ways of mapping. Bring along your own poem or any poem you would like to map. This is an opportunity to get to know a poem again or look at it in a different way.
Barrett Browning Institute and online via Zoom, 10am – 5pm, £40
For students and those on low income, contact Chloe Garner at director@poetry-festival.co.uk to request a free place (no questions asked).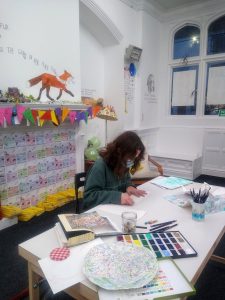 Materials – Please bring 4 different colour drawing pencils, a few sheets of A3 drawing paper, scissors and collage glue.
Andrea McLean has exhibited at the Royal Academy and Hereford Cathedral. She is an art tutor on the subjects of Cartography and Mythology at the Royal Drawing School. She says, "Paintings are, for me, like books opened out."
She was Gloucester Cathedral's Artist in Residence and her group exhibitions include The Edge of Printing, Royal Academy Keeper's House; Drawing Breath, Jerwood Prize touring exhibition; Flashback, Art Space Gallery, London; and Mapping Inspirations, Hereford Cathedral.
Andrea features in the book Paintings and Confessions by Tess Jaray RA. She has created a Golgonooza Map for the Blake Society and her circular Mappa Mundi painting is in the British Library's collection on display near the Map Room.