Feeling inspired? Feel like to learning to express yourself better? Get your poetry muscles flexing at these wonderful events, ALL of them are FREE to attend so that income is no barrier to taking part. EVERYBODY is encouraged to attend. Just drop in – no need to book!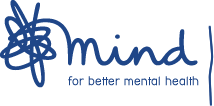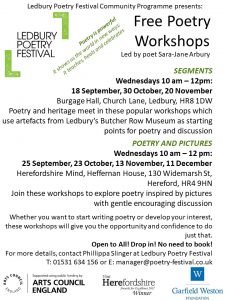 1. Poetry and Pictures Workshops with Herefordshire Mind, open to all. Explore the rich crossover between visual art and the written word. Autumn 2019 workshops: Wednesdays 10am – 12noon: 25 September, 23 October, 13 November, 11 December. Venue: Heffernan House, 130 Widemarsh St, Hereford HR4 9HN
2."Seen and Heard" Poetry Workshops at Grange Court, Leominster, HR6 8NL. FREE. We hope to resume these sessions soon.  More info:info@grangecourt.org, 01568 737980, or manager of the Festival – see below.
3. Segments Poetry and heritage meet in these popular poetry workshops. Specially selected objects from Ledbury's Butcher Row Museum become inspiring prompts for poetry exercises in a supportive and engaging atmosphere. Explore, be inspired and write poetry in this rich environment with poet Sara Jane Arbury. Wednesdays 10am – 12pm at Ledbury's Burgage Hall, Church Lane, Ledbury HR8 1DW. Autumn workshops: 18 September, 30 October, 20 November
If you have any enquiries about these groups, please contact manager@poetry-festival.co.uk, 01531 636232
Further information on the Festival's Community Programme can be found here
Photos @PaulLigas – Pictures show Sandeep Parmar's Workshop on Documentary Poetry during the 2019 Ledbury Poetry Festival