The Festival is very fortunate to secure funding from Arts Council England New Lottery Project Grants to support our community programme 2021 – 2022.
---
Ledbury Poetry Festival runs a year round community programme which provides cultural enrichment to the most vulnerable groups in our society. The community programme not only develops literacy and communication skills, but also provides a lifeline for isolated people – whether through age, disability, poverty, mental or physical illness. Through the community programme  we aim to reach those who would not ordinarily attend or have the opportunity to attend an arts-related activity, so that they may enjoy the benefits to their health, well being and life skills that poetry and creativity give.
The benefits derived from the programme from the participants are many. Working creatively is therapeutic – enhancing the mental wellbeing for the participants. For isolated people e.g. some elderly people we work with – the activity can be a social life line. What ever the benefit, organisations poets have gone into are always keen to have them back. If your organisation is interested in working with a poet please contact the Festival Manager on manager@poetry-festival.co.uk
The Festival also includes as part of its programme free events and puts poets onto the streets. This allows the whole community to enjoy poetry and creates a wonderful atmosphere in the town.  A strand of children's events are often free or minimally priced to encourage families to attend and give children access to fun events.
Community Poetry Workshops Open to the Public. During the current corona virus pandemic these groups are running online on zoom. 
Segments: Join poet Sara-Jane Arbury's fun, friendly and informal poetry sessions using artefacts from Ledbury's Butcher Row folk museum as inspirations for poetry, memories and discussion. Currently meeting online. No prior experience necessary – just join in. See poster for next dates. Transcripts of previous sessions, which contain all the resources and inspiration to create your own poetry, can be found here
Poetry and Pictures workshops with Herefordshire Mind, Currently meeting online. Using pictures as a springboard for discussion and expressive poetry. Poetry is powerful, it shows us the world in new ways; it heals, teaches and celebrates. Please see poster for next session dates. Transcripts of previous sessions, containing valuable resources and inspiration, can be found here
For further details, contact manager@poetry-festival.co.uk or phone 01531 634156
Ledbury Poetry Festival is also running closed groups in partnership with
Herefordshire Young Carers Support
community care settings such as residential nursing homes for large scale community arts project "Wrap the Town in Poetry"
Hereford Pain Management Clinic (NHS)
Citizen Sheltered Housing (formerly SHYPP) and Close House
If you feel your group or organisation would benefit from working professionally with a poet for increased creativity, expression, health and well being, please do get in touch with manager@poetry-festival.co.uk
---
Young Writers' Collective Poetry from the Lockdown, fresh poetry from sessions April through July, 2020
Continuing our work with young people, read these poems from the Young Writers Collective. This group would have been meeting in weekly sessions, but are now coordinating their efforts online with practitioner Toni Cook. This is no mean feat, and the Festival is really grateful to Toni and the young people for their commitment!
Toni says:
I have had a great response from the writer's group. On our first week of digital sessions I asked the group to reflect on the sudden and massive changes that have affected us all over the last couple of weeks. After some timed writing activities (which we all really pretend to hate but we love as it gets us all going) I set the group the title of either Change or Big Change. They have all responded in different ways which I LOVE."
Read Poetry from the Young Writers. Warning, explicit language and raw themes. Contains brutally honest and heartwarming poetry.
This article profiles the young writers and their work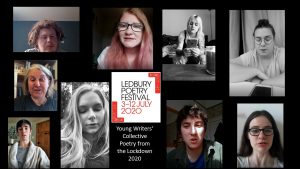 Have a look at these wonderful images from the Festival's Community Programme sessions, events and artwork!
"Being Heard" and Jericho Brown/ Marie Howe images credit @Paul Ligas