The Festival is very fortunate to secure funding from the Garfield Weston Foundation to support our community programme 2018 – 2021.
Have a look at these wonderful images from the Festival's Community Programme sessions, events and artwork!
"Being Heard" and Jericho Brown/ Marie Howe images credit @Paul Ligas
Being Heard Video: Watch Young People from SHYPP (Supported Housing for Young People Project) perform Haiku in this cleverly reworked Festival film. Listen to their amazing "Being Heard" event held during the 2018 Festival here and the "Get Ready" event in the 2019 Festival here
Ledbury Poetry Festival runs a year round community programme which provides cultural enrichment to the most vulnerable groups in our society. The community programme not only develops literacy and communication skills, but also provides a lifeline for isolated people – whether through age, disability, poverty, mental or physical illness. Through the community programme  we aim to reach those who would not ordinarily attend or have the opportunity to attend an arts-related activity, so that they may enjoy the benefits to their health, well being and life skills that poetry and creativity give.
The benefits derived from the programme from the participants are many. Working creatively is therapeutic – enhancing the mental wellbeing for the participants. For isolated people e.g. some elderly people we work with – the activity can be a social life line. What ever the benefit, organisations poets have gone into are always keen to have them back. If your organisation is interested in working with a poet please contact the Festival Manager on manager@poetry-festival.co.uk
The Festival also includes as part of its programme free events and puts poets onto the streets. This allows the whole community to enjoy poetry and creates a wonderful atmosphere in the town.  A strand of children's events are often free or minimally priced to encourage families to attend and give children access to fun events.
Community Poetry Workshops Open to the Public – all FREE to attend:
Segments: Join poet Sara-Jane Arbury's fun, friendly and informal poetry workshops using art and artefacts for inspiration. An interesting way to spend a Wednesday morning in a supportive environment. No experience necessary. For next session dates and times see poster below or email manager@poetry-festival.co.uk
Poetry workshops at Herefordshire Mind, 130 Widemarsh St, Hereford, HR4 9HN, Wednesdays 10am – 12pm, FREE. Poetry is powerful, it shows us the world in new ways; it heals, teaches and celebrates. Please see poster below for next session dates. Ledbury Poetry Festival 01531 634156, Hfds MIND 01432-372404
See current dates and times in this post.
For further details, contact manager@poetry-festival.co.uk or phone 01531 634156
Poetry for Pleasure. This group meets in Bromyard. Contact Festival Manager above for details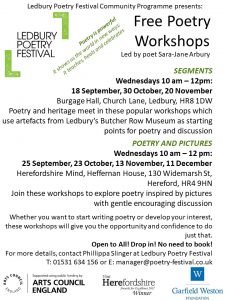 Ledbury Poetry Festival is also running closed groups in partnership with
Herefordshire Young Carers Support
Herefordshire Probation Service
community care settings such as residential nursing homes for large scale community arts project "Poetry Paradise Garden"
Hereford Pain Management Clinic (NHS)
SHYPP and Close House
If you feel your group or organisation would benefit from working professionally with a poet for increased creativity, expression, health and well being, please do get in touch with manager@poetry-festival.co.uk
Mary and Joe Project with Close House, Hereford http://closehouse.org/
In 2014/5 poet Sara Jane Arbury and creative arts practitioner Toni Cook went to work with young people at Close House in Hereford. Close House is a Youth Centre in Hereford, in the West Midlands.  They  help young people aged 13-24 to 'become mature, be helpful and grow hungry for a full life' which they do by creating safe, supportive and inspiring spaces, both at their centre and at other clubs and projects across the city. Mary and Joe, a modern day version of the nativity story,  combined poetry, music and film and was a big success. The young people involved threw themselves into it and performed to  packed theatre in the 2015 Festival, getting a standing ovation!  We were delighted to be able to part fund this project and continued a project with Close House in 2016, titled EPIC Women, and 2017 called Epic Youth.
Updates to Mary and Joe:
Mary and Joe was selected as a case study showing"best practice in work with young people". Mary and Joe was presented to public sector providers: police, social services and local authorities in Hereford in November 2015 in a conference entitled: Creative Commissioning – Making connections between the arts and public sector outcomes"
Mary and Joe was independently assessed for a research report on cultural provision for children and young people in Herefordshire. Here is an excerpt from the report:
The audience found this a moving experience, drawing attention to contemporary issues facing young people. A powerful performance was warmly received and rewarded with a standing ovation. Feedback heard afterwards was that it was a stunning performance, a highlight of the Festival and standing equally alongside the national and international performers appearing at the Festival.

This was a life-changing project for the young people involved, who included some of the most marginalised young people in Herefordshire (one was homeless during part of the project, and one had to withdraw due to serving a custodial sentence)."
Read the full report here