BOOKING NOW OPEN
Book online any time.
Box Office is open from 10.00am to 4.00pm on Mon, Tue, Thu, Fri and from 10.00am to 1pm on Sat.
Closed Sundays, Wednesdays and Bank Holidays.
Tel 01531 636232
FESTIVAL PROGRAMME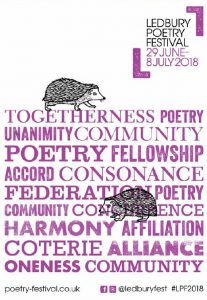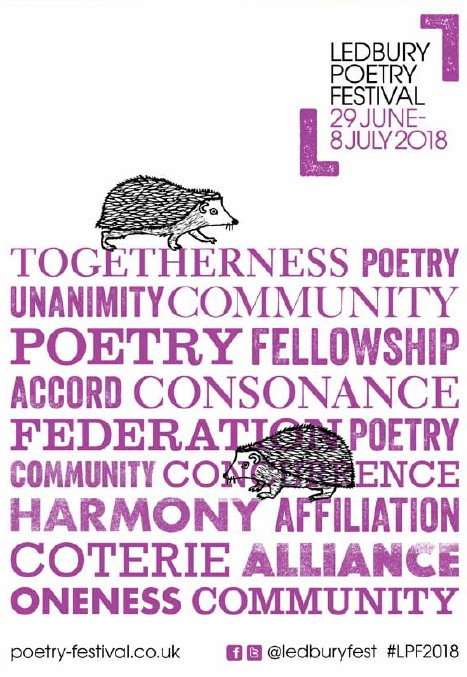 Click on the image above to download a copy.
---
SOLD OUT EVENTS
EVENT 4 LINDA GREGERSON WORKSHOP: POETIC LINE SAT 30 JUNE
EVENT 11 LIFE AND RHYMES OF BENJAMIN ZEPHANIAH SAT 30 JUNE
EVENT 14 LIZ BERRY WORKSHOP – READY STEADY GO SUN 1 JULY
EVENT 51 THE BLASKET ISLANDS WRITER'S & POETS
EVENT 53 KIM MOORE WORKSHOP THURS 5 JULY
EVENT 55 SINEAD MORRISSEY WORKSHOP – NO IDEAS BUT IN THINGS FRI 6 JULY
FOUND VOICES WITH SARA-JANE ARBURY SAT 7 JULY
ZAFFAR KUNIAL 1-2-1 SESSIONS SUN 1 JULY AND SUN 8 JULY
---
***PLEASE NOTE VENUE CHANGES FOR THE FOLLOWING EVENTS***
EVENT 01. FESTIVAL LAUNCH! SHOWCASE WILL BE HELD IN THE COMMUNITY HALL.  
EVENT 03. JOELLE TAYLOR & SABRINA MAHFOUZ WILL NOW BE HELD IN THE BURGAGE HALL AND THE TIME HAS CHANGED TO 9.15 – 10.45PM. 
EVENT 12. HOLLIE MCNISH & CECILIA KNAPP WILL NOW BE HELD IN THE MARKET THEATRE.
***PLEASE NOTE TIME CHANGE FOR EVENT 37 : Love Songs of WW3 – A Tribute to Adrian Mitchell this event will now run from 8pm – 9.15pm
Ledbury Poetry Festival Reading Circle
 7pm – 9pm, The Master's House Panelled Room in Ledbury. FREE.

Upcoming Reading Circle dates are:
Tuesday 19 June, 7pm – 9pm
In this friendly and relaxed session Chloe Garner will bring along some poems by poets who will be appearing at the 2018 Festival. This is a chance to read, chat about and enjoy poems as a group. The session also gives an opportunity for those who want to share their poem in progress with the group. The Reading Circle is a way to discover new poets and poems.
---
Festival Evensong
Evensong will be sung in Ledbury Parish Church, St. Michael and All Angels, throughout the week of the Festival, as follows:
6.30pm Sunday 1st July
4.30pm Monday 2nd July
(not Tuesday, because the Festival is running a workshop on Plainsong all day – see Event 31)
4.30pm Wednesday 4th July
4.30pm Thursday 5th July
4.30pm Friday 6th July
4.30pm Saturday 7th July
---
Ledbury Poetry Salons!
7pm – 9pm, 
The Panelled Room in The Master's House, £5 (on the door)
Do you want to discover more about poetry? Have you been looking for a place to perform your own poetry? Why not come along to this Ledbury Poetry Salon, which includes an Open Mic and Featured Poets. This is a chance to perform your poems to a friendly and welcoming audience and to meet other writers. Expand your enjoyment of poetry through readings and conversation! Try out poems in progress or bring along your tried and tested favourites!
Tuesday 5 June with featured poet Jacqui Rowe (postponed from 3 April)
Jacqui Rowe has had four poetry pamphlets published and her poems have appeared widely in magazines, such as Tears in the Fence, Bare Fiction. The Interpreter's House, and Poetry Review. She has also read her own poems on Radio 4's Poetry Please. hosted by Roger McGough. Her first full collection, Blink, is published by V Press. Co-founder and co-editor of the award-winning independent press, Flarestack Poets, she is a sought after mentor for other poets and a tutor for the Poetry School.
Listen to previous Poetry Salons including Gregory Leadbetter, Rhiannon Hooson, Nichola Deane, Pia Tafdrup, Philip Gross, Deborah Alma, Cliff Yates, Yvonne Green, David Clarke, Myra Connell, Maitreyabandhu, Carrie Etter, Damian Walford Davies and Adam Horovitz.
---
Read all about last year's Ledbury Poetry Festival in 2017
record audiences!
fantastic international programme
everything the festival does in schools and the community
massive community involvement
…and much much more.
A riveting feel-good read!
Click here to read the full report.
---
Ledbury Poetry Festival has some special offers for you.
Visit our Shop page to find out more.
---
Become a Friend of Ledbury Poetry Festival
If you are interested in becoming a Friend of Ledbury Poetry Festival please contact Sandra our Finance Manager on 01531 636232 (email finance@poetry-festival.co.uk) or you can visit the Friends page where you can now sign up on-line.
---
Some of our Sponsors
 The Pennington-Mellor-Munthe
Charity Trust
---