The dates for next year's Ledbury Poetry Festival 2020 are 3 -12 July
---
Special Moments from Ledbury Poetry Festival 2019!
Thanks to @PaulLigas, Official Festival Photographer
---
Ledbury Poetry Salons and Open Mics
Readings, conversation and the ever popular Ledbury Open Mic!
At Ledbury Books and Maps
7pm – 9pm
Tickets £5 on the door (includes a drink)
Monday 11 November, Jonathan Davidson On Poetry
Jonathan Davidson is a poet, director of Midland Creative Projects, Joint-Founder of the Birmingham Literature Festival and Chief Executive of Writing West Midlands. He is Chair of the National Association of Writers in Education. Jonathan Davidson is fascinated by how poetry is found and how it is heard. In On Poetry, he traces his own development as a listener and reader of poetry through a period of over fifty years.
'From attentive close readings to thoughts of how poems might best be shared, his belief in poetry and its ability to touch and transform us shines throughout. This small book is a gem and any reader interested in poetry and how it can enrich our lives will find Davidson a fine companion'. – Liz Berry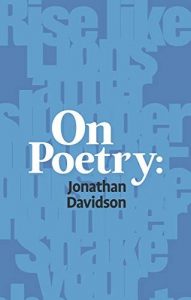 Tuesday 10 December, Jonathan Edwards Gen
Winner of the People's Choice Award, Wales Book of the Year 2019, Gen contains humour, warmth and is a worthy follow-up to Ledbury Poetry Competition winner, Jonathan Edwards' popular and critically-lauded debut.
Gen is a book of lions and rock stars, street parties and servants, postmen and voices. In the opening sequence's exploration of youth and young manhood, the author sets his own Valleys upbringing against the '50s youth of his parents. Other poems place a Valleys village and the characters who live in it alongside explorations of Welsh history and prehistory, and the collection concludes with a selection of sometimes witty, sometimes heartfelt love poems.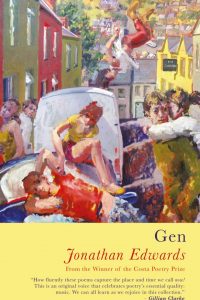 ---
The Festival is proud to be an Arts Award Supporter
For information on what we offer, please see https://www.poetry-festival.co.uk/arts-award-supporter-information/

---
Ledbury Poetry Festival has some special offers for you.
Visit our Shop page to find out more.
---
Become a Friend of Ledbury Poetry Festival
If you are interested in becoming a Friend of Ledbury Poetry Festival please contact Sandra our Finance Manager on 01531 636232 (email finance@poetry-festival.co.uk) or you can visit the Friends page where you can now sign up on-line.
---
Some of our Sponsors
 The Pennington-Mellor-Munthe
Charity Trust
---