This year Ledbury Poetry Festival has partnered with Hereford College of the Arts to bring a unique opportunity to HCA students: design and make the festival bowls we give to all poets and performers appearing at the Festival. We are delighted to announce that Ruth Cameron Swan will be making the poetry-inspired artisan bowls for 2019.
Ruth has just completed her MA and has been busy in the HCA workshops! It has been fascinating to watch the bowls in development.
Ruth writes: "each one is hand made from a slab of stoneware that has been decorated with brushwork. Drawing on my own experience of performing at festivals each stroke was applied in opposition to the other like banners in the wind.
Using the bespoke 'handwriting' tool made for project the lettering has been embossed in a layered design to reference the act of composing a poem.
The glaze (food safe) has been made from local Herefordshire wood ash and each performer's platter carries the maker's mark on the underside.
Every one of these dishes is unique in the way in which decoration and lettering comes together. Just like The Ledbury Poetry Festival performers. "
The Festival is grateful to John Burns, instigator of the Ledbury Poetry Festival, for funding these bowls and facilitating this partnership.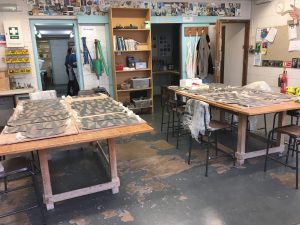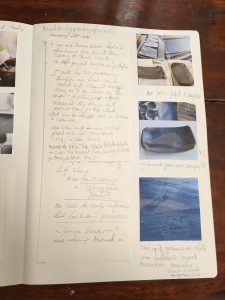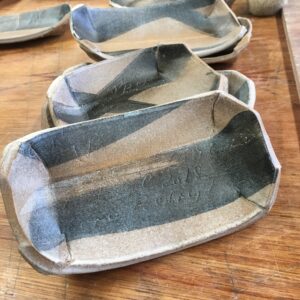 Previous years' bowls are available to purchase https://www.poetry-festival.co.uk/shop/. For more info on Ruth, see http://www.ruthzuleika.co.uk/about