Gen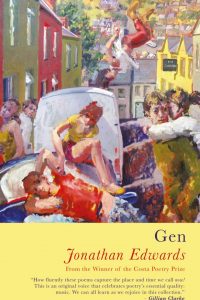 Winner of the People's Choice Award, Wales Book of the Year 2019, Gen contains humour, warmth and is a worthy follow-up to Ledbury Poetry Competition winner, Jonathan Edwards' popular and critically-lauded debut.
Gen is a book of lions and rock stars, street parties and servants, postmen and voices. In the opening sequence's exploration of youth and young manhood, the author sets his own Valleys upbringing against the '50s youth of his parents.
Other poems place a Valleys village and the characters who live in it alongside explorations of Welsh history and prehistory, and the collection concludes with a selection of sometimes witty, sometimes heartfelt love poems.