Ali Cobby Eckermann is firmly established as a strong and vital emotive voice within Australian Aboriginal literature and she is one of the most remarkable poets to emerge in Australian poetry since the 1970s.
One of The Stolen Generations, Ali chooses to live in the "intervention-free" village of Koolunga, South Australia, where she is renovating the old general store and establishing an Aboriginal Writers' Retreat.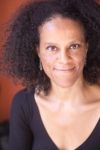 Bernardine Evaristo has justified her MBE with 'a passionate activism for the power of words: teaching, editing, reporting on the state of minorities in publishing and, of course, writing the verse and stories that have won her a host of awards.' (Daily Telegraph)
Her latest book is Mr Loverman.