Hosted by Bloodaxe Books editor Neil Astley.
Marie Howe's poetry is 'luminous, intense, and eloquent, rooted in an abundant  inner life' (Stanley Kunitz). Howe's latest collection is Magdalene and Jericho Brown's is The New Testament. 'To read Jericho Brown's poems is to encounter devastating genius' (Claudia Rankine).
Marie Howe is the author of four volumes of poetry: Magdalene: Poems (W.W. Norton, 2017); The Kingdom of Ordinary Time (W.W. Norton, 2009); What the Living Do (1997); and The Good Thief (1988). She is also the co-editor of a book of essays, In the Company of My Solitude: American Writing from the AIDS Pandemic (1994). Her poems have appeared in The New Yorker, The Atlantic, Poetry, Agni, Ploughshares, Harvard Review, and The Partisan Review, among others. Her first collection, The Good Thief (1988), was chosen for the National Poetry Series by Margaret Atwood, who praised Howe's "poems of obsession that transcend their own dark roots."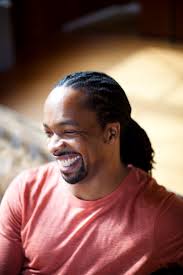 Jericho Brown worked as the speechwriter for the mayor of New Orleans before earning his PhD in creative writing and literature from the University of Houston. His first book, PLEASE (New Issues), won the American Book Award. The New Testament was winner of the Thom Gunn Award for Gay Poetry and the Paterson Award for Literary Excellence, 2015. He currently teaches at Emory University and lives in Atlanta, Georgia.