Introduced by Ursula Owen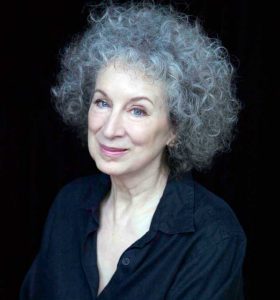 Margaret Atwood was born in Ottawa in 1939. Canada's most eminent novelist and poet, she is the author of more than thirty books of fiction, poetry and critical essays. The Handmaid's Tale, Cat's Eye and Alias Grace have all been shortlisted for the Booker Prize and she has won many literary prizes in other countries. Her work has been translated into thirty-three languages. Her novel, The Blind Assassin won the 2000 Booker Prize.
This is a special opportunity to hear Margaret Atwood read her poems, including from her most recent collection The Door. This event is introduced by Virago Press, Founding Director Ursula Owen.
Interested in the poems that Margaret read? Many are unpublished, in order of reading: 1.Canada's alternative national anthem: "Canada's Really Big" by the Arrogant Worms, 2. September Mushrooms, 3. Short Takes on Wolves, 4. At the Translation Conference, 5. Tracking the Rain, 6. O Children, 7. Coconut, 8. Fatal Light Awareness, 9. Midway Island Albatross, 10. The Tan Woodwoman Gets a Massage, 11. Blackberries, Q and A's, 12. Everyone Else's Sex Life, 13. Updates on Werewolves