Step into the betwixt and between time of ritual to celebrate a new issue of Poetry Wales. Nisha Ramayya invokes a tantric poetics, Elizabeth-Jane Burnett takes a transformative wild swim and Rhys Trimble makes a multilingual dismemberment of the text. Poetry at its most heightened. There may be magic.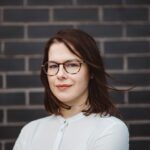 Presented by Poetry Wales editor Nia Davies. Find out more about the poets below.
Elizabeth-Jane Burnett's debut poetry collection plunges into mountain lakes and drifts along meandering rivers in Swims.
A long poem taking many forms, Swims begins and ends in Devon, moving across the waterways of England and Wales: from urban pond to open sea. The poet swims among fishermen on Grasmere, reimagines the body as bottle cap in the Channel, and clambers down the bank of the river Ouse with words scrawled on her swimsuit.
As political as they are personal, these meditations are conceived as environmental acts that probe the relationship between landscape, memory and the self. A sinuous, innovative debut, Swims reminds us of the power of swimming to transform the human spirit, registering what the water gives to us and what it takes away.
Elizabeth-Jane Burnett's collection Swims is reviewed in The Guardian https://www.theguardian.com/books/2017/nov/16/elizabeth-jane-burnett-swims-interview
You can read a sample of the book on the Penned in the Margins website http://www.pennedinthemargins.co.uk/index.php/2017/08/swims/
Nisha Ramayya is a poet and academic based in London. Working across various practices and forms – translation, performance, mythology and ritual – she tests the possibilities of a Tantric poetics. Her poetry pamphlets, Notes on Sanskrit and Correspondances are published by Oystercatcher Press. Nisha currently works as a Visiting Lecturer in English at Royal Holloway and the University of Kent. http://www.nisharamayya.com/
Rhys Trimble was born in Zambia in 1977. He is a bilingual poet, text artist, performer, drummer, editor, critic, collaborator, shaman, staff-wielder and shoutyman based in Wales. The author of more than a dozen books, including his latest, Swansea Automatic, he is interested in avant-garde poetry and Welsh metrics. He edits ctrl+alt-del e-zine. He has performed in countries around the world and his work has been translated into Slovak, Polish, Latvian and Turkish.
This event is sponsored by Poetry Wales