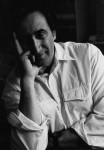 From Shelley to Pussy Riot, poets and songwriters have a long tradition of challenging the status quo, resisting tyranny and giving voice to the oppressed. In China, Cameroon and Qatar, poets still face imprisonment for questioning authority.
In the UK, a new generation of spoken word performers are giving new energy to political engagement. Poets George Szirtes and Sabrina Mahfouz join English PEN director Jo Glanville for a discussion about poets, poetry, protest and politics.
Chaired by Ursula Owen.
In association with English PEN.