Fully Funded Linklater Method Voice Coaching Workshop for New and Emerging Poets
Fifth annual workshop has been delivered
online
Thankyou for your interest in this course, the application process has now closed and applicants have been notified. We hope to run it again in 2022.
About the course: Our voice coaching workshop is for poets who have at least one collection published, are starting to get readings and are looking to strengthen their performance style. It is lead by trained Linklater Voice coach, Françoise Walot.

The 2021 workshop has generously been supported by the Foyle Foundation and the Garrick Charitable Trust to whom the Festival is deeply grateful.
Read poet Margaret Adkins' blog about the February 2021 online course
Feedback from previous years :
"The workshop has been life-changing. I cannot tell you how much I have needed to draw on it" Mona Arshi
"Had a great experience on this course. Apply, apply, apply!" Kim Moore
"I got a place on this and it was wonderful – apply!" Amy Key
For more information on Kristin Linklater and "Freeing the Natural Voice", press here
Ledbury Poetry Festival has a strong programme to help new writers -which gives them the skills, training and performance opportunities to help further their careers.
We do this in a number of ways:
The international poetry competition has been running for a number of years.  Previous winners have gone on to be published and to win major prizes. Winners are often invited back and given readings in a main venue as their career progresses.
In addition we programme a series of 20 minute events where new writers have the chance to perform in front on an audience.  These events are free to attend and are becoming increasingly popular. Poets have the opportunity to sell pamphlets or books -small presses are also welcome and have the opportunity to market their titles.
The Festival also runs a young poet in residence scheme.  This gives a young poet the opportunity to attend a Festival for free, to give a reading with an established poet and offers them editorial help with an established poet over a series of one to one sessions. Read about 2018 Young Poet in Residence Eloise Unerman here
We give a platform to winners of three major awards: The National Poetry Society's Competition, The Eric Gregory Award and the Foyle Young Poets' of the Year Award.
This programme is incredibly important to us; new poets and new writing are the life blood of the Festival. For the audience there is nothing more exciting than hearing a new voice that hits a chord.
Versopolis:
RESOUNDING SUCCESS FOR THE VERSOPOLIS PLATFORM AND ONLINE ENGLISH-LANGUAGE LITERARY MAGAZINE
Excellent European poets will continue to enter the world via Versopolis for the coming four years.
Ljubljana marked the start of the second chapter for Versopolis: the European poetry platform and review of poetry books and culture. After a successful initial three-year 2014–2017 period, the platform, run by Beletrina Academic Press, organizer of the Days of Poetry and Wine festival, has received renewed support of the EU Creative Europe Programme, culture subprogramme 2017–2021. Versopolis will be one of thirteen European supported platforms.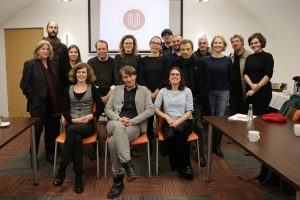 VERSOPOLIS THE PLATFORM
Versopolis was designed as a poetry platform that creates opportunities for emerging European poets by financially and organizationally supporting translations of their poetry into English and other European languages and publishing them in printed booklets, e-books and on the www.versopolis.com website along with full profile descriptions. Versopolis also supports the poets' mobility by organizing a number of guest appearances at different European literary festivals, which creates countless opportunities for networking with foreign publishers, literary agents, the press and other actors in the field of literature. This helps the excellent poets to breakthrough to the European and global poetry scene.
On 1 December, the already admitted poets that are proposed yearly by the member organisations will be joined by new ones. The poet and poetry database on www.versopolis.com will be expanded to include 179 poets creating in 32 different European languages and over 1800 of their poems will be published on the website.
Another expansion involves organizations that are platform members: the thirteen existing literary festival organizers from thirteen different European countries will be joined by a fourteenth: Publishers' Forum NGO from Ukraine.
VERSOPOLIS THE EUROPEAN POETRY, BOOKS AND CULTURE PLATFORM
In March 2016, the online European Review of Poetry, Books and Culture was established as part of the Versopolis poetry platform. Its unusual online presence—the site's background is a stark black!—and its diverse topics have attracted a wide English-reading readership in only a year and a half. When we write "diverse", we really mean it: readers from over thirty European and non-European countries have been and will continue to be served daily articles from genres such as interviews, reports, columns, essays and reviews by authors from almost forty European and non-European countries. Our three-member editorial board has succeeded in attracting giants to write for the magazine, such as Svetlana Aleksijevi?, Margaret Atwood and Claude Milner, as well as future viral authors, Austrian writer Clemens Berger, and French poet Maxime Coton. Since its conception, over 430 articles have been published in the review and the site has been visited by over 200,000 readers. In addition to regular posts, the review has also delved in e-book publication and has published three so far: Versopolis Confession eBook, Europe is out of joint and recently, Monsters.
However, this is not all; the review will continue to grow stronger in the coming four years. The new, international editorial board led by Ana Schnabl faces fresh, big challenges: collaborations with guest editors who will create in-depth presentations on the national culture of the members joining the Versopolis project, collaborations with bloggers and vloggers, setting up the Versopolis podcast, working with mentors from the academia etc. The European review is taking on all these tasks with the aim to connect readers and authors from different European countries, to amplify the voices of those who have something to say and to shed light on topics and issues that are not adequately represented in conventional media. Every now and then, a short story is published in the review; day to day, the growing database of young European poetry can be explored under the common Versopolis brand.
 WHAT NEW FEATURES ARE PROJECTED FOR THE COMING 2017–2021 PERIOD?
Based on their gained experience and detected problems, the Versopolis team has developed new models and products it will be introducing the next four years:
Versopolis education and training model
The Versopolis education and training model is intended for promising students of literature and other programs on poetry. These students will work with mentors (professors from various European universities) to edit weekly contents, writing reviews and critiques (mostly on texts by Versopolis authors) that will be published in the Versopolis review.
Versopolis corporate entrepreneurship model
The second new feature will be presenting the Versopolis platform as an example of good practice in candidate countries for the EU accession and countries that are included in the European Neighbourhood Policy. The presentations will be prepared in collaboration with local literary festivals and Creative Europe centres in Serbia, Albania, Georgia and Iceland. The goal is to empower cultural organizers by sharing knowledge, contacts and business and collaboration opportunities with the Versopolis review.
Versopolis handbook
The experience gathered during the Versopolis project's entire run will be used to create a comprehensive handbook for cultural organizers, local and national authorities and policy shapers. The handbook will include a presentation of the project, an evaluation of its outcome and recommendations for developing these kinds of projects in the future.
More at www.versopolis.com, info@versopolis.com 
Versopolis: Promoting and translating emerging poets in partnership with 10 other European Festivals 
Ledbury Poetry Festival is part of Versopolis. This is a European poetry platform that creates new opportunities for emerging European poets and is supported by the European Commission's Creative Europe programme and coordinated by Beletrina Academic Press, who also organises the Days of Poetry and Wine Festival.
Excellent poets write poems in every language but are often unknown beyond the boundaries of the language they write in. The aim of Versopolis is to change this, creating a unique, Europe-wide platform that gives emerging European poets the chance to reach an international audience and meet poets from other countries.
In its first year the Versopolis project will promote 55 authors and their poetry, united under its motto 'where poetry lives', along with 11 festivals, which will act as literature promoters and publishers in the European literary space. The Versopolis platform involves the following literary/poetry festivals:
ARS POETICA, Slovakia;
GENOA INTERNATIONAL POETRY FESTIVAL, Italy;
?MEÅS INTERNATIONELLA LITTERATURFESTIVAL, Sweden;
INSTYTUT KULTURY MIEJSKIEJ (CITY CULTURE INSTITUTE), Poland;
LEDBURY POETRY FESTIVAL, Great Britain;
STRUSKI VECERI NA POEZIJATA (STRUGA POETRY EVENINGS), Macedonia;
POETINIS DRUSKININK? RUDUO (DRUSKININKAI POETIC FALL), Lithuania;
FELIX POETRY FESTIVAL, Belgium;
GORANOVO PROLJE?E (GORAN'S SPRNG), Croatia;
LITERATURE & WINE FESTIVAL, Austria;
DNEVI POEZIJE IN VINA (DAYS OF POETRY AND WINE), Slovenia.
Versopolis will help authors already established in their home countries spread their poetry across borders, its first and foremost aim being to promote European poets and their work and to create a close-knit poetic community.
Beletrina says it wants to see "not only canonised and widely recognisable poets reach the consciousness of European literature lovers", but the voices of younger generations "also gain their place". It added that the selected poets "will receive attention through performances and translations of their works on a digital platform".