Ledbury Poetry Festival's first ever crowdfunding campaign is launched!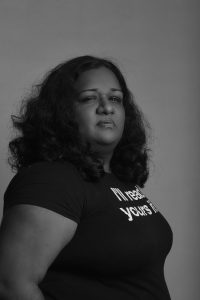 Ledbury Poetry Festival is launching its first ever crowd funding campaign with Kickstarter. This campaign aims to raise funds to welcome Enrique Winter from Chile, Laura Wittner from Argentina and Shivanee Ramlochan from Trinidad to Ledbury Poetry Festival. I sincerely believe their voices will contribute to the mix that makes Ledbury Poetry Festival special.
Do visit the campaign page and you will see the film we have made which features the poets, as well as lots of additional information about them and the project. You will also see the rewards which include an e-postcard, a beautiful letterpress poem poster and advance tickets to their events.
This is a new way for the Festival to raise funds to support specific projects and hopefully, if it is successful, future Kickstarter campaigns might also be possible.
The presence of poets from around the world adds an enormous amount to the unique atmosphere and energy of the Festival. It would be amazing if Ledbury Poetry Festival could welcome more poets from places, such as Latin America, the Caribbean and Africa, and enable audiences to discover more about their poets and poetry. But it is extremely hard to find funding and so their voices are not heard.
So I do hope you will take a look at the campaign page and find out about this project which is all about connecting world class poets with Ledbury Poetry Festival's community of poetry lovers.