Ledbury Poetry Critics announces its third and largest intake of new mentees, growing from eleven to thirty members.
In 2017, in collaboration with Ledbury Poetry Festival, the Ledbury Poetry Critics programme launched, offering a year-long intensive mentorship scheme for 8 emerging poetry reviewers of colour: Dzifa Benson, Srishti Krishnamoorthy-Cavell, Mary Jean Chan, Jade Cuttle, Sarala Estruch, Maryam Hessavi, Nasser Hussain and Jennifer Lee-Tsai. In 2019, we selected four more critics: Victoria Adukwei Bulley, Joanna Lee, Sarah-Jean Zubair, and Stephanie Sy-Quia. These critics have since published reviews in The Guardian, The Telegraph, The New Statesman, the Times Literary Supplement, The Poetry Review, Poetry Wales, Poetry London and many other magazines and journals.
Our latest annual report, released in June 2020, found that since the Ledbury Critics Programme the quantity of reviews written by critics of colour in magazines and newspapers in the UK and Ireland had more than doubled. Critical writing by fellows of the programme can be read across the UK media, and Ledbury Critic Mary Jean Chan became first ever poet of colour to win the Costa Prize for Poetry in 2020.
The programme has now been awarded funding by an Arts and Humanities Research Council EDI Fellowship to expand as we set a long-term goal that more critics of colour should take up editorial positions — a professional level that remains overwhelmingly white. To tackle this, we are organizing ten editorships-in-residency with our partner publications, which will take place between now and the end of 2021.
The expanded network of critics will participate via a series of free public panel events, workshops and masterclasses in 2021. These will be hosted by Ledbury Poetry Critics partner organisations: the London Review of Books, the Royal Society of Literature, the Scottish BAME Writers Network, the Forward Arts Foundation, Spread the Word, Poetry Ireland and Literature Wales.
In addition, an accessible and protected database (via Uni of Liverpool) of the findings taken from the report will be made publically available to readers, critics and researchers of UK poetry culture. These expanded quantitative measures will be shared and refined in consultation with editors, arts policy organisations, statisticians and critics, as will a method of annual reporting and peer auditing, to ensure accuracy and reliability of data.
Mentorship has been foundational for the Ledbury Poetry Critics since the initiative was founded by Sandeep Parmar (Liverpool) and Sarah Howe (King's College London) in 2017, joined by Vidyan Ravinthiran (Harvard), Catherine Gander (Maynooth), Janine Bradbury (York St John), Dave Coates (Liverpool) and Alycia Pirmohamed (Liverpool).
2021 mentees are:
Amaan Hyder, Annie Fan, April Yee, Chloe Hasti Crowther, Esther Heller, Gazelle Mba, Helen Bowell, Isabelle Baafi, Leah Jun Oh, Maggie Wang, Mantra Mukim, Marvin Thompson, Memoona Zahid, Niroshini Somasundaram, Oluwaseun Olayiwola, Pratyusha Prakash, Shalini Sengupta, Shash Trevett, Yvette Siegert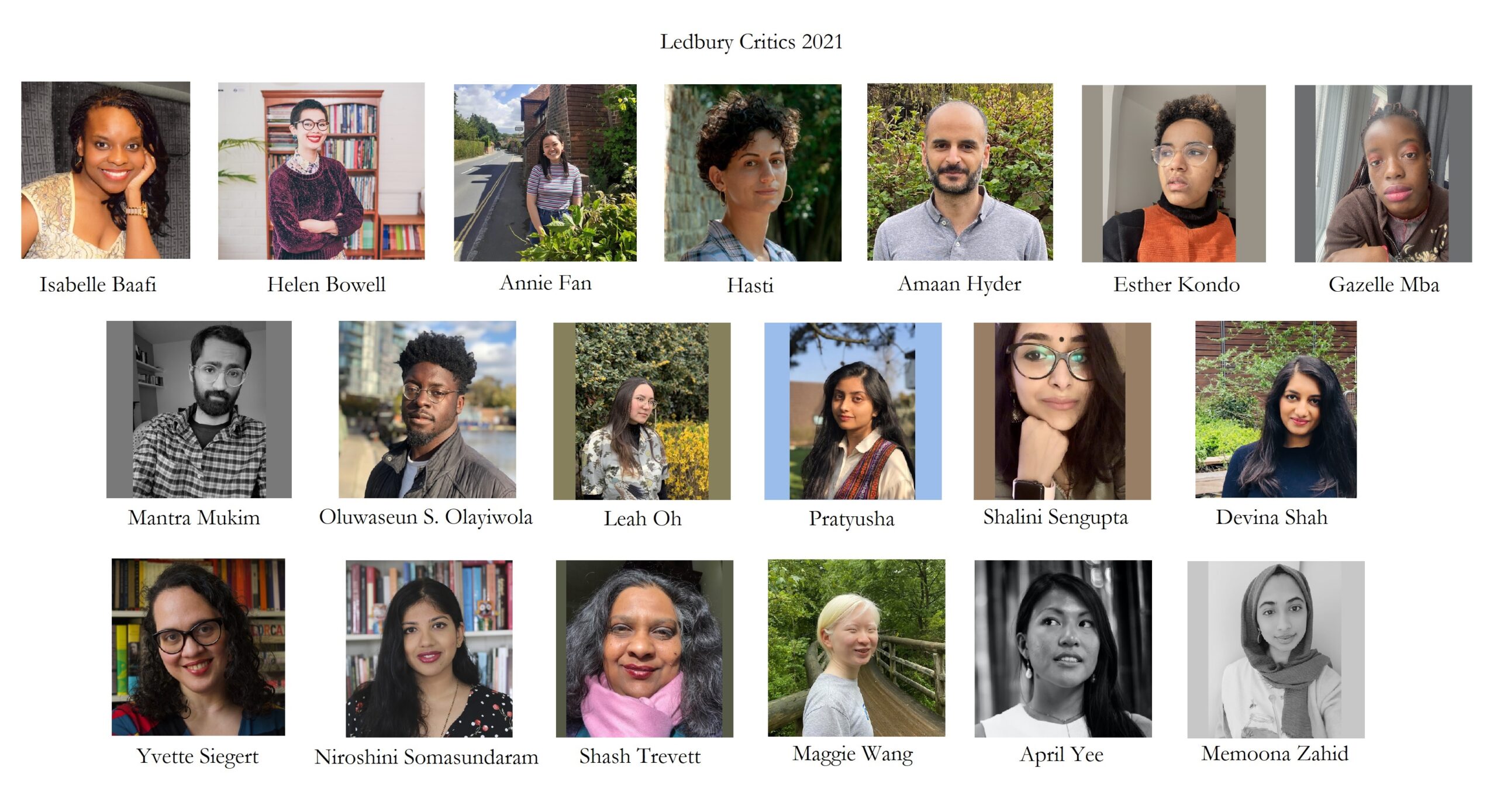 2021 mentors are:
Sarah Howe, Sandeep Parmar, Vidyan Ravinthiran, Jane Yeh, Will Harris, Jay G. Ying, Vahni Capildeo, Kit Fan, Nisha Ramayya, Jeremy Noel-Tod, Dzifa Benson, Jade Cuttle, Dave Coates, Khairani Barokka, Leo Boix, Seán Hewitt
The State of Poetry and Criticism in the Uk and Ireland 2009 – 1019
Latest report on the state of poetry and poetry criticism in the UK and Ireland finds that whilst inroads have been made, criticism is still too white

'Implementing lasting, longer-term change structural change is complex and requires a shared belief in equality among commissioning editors, critics and indeed readers of poetry and reviews.'
Read the full The State of Poetry and Poetry Criticism in the UK and Ireland 2009-2019 report HERE