T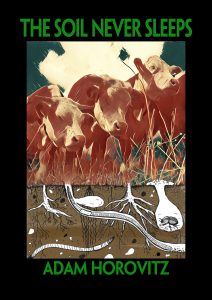 uesday 6th Feb 2018.  7pm – 9pm
The Panelled Room in The Master's House, £5 (on the door)
Do you want to discover more about poetry? Have you been looking for a place to perform your own poetry? Why not come along to this Ledbury Poetry Salon, which includes an Open Mic and Featured Poets. This is a chance to perform your poems to a friendly and welcoming audience and to meet other writers. Expand your enjoyment of poetry through readings and conversation! Try out poems in progress or bring along your tried and tested favourites!
Join us to hear poems from The Soil Never Sleeps, a new poetry collection from Adam Horovitz. As poet in residence for the Pasture-fed Livestock Association, Adam was commissioned to visit four of their farms across England and Wales and write about them.
He reflects passionately on his love of Britain's landscape and especially its farms.