Entry has now closed for 2018, the winners will be announced in October
The Judge of the 2018 Ledbury Poetry Festival Poetry Competition is Nia Davies.
Nia is a poet and editor of Poetry Wales. She has co-curated and participated in several transcultural collaborations, projects and events and her work has been widely translated.
Her most recent publications are All fours (Bloodaxe Books, 2017), England (Crater, 2017) and Interversions (Poetrywala, 2018) which documents her collaboration with Kannada poet Mamta Sagar.
She is undertaking practice-based research into poetry and ritual at Salford University.
Adult Competition Prizes:
First Prize: £1000 cash and a course at Ty Newydd, the National Writing Centre of Wales www.tynewydd.org
Second Prize: £500
Third Prize: £250
Ty Newydd is the national writing centre of Wales. The centre hosts an annual programme of creative writing courses and retreats for writers of all ages and abilities, both in Welsh and English. Ty Newydd, which is the last home of former Prime Minister David Lloyd George, is located in Llanystumdwy, Gwynedd. The centre, which opened its doors in 1990, is run by Literature Wales, the national company for the development of literature in Wales. For more information about Ty Newydd Writers' Centre and to see the 2018 course programme, see www.tynewydd.wales
All winners are invited to read at the 2019 Festival.
Young Persons' prizes
First Prize: £100 cash
Second Prize: £50
Third Prize: £25
Children's Prizes
First Prize: £25 book token
Second Prize: £15 book token
Third Prize: £10 book token
Entry to the 2018 Ledbury Poetry Competition has now closed.
The Festival is very grateful to Ty Newydd the national writing centre of Wales for continuing to support this competition.
Rules
Poems must have been received on or before Thursday 12th July 2018 at 5pm (British Summertime).
All poems must be the original work of the entrant and should not have been previously published, accepted for publication by a magazine, nor entered in other competitions.
The length of each poem must not exceed 40 lines.
Each individual poem, regardless of length, must be typed on one sheet of plain A4 paper (except Children's category, which can be handwritten). Please submit two copies of each poem – unless you enter on-line.
The competitor's name must NOT appear on the poem.
All poems must be accompanied by a fully completed entry form.
Please keep a copy of your poem, as manuscripts cannot be returned.
Copyright remains with the author, but Ledbury Poetry Festival reserves the right to have entries performed at the Festival, on radio, TV, or stage, published on the internet, in an anthology or used for publicity purposes at any stage in the future.
No acknowledgement of entry will be sent unless the competitor sends an SAE marked 'Acknowledgement'.
Competitors wishing to be informed of the results should enclose an SAE marked 'Results'.
The decision of the judge is final and no correspondence will be entered into.
The Festival reserves the right to withhold prizes if such an action is justified.
Entries not complying with competition rules will be disqualified.
The winner of the adult first prize will be expected to provide for his/her own transport arrangements in order to attend the Ty Newydd course in North Wales, regardless of whether he/she is a UK resident or not.
The winner is entitled a place in a shared room accommodation on any 2018-19 course available at Ty Newydd pending availability, except for non-tutored retreats and masterclasses. However the Festival cannot accept responsibility for re-arrangements or circumstances beyond its control.
THE FESTIVAL CANNOT PAY TRAVEL COSTS TO THE WINNERS' EVENT.
---
Many thanks to the nearly 1500 entries to the 2017 Poetry Competition. Judge Fiona Sampson says:
This adult competition was among the most difficult I've ever had to judge, not because of the sheer number of poems – though there were many – but because there were so many that were of winning calibre. I had many favourites among the last thirty or forty poems to be whittled down: there were many among these that were highly publishable. It's particularly good to see poetry being entered that's slightly more expansive or even radical in its techniques, and that so many of the entrants clearly have a deep engagement with poetry. These poets were, I felt, truly participating in the contemporary poetry world. In the end though the winners chose themselves by the sheer communicative power and achievement of their work.
All winning poems can be read here, with judge's comments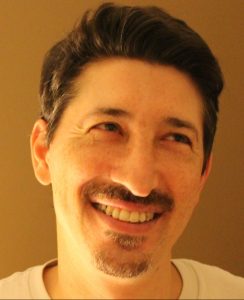 Adults
First Prize: Jonathan Greenhause, The fire escape, no longer weighed down
Winner of the 2017 Prism Review Poetry Contest, Jonathan Greenhause's poetry has appeared or is forthcoming in The Dark Horse, The Interpreter's House, New Walk Magazine, Popshot, Pushing Out the Boat, The Rialto, and Stand, among others. His 2nd chapbook, "Secret Traits of Everyday Things," was published by Encircle Publications in September.
Second Prize:  Anna Woodford Work             An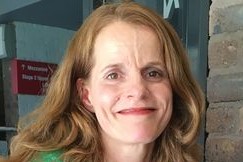 na Woodford is currently poet in residence at the Co-Motion research project based at the Universities of Newcastle and York. She recently received an Award from the Society of Authors towards the development of her second poetry collection. Her first collection Birdhouse (Salt, 2010) won the Crashaw Prize and was included in the Guardian's round up of the best poetry books of the year. Her pamphlets Party Piece (Poetry Business, 2009); Trailer (Five Leaves 2008) and The Higgins' Honeymoon (Driftwood, 2001) won the Poetry Business Award, a PBS Pamphlet Choice and an Eric Gregory Award respectively. She has been widely published in Poetry Review, Rialto, Stand and the TLS among others. www.annawoodford.co.uk
Third Prize: Dana Alsamsam, Nana Says           Dana Alsamsam is a queer, Syrian-American poet from Chicago who is currently an MFA candidate at Emerson College in Boston. She is the assistant poetry editor at Redivider and senior editorial assistant at Ploughshares. Dana's poems are published or forthcoming in Hooligan Mag, After Hours Chicago, L'Ephemere Review, Daphne Mag, Blood Orange Review, Bad Pony Mag and others. Twitter & Instagram @DanaAlsamsam
Young People 12 – 17
On judging the youth competition Fiona Sampson says:
It's always a pleasure and a privilege to judge youth poetry competitions. The younger poets, those of broadly junior school age, tend to play joyfully with words and images. The teenagers are astonishingly frank about their emotional worlds. Both remind us how high the stakes for poetry can and should be. It's astonishing how poetically mature the outstanding entries are, and fascinating to see what poetry these young writers might now be exposed to, to help them develop further. "
First Prize: Eloise Unerman 0:42 to Bristol  Second Prize: Alicia Johnson Husbands  Agoraphobia Third Prize: Emily Bown, Hibernaculum   
L – R Eloise Unerman, Alicia Johnson Husbands
Children 11 and under:
First Prize:Joe Dreyer Havoc Rains Second Prize: Ruby Davis Art Third Prize: Naomi Rich Dance
L-R Joe Dreyer, Ruby Davis, Naomi Rich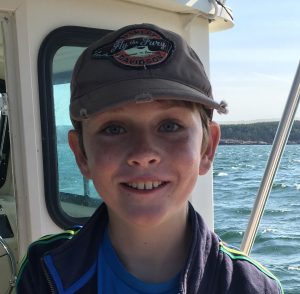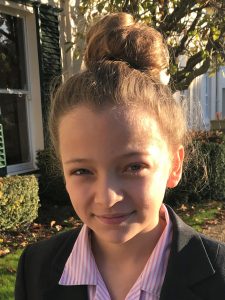 Praise for the Ledbury Poetry Festival Poetry Competition:
'Winning the Ledbury Poetry Competition in 2001 gave me a huge boost. I'd never won anything, and the confidence the win gave me pushed me forward, towards more poems, my first book and beyond.' Jacob Polley, 2001 winner , and winner 2016 T.S. Eliot Award
'The Ledbury Poetry Festival Poetry Competition is vitally important to the health of new writing in many ways: it forces people to write new poems, and to send them out into the world. It reminds us, in these tumultuous times, of the importance of heightened language in helping us to think, and it places brand-­new writing at the heart of a literary festival.' Ian McMillan, 2015 Judge
'It was a huge confidence boost for me when I found out I'd won the Ledbury Poetry Festival Competition. It was wonderful to get such wide readership for my winning poem "On Fishing," and as an American, it's doubly thrilling to win a contest in the UK, to think that my words are able to travel across an ocean and still hold meaning.' Miller Oberman, 2016 Winner.