Thank you to judge, Anthony Anaxagorou for reading over 3,000 poems with such care. The winning poems are:
Adults:
1st Prize 'Evolution of a brother gone quiet' by Jess Murrain
2nd Prize 'Business Investments in Groundwater Go Belly Up' by Clare Ysabella Heywood
3rd Prize 'The Crucible' by Kathryn Bratt-Ffotenhauer
Highly Commended: 'A Ghazal for my Grandmother' by Karan Kapoor
Young People:
1st Prize 'A Cat Confronts Her Past Lives by Yvanna Vien Tica
2nd Prize 'Sour Candy' by Ashley Fasario Tan
3rd Prize 'mango hearts' by Ahana Banerji
Highly Commended: 'Ornithology' by Alisha Wong
Children:
1st Prize 'Woodlands' by Georgiabelle Benson
2nd Prize 'Pain' by Filijay Touray
3rd Prize 'Untitled' by Jasmine Pariera
Highly Commended: 'It Can't' by Georgiabelle Benson
Judge, Anthony Anaxagorou's Comments on the Winning Poems:
'Evolution of a brother gone quiet' by Jess Murrain – Winning Adult Poem
What struck me most about this poem was how deftly it navigated the terrain of memory. How it managed to combine associative material of the past with that of having to accept loss. The poem to my mind resists sentimental language, instead working as a sophisticated and inventive eulogy. As with many poems that glissade the landscape of remembering, the saxophone and jazz details become the conduit with which the speaker recasts their brother's life. The tone remains poised and lyrical, gradually becoming clipped in parts, as it unravels to distort both memory and event.
'A Cat Confronts Her Past Lives' by Yvanna Vien Tica – Winning Young Person Poem
This brave and tragic poem explores the interiority of grief and loss through an almost prose-like block of text which incorporates slashes to disrupt the poem's flow and direction. What compelled me most about this piece, was how it well it moved through time to reckon with not only the death of a sister, but also offer a semblance of restoration through the device of a family pet.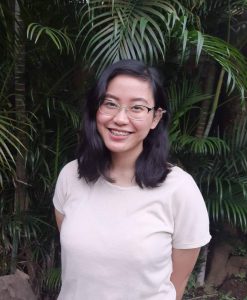 'Woodlands' by Georgiabelle Benson – Winning Children's Poem
The wonderful interplay between the natural world and positive affirmations won my heart in seconds. I loved how knowing the piece felt, especially from one so young. It left me feeling revitalised and consoled in the way some of the best poetry does.