Barrett Browning Institute Consultations
What are your hopes for Ledbury's Barrett Browning Institute (The Clock Tower)?
Ledbury Poetry Festival aims to raise funding to restore the Barrett Browning Institute to its former glory as a welcoming meeting place within the community. On Wednesday 6 October the Festival will carry out a further Community Consultation Day in the Barrett Browning Institute from 10am – 4pm. Please do drop in! Your ideas will help to create a vision for the building.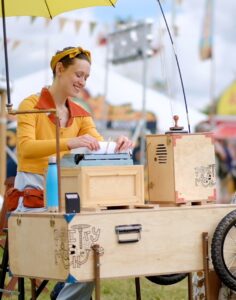 Beth Calverley will use her magical Poetry Time Travel Machine to guide you on a journey through your past, present and future experiences of Ledbury. Plus she will create a free poem for you, live in the moment, on her vintage typewriter!
Any questions or to express an interest in participating? Please do email Chloe Garner, director@poetry-festival.co.uk