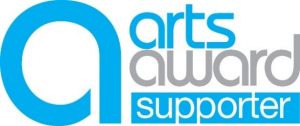 Ledbury Poetry Festival celebrates over two decades as nation's pre-eminent poetry festival, with award winning programmes in the community and schools. The Festival has been awarded "Best Community Festival" by Visit Herefordshire for the depth and quality of its community engagement.
Ledbury Poetry Festival delivers Discover and Explore Arts Awards, and can support Bronze, Silver and Gold Arts Awards. We work with children and young people aged 3 – 25. The majority of our Arts Award events are free or provided at highly subsidised rates. Please read the information below to find out more and contact
Chloe Garner, Festival Director on 01531 634156, or
Phillippa Slinger, Festival Manager on 01531 634156
to discuss how we can support you with your Arts Award. For Arts Award FAQs see here
See more information on the Schools page, where you will see the Festival's Schools Film
Ledbury Out Loud Festivals in a Day are perfect vehicles for both Discover and Explore Arts Awards. Young people take part in practical arts activities of writing and performing poetry with real live poets. The days include: performances, workshops, Q and A's with weird and wonderful array of poets in the beautiful heritage setting of Hellens Manor.
Discover Arts Award
Part A – discover
Young people  take part in practical arts activities such as listening, writing and performing poetry
Part B – find out
Q and A's with real poets learning about their art and their careers, how to be published, how to perform
Part C – share
all workshops throughout the day are interactive. There is a big group performance at the end of the day for pupils to share what they've learned, Pupils also learn audience skills: how to listen, when to clap, how to support one another through performance
Explore Arts Award
Part A – inspire
Young people explore the work of artists and arts organisations through Q and A sessions with poets, or interviews.
Part B – explore
Young people explore poetry and the poetic process through actively participating in its creation, with help from real poets in a supportive setting
Part C – create
Young people create many examples of poetry throughout the day with different themes – eg Hip Hop, animals, "What if..?"
Part D – present
Young people participate in group performance at end of the day, presenting what they enjoyed, achieved and are most proud of.
Bronze Arts Award*
Ledbury Poetry Festival can support Parts A, B, C and D
Part A – explore the arts as a participant
Part B – explore the arts as an audience member
Part C – arts inspiration
Part D – arts skill share, passing on arts skills to others
Silver Arts Award*
Ledbury Poetry Festival can support Unit 1 parts A, B, C and D, and Unit 2
Unit 1 Parts A and B: arts challenge
Unit 1 Part C – review arts events
Unit 1 Part D – arts research
Unit 2 – arts leadership
Gold Arts Award*
Ledbury Poetry Festival can support Unit 1 Parts A,B, C and D, and Unit 2
*examples of all the above might include attending many of our community and schools workshops, mentoring with a poet, attending a workshop during the summer festival, attending festival events, being a festival intern, interviewing world class poets and producing a festival blog or newsletter, attending an open mic opportunity, event managing a festival poetry slam….there are countless ways and opportunities and Ledbury Poetry Festival can support them all. Please contact us to discuss your needs and how Ledbury Poetry Festival can help
Pictures: clockwise from top left: Ledbury Poetry Festival intern event managing and introducing international poet at Versopolis event, inspirational poet Sara Hirsch at Ledbury Out Loud Festival in a Day at Hellens Manor, poet Rob Gee works with schoolchildren at same event, compilation picture of Festival activities with schools including poetry periscope and Ledbury benches digital poetry project; large scale poetry and music Dreamcatcher showcase, SLAMBassador poet Joelle Taylor inspires young people in Hereford workshop