---
2020 JUDGE'S COMMENTS:
Liz Berry: To make a poem in a time of sorrow and worry is a beautiful and admirable thing. This year has been such a hard one and the fact that so many people have been brave enough to try to write fills me with joy. This year there were over 3000 entries for the Ledbury Poetry Prize and, by my rough guess, around a third of those explored the pandemic and the lockdown which had made our worlds so fretful and small. There were deeply sad poems, funny poems, questioning poems, poems in which I felt sure that the poet was new to writing and those which were striking and accomplished. I want each poet who entered – brave, sincere, hopeful poets – to know that I read your poems with tenderness and was glad to have them in my company through difficult days. It might be too soon to know how we can write of these times and what poems will survive it but it lifts my heart to know poetry is still important to us and able to connect us across the distances.
The best bit about judging a competition is discovering thrilling, fresh, moving poems, the kind of poems which make you want to send them to everyone you know and say: look at this wonderful thing! There was an abundance of those – so much utterly brilliant work.
The worst bit of judging is having to choose winners as I always get down to about twenty poems and want to stop as they're all fantastic in such different ways. Sometimes you can't even begin to compare the final poems so you just have to go with your instinct, the poems which keep calling to you. I always try to be honest about this in order to reassure poets (I've been on both sides of this process so I know it matters) that just because your poem didn't win this time, it's not because it isn't a special piece of work.
But choose I must – that's the way of competitions, not at heart the way of poetry, but still a way we have of shining light on wonderful things. These final few are standout, knock-you-down, shout-about-it great poems. All different and all compelling. Thank you, dear poets, for allowing me to share them.
AND THE 2020 WINNERS ARE…..
First Prize: £1000 cash, a course at Ty Newydd, the National Writing Centre of Wales, and an invitation to read at the 2021 Festival
Kim Moore, with her poem All Night A Bird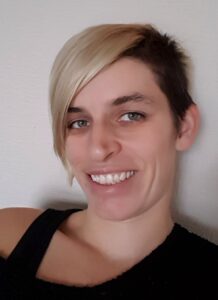 Kim Moore's first pamphlet If We Could Speak Like Wolves won the Poetry Business Pamphlet Competition in 2011. Her first full-length collection The Art of Falling was published by Seren in 2015 and won the Geoffrey Faber Memorial Prize and her second collection All The Men I Never Married will be published by Seren in 2021.
I am writing this still not quite believing that I've won! It's even more special that it's the Ledbury Poetry Competition because the festival is so close to my heart, and has been so important to me over the years in my development as a poet.  To have Liz Berry, a poet I hugely admire pick this poem out of the thousands of entries still doesn't feel quite real.  Thank you again to Ledbury and to Liz Berry for bringing some joy and light into my lockdown existence, which this week has been especially grim.  
Second Prize: £500 cash and an invitation to read at the 2021 Festival
Kizziah Burton with her poem Cist
Kizzíah Burton's (right) poems have been shortlisted and longlisted in various places, such as The
Sappho Prize for Women Poets 2020; The Poetry Society's National Poetry Competition;
NIMROD International – Pablo Neruda Poetry Prize; San Miguel de Allende Writer's Conference & Lit Honorable Mentions; Women's Poetry Competition 2018 sponsored by The Poetry Book Society/mslexia–poet laureate Dame Carol Ann Dufy selected two of her poems. A recipient of awards from The Academy of Motion Picture Arts and Sciences Foundation for three years and a travel grant from the National Endowment of the Arts, Burton is graduate fellow of The University of Southern California, Los Angeles
Thank you for your warm and enthusiastic phone call this morning on behalf of the competition.
It was like getting a call from a mythical place. I am so moved by the award and your words from Liz Berry. Liz Berry's work, her excellence, has been a source of strength and light. Her recognition holds important and personal meaning for me. As does the communion of Ledbury and its celebration of poetry and support to poets world wide. Thank you dearly with all my heart for this award.
Third Prize: £250 cash and an invitation to read at the 2021 Festival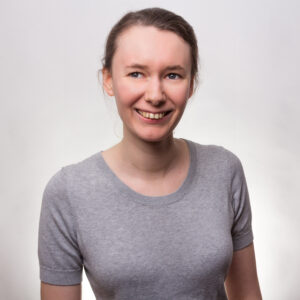 Felicity Sheehy with her poem The Shapeshifter's Wife
Felicity Sheehy's poems have appeared in The New Republic, The Yale Review, Narrative, Poetry Ireland Review, The Adroit Journal, Poet Lore, Blackbird, Shenandoah, Alaska Quarterly Review, Colorado Review, and elsewhere.She has received an Academy of American Poets Prize, scholarships to the Sewanee Writers' Conference and the Kenyon Review Writers Workshop, and the Jane Martin Prize. She has received additional prizes and support from Narrative's 30 Below Contest, the York Poetry Prize, and the Limerick Writers' Centre. In 2019 and 2020, she was listed as one of Narrative's 30 below 30 emerging writers. Comments on winning: I'm honoured and thrilled to be recognised in this contest!
Adult Highly Commended: Shipping Forecast for the Sea of Trees by Stevie Ronnie; After Elizabeth Bishop by Grace MacNair
Young Persons' prizes
Liz Berry says: Dear young poets, I fell in love with so many of the poems in this category. Your work was accomplished, deeply moving, zinging with life and made me feel excited about the poetry of the future. It pained me to have to choose winners as there were so many shining poems.
First Prize: £100 and a reading at the 2021 Festival: Sarah Mohammed "A Letter from my Mother to her Childhood"
Second Prize: £50 and a reading at the 2021 Festival: Irma Kiss Barath "Heaven in Ulcinj"
Third Prize: £25 and a reading at the 2021 Festival: Jessica Yu "The insomniac wonders"
Sarah Mohammed (left) is a fifteen-year-old brown, Muslim-American writer from the San Francisco Bay Area. Her work appears or is forthcoming in DIALOGIST, Diode, Apprentice Writer, and elsewhere. She has been recognized by the Alliance for Young Artists & Writers, the Poetry Society of the UK, and the National Poetry Quarterly's Editors' Choice Prize, among others.
Sarah says: I feel so honored to be recognized. I admire Liz Berry's poetry so much and knowing that she saw something in my work feels very heartwarming.
Irma Kiss-Baráth (right) is a high school senior from Vancouver, BC. Her work has previously been recognized by the UK Poetry Society, The Orwell Foundation, and the National Alliance for Young Artists and Writers. She is an alumna of the 2020 Adroit Summer Mentorship Program and a staff writer at EX/POST Magazine She says "Thank you so much for this award! I'm deeply honoured to be among this year's young winners. While I have enjoyed literature for as long as I can remember, I only started writing poetry about a year ago. Heaven in Ulcinj is one of the first pieces where I felt that I had found my creative voice, and I am very grateful to have it recognized this way."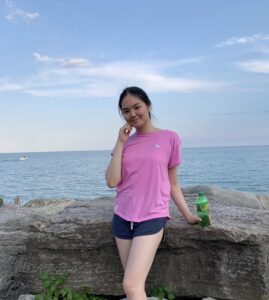 Jessica Yu (left) is a 16-year-old writer from Ontario, Canada. She was first inspired to write poetry following a camping trip a year ago, and she hasn't stopped since. Her work has been previously recognized by the Scholastic Art & Writing Awards and the New York Times. She enjoys reading books from Button Poetry, watching YouTube videos on how to bake, and listening to classical music. On winning she says "Thank you for recognizing my work! I adore poetry, and I write a lot in my free time, so this is something I find very encouraging. "
Young People Highly Commended: 
Softness by Miles Rafael Bairley-Ujueta; A Burning Sun Has No Language by Ife Olatona; Dear Mama by Nikita Bhardwaj
Children's Prizes
Liz Berry says: Dear very-young-poets, your poems were a joy! I loved your ideas, your pictures, your playfulness and light. I read your poems with my two little boys and they made us laugh and say 'wow' and want to write our own poems. We all thought your work was brilliant – keep going!
First Prize: £25 book token and a reading at the 2021 Festival: Josephine Mahmood "The Snowy Owl's Screech"
Second Prize: £15 book token and a reading at the 2021 Festival: Margot Holloway-Smith "The Annoying Thing About Oxes"
Third Prize: £10 book token and a reading at the 2021 Festival : Manya Kumar "The Cumulonimbus Cloud"
Josie (left) started writing poetry during lockdown because she was (like many other people) bored and out of ideas of things to do! She has also started writing a novel, called "Pitch Black", and is currently on chapter five. She likes spending time with her cousin doing fun things such as photoshoots. She also enjoys taking her dogs on walks, gymnastics, cooking, TV and going out with her friends. Her comment on winning is: "I like writing but I'm really surprised I won!"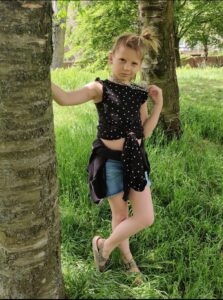 Margot Holloway-Smith (right) is 10 years old and lives in London. She loves to sing, dance and write. When she is older, she wants to be a photographer. "I can't believe I came second. I'm filled to the brim with excitement. My mouth was talking slur when I found out."
Manya Kumar, left. "My name is Manya Kumar and I am in Year7. My favourite food is Pizza. I love dancing ,singing , writing and lots of artwork. I have done many dance performances and my favourite dance form is contemporary. I love travelling with my family and friends; my favourite holiday is in Scotland where we stayed in a big cottage. I prefer writing down my thoughts in form of poetry/narratives or song. I am so proud to receive this recognition from Ledbury. It encourages me to keep writing . I look forward to meet like minded people and share experiences . Thank you so much for this award"
Children Highly Commended: Little Dragon of Water by Leo Wiseman.
Thank you to everyone who entered the competition, we hope you are encouraged to keep on writing poetry!
JUDGE: Liz Berry was born in the Black Country and now lives in Birmingham. Her first book of poems, Black Country (Chatto 2014), described as a 'sooty, soaring hymn to her native West Midlands' (Guardian) was a Poetry Book Society Recommendation, received a Somerset Maugham Award and won the Geoffrey Faber Memorial Award and Forward Prize for Best First Collection 2014. Her pamphlet The Republic of Motherhood (Chatto, 2018) was a Poetry Book Society Pamphlet choice and the title poem won the Forward Prize for Best Single Poem 2018. Liz is a patron of Writing West Midlands and works as a tutor for organisations including the Arvon Foundation and The Poetry School.   Picture credit Lee Allen.
For media enquiries about Ledbury Poetry Festival please contact :
Phillippa Slinger, Festival Manager on manager@poetry-festival.co.uk / 01531 634156
---