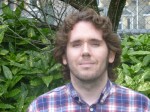 Jonathan Edwards
Jonathan Edwards who won first prize this year with his poem - Minding A Seat for his Master Before a Performance of The Rivals   Covent Garden Theatre, 1775  has already had some success as a poet.  See below for more information about him and his thoughts on winning first prize at Ledbury.
Jonathan's first collection, My Family and Other Superheroes (Seren) is shortlisted for the Fenton Aldeburgh First Collection Prize 2014. He won the Terry Hetherington Award in 2010, received a Literature Wales New Writer's Bursary in 2011, and in 2012 won prizes in the Cardiff International Poetry Competition and the Basil Bunting Award. His poems have appeared in a wide range of magazines, including Poetry Review, Poetry Wales, New Welsh Review and The North.
Jonathan says I couldn't quite believe it when I heard this awesome news. The Ledbury Poetry Festival has formed an enormous part of my poetic education, both through the poets it has allowed me to see read, and through its excellent and supportive one-to-one tutorial sessions, so it's brilliant to have a poem recognised in this way. The poem came out of the experience of teaching The Rivals as an A-level text, and is dedicated to my A-level students of 2014.
Please see all of the winning poems here   Adult winners       Young Person Winners    Children
This year's judge Ian McMillan  c Andy Boag
The Judge of the 2014 poetry competition, Ian McMillan, is well-known to Radio 3 audiences as presenter of The Verb. He is also poet-in-residence for English National Opera, The Academy of Urbanism and Barnsley FC. He's a regular on Coast, Pick of the Week, You & Yours, Last Word and The Arts Show. Ian's latest books are This Lake Used to be Frozen: Lamps (Smith / Doorstop Books) plus 101 Uses For A Flat Cap (Dalesman) with cartoonist Tony Husband. He will be appearing at Ledbury Poetry Festival in 2014.
Prizes:
Adults:
First Prize: £1000 cash and a course at Ty Newydd, The National Writers' Centre for Wales. www.tynewydd.org
Second Prize: £500
Third Prize: £250
Young People: 12 – 17
First Prize:   £100    Second Prize:   £50   Third Prize :   £25
Children: (11 and under)
First Prize:  £25 book token    Second Prize:  £15 book token   Third Prize:  £10 book token
All winners get a chance to read at the Ledbury Poetry Festival in 2015.
First poem free to enter for children and young people. Adults £5 for first poem and then £3.50
Please download an entry form here:  ADULTS     CHILDREN AND YOUNG PEOPLE
Rules
Poems must be received on or before Thursday 10 July 2014 at 5pm.
All poems must be the original work of the entrant and should not have been previously published, accepted for publication by a magazine, nor entered in other competitions.
The length of each poem must not exceed 40 lines.
Each individual poem, regardless of length, must be typed on one sheet of plain A4 paper (except Children's category, which can be handwritten). Please submit two copies of each poem.
The competitor's name must NOT appear on the poem.
All poems must be accompanied by a fully completed entry form.
Please keep a copy of your poem, as manuscripts cannot be returned.
Copyright remains with the author, but Ledbury Poetry Festival reserves the right to have entries performed at the Festival, on radio, TV, or stage, published on the internet, in an anthology or used for publicity purposes at any stage in the future.
No acknowledgement of entry will be sent unless the competitor sends an SAE marked 'Acknowledgement'.
Competitors wishing to be informed of the results should enclose an SAE marked 'Results'.
The decision of the judge is final and no correspondence will be entered into.
The Festival reserves the right to withhold prizes if such an action is justified.
Entries not complying with competition rules will be disqualified.
The winner of the adult first prize will be expected to provide for his/her own transport arrangements in order to attend the Ty Newydd course in North Wales, regardless of whether he/she is a UK resident or not.
The winner may select from any of the courses available at Ty Newydd. However the Festival cannot accept responsibility for re-arrangements or circumstances beyond its control.
THE FESTIVAL CANNOT PAY TRAVEL COSTS TO THE WINNERS' EVENT.