'It is a brilliant festival in a lovely town and I recommend it highly, an absolute must for anyone who believes in the importance of poetry.' – The Idler
FEEDBACK: Please complete the survey for EACH event you have attended. Click here, thankyou!
Any further feedback gratefully received: manager@poetry-festival.co.uk 
---
Sandeep Parmar wins £5000 inaugural Ledbury Forte Poetry Prize for second poetry collections with 'sharp, contemporary and lyrical' Eidolon
Please visit the Ledbury Forte Poetry Prize page for full details.
Listen to Judge Tara Bergin chat about the process of judging the Ledbury Forte Poetry Prize in the two podcasts below:
---
Shortlist for Ledbury Forte Poetry Prize
For Second Collections!
Judy Brown – Crowd Sensations (Seren)
John Clegg – Holy Toledo! (Carcanet)
Emma Hammond – The Story of No (Penned in the Margins)
John McCullough – Spacecraft (Penned in the Margins)
Sandeep Parmar – Eidolon (Shearsman Books)
Sam Riviere – Kim Kardashian's Marriage (Faber & Faber)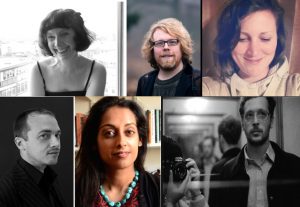 Please visit the Ledbury Forte Poetry Prize page to read the judges comments and find out more about the Prize.
---
Fantastic Beasts
Herefordshire is a county of fantastic beasts and mythical creatures – for example The Dragon of Mordiford plus the minotaur, unicorn and werewolves in the Mappa Mundi. With this in mind we ask you to give us a fantastic beast poem. Click on the Fantastic Beasts button for more details.
---
Ledbury Poetry Salons 
Do you want to discover more about poetry? Have you been looking for a place to perform your own poetry? Why not come along to the Ledbury Poetry Salons, which include an Open Mic and a Featured Poet who will read and discuss their poems. This is a chance to perform your poems to a friendly and welcoming audience and to meet other writers. Expand your enjoyment of poetry through readings and conversation! Try out poems in progress or bring along your tried and tested favourites!
Listen to previous Poetry Salons including Gregory Leadbetter, Rhiannon Hooson, Nichola Deane, Pia Tafdrup, Philip Gross, Deborah Alma, Cliff Yates, Yvonne Green, David Clarke, Myra Connell, Maitreyabandhu, Carrie Etter, Damian Walford Davies and Adam Horovitz.
---
Ledbury Poetry Festival launches a new prize for second poetry collections: The Ledbury Forte Poetry Prize. This prize aims to support and encourage poets at the 'mid-career' stage with a shortlist and a prize of £5,000 for the winning second collection. The winning poet will be announced at an event at Ledbury Poetry Festival when the judges, Vahni Capildeo and Tara Bergin will announce the winner. Ledbury Forte Poetry Prize Submission Guidelines and Submission Form
Ledbury Poetry Festival gratefully acknowledges the generosity of Olga Polizzi whose contribution makes the Ledbury Forte Poetry Prize possible.
---
Ledbury Poetry Festival has some special offers for you.
Visit our Shop page to find out more.
---
The Festival's 2016 Annual Report is out. Here is some feedback from some of our supporters:
"Very interesting. I have forgotten the sheer volume of work that you do"
"We are delighted to help such a vibrant event"
"Really pleased to read about some of the great pieces you've delivered this year"
"LPF is a true role model"
To read a copy, click here and please let us know any feedback!
---
Poetica Botanica – poetry inspired by medicinal herbs
Ledbury Poetry Festival and Hellens Garden Festival seek poems inspired by the plants in Hellens Manor Physic Garden.  Some of these were recorded during the 2016 Lebury Poetry Festival and these recordings can now be heard on the Poetica Botanica page.
---
Become a Friend of Ledbury Poetry Festival
If you are interested in becoming a Friend of Ledbury Poetry Festival please contact Sandra our Finance Manager on 01531 636232 (email finance@poetry-festival.co.uk) or you can visit the Friends page where you can now sign up on-line.
---
Some of our Sponsors
The Pennington-Mellor-Munthe
Charity Trust