'It is a brilliant festival in a lovely town and I recommend it highly, an absolute must for anyone who believes in the importance of poetry.' – The Idler
---
 Air Poems in the Key of Voice: offers hearing audiences something of the rich, immersive, spine-tingling experience conjured by sign language poetry.
Saturday 8 July, 12 noon – 1pm, Market Theatre, £9 (tickets half price if you have booked another festival event)
For Britain's native sign language community, poetry is a linguistic, visual, kinesthetic and visceral experience. Form in sign language poetry is created through play with language, space, image and movement. For this work performed live, Kyra Pollitt analysed the image-rhyming in Paul Scott's poems to create a basic score onto which Victoria Punch mapped a series of vocal gestures inspired by the Estill method. For those who don't sign, access to the content of the poems is offered through film-poetry by Helen Dewbery and Chaucer Cameron simultaneously superimposed onto Paul and Victoria's live performance. The piece will offer hearing audiences something of the rich, immersive, spine-tingling experience conjured by sign language poetry.
Find out more about this unique and special event: Interview with Kyra Polliit, creator of Air Poems in the Key of Voice
---
Replacement for Juliet Stevenson Announced!
Mark Fisher's daughter Francesca Hunt is an actress, known for Charlie and the Chocolate Factory (2005), Strathblair (1992) and A Prince Among Men (1997). She has generously agreed to stand in for Juliet Stevenson and perform the works of famous American poet Adrienne Rich, alongside her father who will give the narrative. Francesca Hunt trained at Bristol Old Vic Theatre School and Moscow Arts Theatre School and is an excellent reader of poetry, so this is bound to be an entertaining and illuminating celebration of the poetry and life of Adrienne Rich.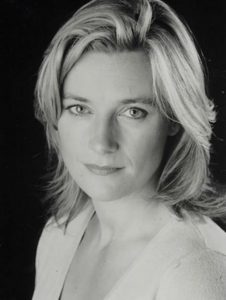 ---
Shortlist Announced for Ledbury Forte Poetry Prize
For Second Collections!
Judy Brown – Crowd Sensations (Seren)
John Clegg – Holy Toledo! (Carcanet)
Emma Hammond – The Story of No (Penned in the Margins)
John McCullough – Spacecraft (Penned in the Margins)
Sandeep Parmar – Eidolon (Shearsman Books)
Sam Riviere – Kim Kardashian's Marriage (Faber & Faber)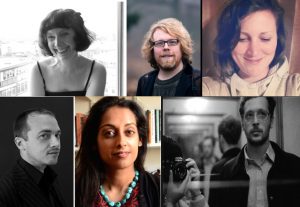 Please visit the Ledbury Forte Poetry Prize page to read the judges comments and find out more about the Prize.
---
Ledbury Poetry Festival Programme: Changes and

Announcements
*Due to unforeseen circumstances the HEDGESPOKEN events on Saturday 1 July and Sunday 2 July have been cancelled at Hellens Manor Garden.
*Liliana Ursu has unfortunately had to withdraw from event 14. Romanian Women Poets due to illness but the event is going ahead with poets Ana Blandiana and Magda Carneci curated by Fiona Sampson.
*The Canterbury Tales will now be repeated at 2 more events on Thursday 6 July & Friday 7 July from 11am – 1pm at The Talbot Hotel – see booking page for details
*Please note Event 64: Poetry Jukebox with Larry Lamb and David Sibley has been changed to Monday 3 July, 5.30 – 6.30pm and Event 33 Elvis McGonagall & Luke Wright has now been moved to a larger venue at The Community Hall
Tickets now available from the Box Office or book on-line
You can call in to the Box Office Mon, Tue, Thu and Fri 10am–4pm, Sat 10am–1.30pm
(Closed Wed and Sun) at:
The Master's House, St Katherine's, Bye Street, Ledbury, HR8 1EA.
01531 636232
---
*** SOLD OUT EVENTS ***
5. Katherine Towers Workshop Saturday 1 July
9. Christopher Merrill Workshop Saturday 1 July
11. Fair Field: The Confession of the Seven Sins Saturday 1 July
22. A. E. Stallings Workshop – Forms of Repetition Sunday 2 July 
24. Tony Hoagland Workshop – Shifting The Frame Sunday 2 July
25. The Death Salon with Thomas Lynch
34. Mslexia: How to put a Poetry Manuscript Together with Clare Pollard Monday 3 July
44. An Edward Thomas Miscellany Tuesday 4 July both times
53. Keith James presents Duende Thurs 6 July
76. The Bughouse: The Poetry, Politics and Madness of Ezra Pound Sat 8 July 
---
---
Fantastic Beasts
Herefordshire is a county of fantastic beasts and mythical creatures – for example The Dragon of Mordiford plus the minotaur, unicorn and werewolves in the Mappa Mundi. With this in mind we ask you to give us a fantastic beast poem. Click on the Fantastic Beasts button for more details.
---
Ledbury Poetry Salons 
Do you want to discover more about poetry? Have you been looking for a place to perform your own poetry? Why not come along to the Ledbury Poetry Salons, which include an Open Mic and a Featured Poet who will read and discuss their poems. This is a chance to perform your poems to a friendly and welcoming audience and to meet other writers. Expand your enjoyment of poetry through readings and conversation! Try out poems in progress or bring along your tried and tested favourites!
Listen to previous Poetry Salons including Gregory Leadbetter, Rhiannon Hooson, Nichola Deane, Pia Tafdrup, Philip Gross, Deborah Alma, Cliff Yates, Yvonne Green, David Clarke, Myra Connell, Maitreyabandhu, Carrie Etter, Damian Walford Davies and Adam Horovitz.
---
Ledbury Poetry Festival launches a new prize for second poetry collections: The Ledbury Forte Poetry Prize. This prize aims to support and encourage poets at the 'mid-career' stage with a shortlist and a prize of £5,000 for the winning second collection. The winning poet will be announced at an event at Ledbury Poetry Festival when the judges, Vahni Capildeo and Tara Bergin will announce the winner. Ledbury Forte Poetry Prize Submission Guidelines and Submission Form
Ledbury Poetry Festival gratefully acknowledges the generosity of Olga Polizzi whose contribution makes the Ledbury Forte Poetry Prize possible.
---
Ledbury Poetry Festival has some special offers for you.
Visit our Shop page to find out more.
---
The Festival's 2016 Annual Report is out. Here is some feedback from some of our supporters:
"Very interesting. I have forgotten the sheer volume of work that you do"
"We are delighted to help such a vibrant event"
"Really pleased to read about some of the great pieces you've delivered this year"
"LPF is a true role model"
To read a copy, click here and please let us know any feedback!
---
Photos from The 2016 Festival
---
Recordings 2016
Many of the Ledbury Poetry Festival events are recorded and made available on this website. Over 30 of the 2016 events are now available to listen to or download through the link below.
---
Ledbury Poetry Salons 
 Listen to previous Poetry Salons with Philip Gross, Deborah Alma, Cliff Yates, Yvonne Green, David Clarke, Myra Connell, Maitreyabandhu, Carrie Etter, Damian Walford Davies and Adam Horovitz.
---
Poetica Botanica – poetry inspired by medicinal herbs
Ledbury Poetry Festival and Hellens Garden Festival seek poems inspired by the plants in Hellens Manor Physic Garden.  Some of these were recorded during the 2016 Lebury Poetry Festival and these recordings can now be heard on the Poetica Botanica page.
---
Become a Friend of Ledbury Poetry Festival
If you are interested in becoming a Friend of Ledbury Poetry Festival please contact Sandra our Finance Manager on 01531 636232 (email finance@poetry-festival.co.uk) or you can visit the Friends page where you can now sign up on-line.
---
Some of our Sponsors
The Pennington-Mellor-Munthe
Charity Trust