Throughout the year, we work with local schools and teachers to develop and nurture a love for language, creative writing and literacy. We do this through poet workshops (both in interesting locations and in schools), special readings and performances, poetry trails, classroom activities plus inset sessions for teachers. Below you will find lots of examples of these projects. If you would like to welcome poets into your school, or are interested in taking part in any of the projects below, please contact Chloe Garner, director@poetry-festival.co.uk
Margaret Atwood gives a special performance and Q&A for John Masefield High School students
"To be able to host such an inspirational poet and novelist [as Margaret Atwood] is unbelievably exciting for our school and students. We are enormously grateful to Ledbury Poetry Festival for arranging this wonderful event." Mrs Baker, Head of English John Masefield High School
Poetry Out Loud, Festivals in a Day!
Festivals in a Day bring primary schools together to hear performances by renowned poets, take part in writing workshops and perform their own poems at the showcase celebration! These are intensive and fun-packed one-day events that enthuse and inspire children about poetry and send pupils and teachers away with lots of ideas for writing and performing. Festival in a Day poets include Mike Barfield, Val Bloom Matt Black, Sara Hirsch, Anneliese Emmans Dean, Jasmine Gardosi, Rob Gee.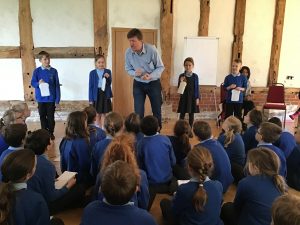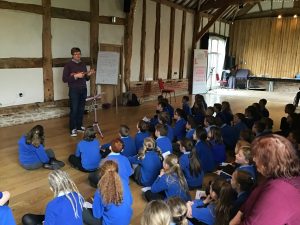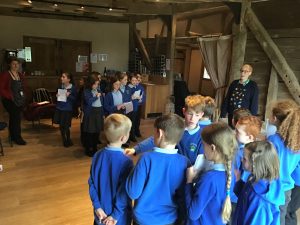 Praise for Festival in Day events:
"What an amazing day! If days like this don't get kids talking and enthused about poetry, I don't know what will!"
Ashfield Park primary: "The power of the day was very evident in the way all children responded.  Our year group contains a number of rather challenging children, but very little was needed by our staff to maintain the very high standards of behaviour, energy and engagement that the children continued throughout the day.  Even reluctant writers joined in with every activity and produced work that both we and they are truly proud of.  
The vast majority of children went home and continued to write poetry in their notebooks that evening.  This included a child with attachment disorder (meaning he can't cope with challenge or failure) and a child who has been a school refuser and up until this year could not read or write at all.  He went home and wrote 16 poems of his own!"
Poet Aviva Dautch workshops on The Holocaust and Kindertransport
Poet Aviva Dautch led workshops in Lugwardine, Colwall and Eastnor Primary Schools on The Holocaust and Kindertransport, offering pupils the opportunity to read and write poems exploring the themes and questions prompted by these difficult and challenging subjects. Here are some examples of poems created during the four days:
Staring into darkness
I see the desperate faces of families
as children are dragged away unwillingly
I smell the burning of flesh
from a tattooist's scorching black ink
I want to be free
I feel like an atlas being slammed on a table
I hear a million souls screaming in space
I need this misery to end
I want to be free
Why am I here?
By Year 6, Lugwardine Primary Academy
Holocaust Cinquains
trapped
trapped behind
trapped behind bars
trapped behind unbreakable bars
trapped
by Sinead, Year 6, Lugwardine Primary Academy
Tears
Human Cries
Torn apart unwillingly
See children's lost, stone-faces
Tears
by Jessica,Year 6, Lugwardine Primary Academy
Trapped
I'm lost
In the asylum
My soul is shattered
Why
by Will, Year 6, Lugwardine Primary Academy
Why?
I am lonely
Why cruel world!
why. I am lonely?
Why!
by Ed, Year 6, Lugwardine Primary Academy
Feeling
Feeling lost
Feeling lost inside and
Out
by Callum, Year 6, Lugwardine Primary Academy
Pupils also explored their own sense of identity and here is an example of a poem on this theme:
Me by Reuben,Year 6, Lugwardine Primary Academy
I am me
and will be me for all eternity,
never will I betray.
I will always love my family.
I will never stand and
watch as someone is hurt
I am passionate
even though I am sometimes
of a fixed mind.
I will always live on.
Teacher's comments: 
"Year 6 really enjoyed yesterday, so much so that we couldn't stop them asking questions! The children were able to gain a much deeper understanding of the Holocaust and the impact on children/families. They were also able to explore the issue in a safe environment with a specialist who knew how to approach the topic."
"I just want to say thank you for an amazing two days, which helped me enormously! I got an opportunity to see my class from a different perspective, it enhanced my skills for teaching poetry, my knowledge on the Holocaust was enhanced…Having Aviva in the class for two days benefitted me and the children."
Mrs Cole, Lugwardine Primary Academy
Poetry Trails with Primary Schools
Found Voices with Ledbury Primary School
Ledbury Poetry Festival and Joined Up Heritage, collaborated to produce a project called Found Voices – essentially the creation of a poetry trail around the heritage buildings in Ledbury. Ledbury Primary School created and filmed a poetry trail around 6 of the heritage buildings in Ledbury, very much in the style of two previous projects, Ledbury Benches (2016) and Ledbury Doors (2017). 60 pupils from Year 3 were involved. The pupils wrote group poems based on their observations of the buildings with poet Sara-Jane Arbury, and then created films of their poems and QR codes with Mark Sanderson (Herefordshire Computing Support).
Bosbury Bards, Poetry from Bosbury CE Primary School
Bosbury Bards is a poetry project undertaken by Class 4 at Bosbury CE Primary School in the autumn term 2017 with funding from Ledbury Poetry Festival 2018. Children in Class 3 worked with local poet Sara-Jane Arbury to create six poems inspired by different locations around their village. Each group then worked with computing consultant Mark Sanderson of Herefordshire Computing Support, to turn their poems into short films.
The films the children created are showcased on this site, along with other work that the project inspired. Residents and visitors to Bosbury can access the performance poems by using a smart phone or tablet to scan the QR codes that will be found at each location.
Hellens Poems by Much Marcle Primary School
Sponsored by Ledbury Poetry Festival, children from Much Marcle C of E Primary School worked with local poet Sara-Jane Arbury to write poetry inspired by several visits to Hellens Manor in their village.
The children then thought about how to perform their poems and worked with Herefordshire Computing Support to turn their poems into the short films.
Feedback from teachers:
The children absolutely loved the workshops. The vast majority of them have grown up in Ledbury and had walked past many of the buildings they visited but had never been inside. They were thrilled to learn about the history of their home town – many went home and shared their knowledge with their families. They can't wait to perform their poems to their families and friends on Friday, and what a great idea to perform them on location!
The workshop leaders were brilliant; they were enthusiastic and engaged the children thoroughly. Their knowledge of the buildings was great and they were able to answer any question the children asked. We particularly like the leaders' costumes at the Painted Rooms and the Market House.
This project is a brilliant way to engage children with poetry and further educate them on the history of Ledbury. The performance gave the whole project a sense of purpose and was a great opportunity for them to be involved with the Ledbury Poetry Festival. We are often involved in many sporting fixtures and other similar events, but for those whose passion is Literacy, this was right up their street and has resulted in such fantastic poems and videos. A HUGE THANK YOU!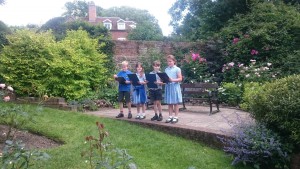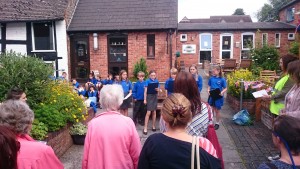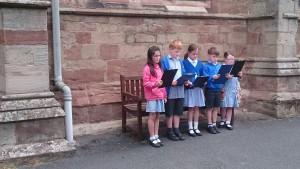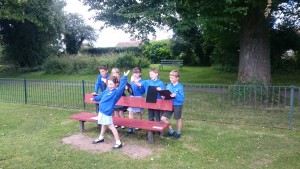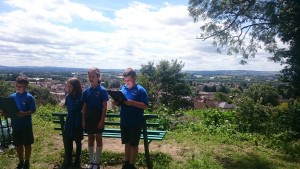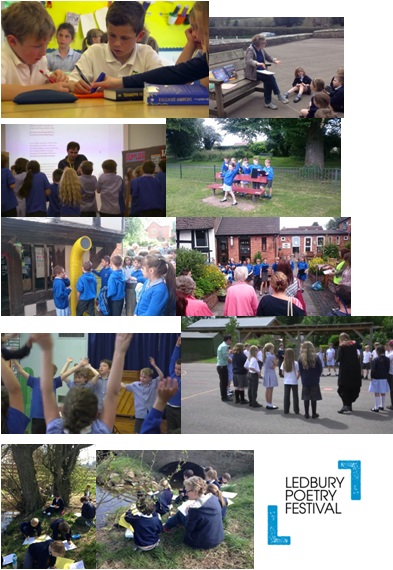 Twilight Inset Day
This event is now finished – and was excellent!
Twilight Poetry Inset with poet Jacob Sam La Rose
CONTENT OF THE INSET:
– a foundational methodology/model for structuring creative writinglessons/workshops/programmes
– a series of easily accessible exercises for generating poems and findingways into working with poetry
– guidelines and tools for editing and critique of poetry
– ways of working with the performance of poetry as a driver/catalyst forediting and and further refining work
– suggestions on how to establish/facilitate in-school creative writing"clubs"
Jacob's sessions for teachers can be appropriate for all levels, and sessions are typically practical in nature, so attendees will have the opportunity to experience some of the writing challenges Jacob will share with them.
Twilight Inset with Jacob Sam La Rose – Details and Biog.
Jacob Sam La Rose
White Tigers, Red Stripes


An Anthology of poems created by students at Aconbury Pupil Referral Unit working with the school's Poet in Residence Joelle Taylor. Please do click on White Tigers, Red Stripes to read this powerful anthology.
Aconbury Teacher Emma Collyer writes, "Having the funding and support to bring in outside practitioners such as Joelle Taylor  is an extremely powerful way of engaging with our pupils, and the visible benefits both emotionally and creatively cannot be underestimated.
Having the extra funding to publish the poems in an anthology for the students to take home, validated the quality and power of their writing and  has allowed us to send copies to the schools and agencies we work with to show what our students can achieve.
Thank you once again for supporting the school and providing such amazing opportunities for our students."
One of the young poets featured in this anthology, Jessica Quinn was shortlisted for this year's SLAMbassadors national youth slam championships, with a poem inspired by her sessions with Joelle Taylor.
Other Projects
Poet Brenda Read-Brown will be John Masefield High School's Poet in Residence. She will collaborate with the English Faculty to deliver workshops on writing and performance and will perform her own poems as well as create a new JMHS poem.
Aconbury Pupil Referral Unit will welcome poets Adam Kammerling and Raymond Antrobus as Poets in Residence making four visits to the school to work with pupils on writing and performing.
Poetry and Song Project Dreamcatcher
Students will have the opportunity to work with poet Roz Goddard, voice coach Robbie Jacobs and composer Freya Waley-Cohen to write their own poetry and songs!  The project and the theme is linked to Edward Elgar's great work, 'The Dream of Gerontius'.  Once the songs have been written, the students will be trained on how to sing them with confidence, and have the chance to perform them to an audience of family and friends.  There will be a Dreamcatcher showcase at Ledbury Poetry Festival! In addition, children who take part in this project will be invited to attend the final full rehearsal of the Dream of Gerontius in Worcester Cathedral, as part of the 2017 Three Choirs Festival. This project is jointly presented by the Ledbury Poetry Festival and the Three Choirs Festival.
Bosbury Primary School and Bromesberrow will enjoy fun and entertaining visits from poet James Carter.
Bench Poems Project with Ledbury Primary School
On Tuesday 5 July pupils from Ledbury Primary School took Festival-goers on a walk with a difference. The pupils led a guided tour around the town and performed their poems at various benches along the way! Pupils also take the opportunity to enjoy the Poetry Periscope with poems in 30 European languages.
This event is the culmination of an exciting and unusual project with poet Sara-Jane Arbury and Mark Sanderson from Herefordshire Computing Support and marks the launch of the Ledbury Bench Poetry Trail! The children created poems inspired by selected benches and explored ways of linking Values with their local environment. They then worked on innovative performance techniques and filmed the outcome. You can enjoy this clip below, view all their work online through the QR codes on the benches and via the project website at www.ledburybenches.wordpress.com, or better still, why not join the jolly jamboree during the 2016 Ledbury Poetry Festival, Tuesday 5 July and see the children performing live as they take you on a tour of Ledbury's benches! You will also be able to pick up a leaflet and follow the trail yourself.
Feedback from pupils taking part in the Keen Writers' Workshops led by Roz Goddard.
The Primary schools who took part were: Bosbury, Eastnor, Ledbury, Much Marcle, Colwall and Lord Scudamore. These poetry workshops inspired pupils to look at poetry in fresh ways, and featured a range of exercises over the session as well as an opportunity for young writers to read or perform their poems to the group.
"Today reminded me how much I loved poetry – how much feeling and passion it takes to become a poet and the true art of writing". – GRACE
"I learned today that you use your imagination all the time." – DARCEY
"Awesome, fun, exciting, cool, I loved it". – HOLLY
"I really liked today's poetry workshop, I've learnt that it doesn't have to make sense.  It can be about anything." – HANNAH
"I enjoyed learning new ways of writing poetry and I believe that this may have inspired me to become a poet when I am older!" – LUCY
Arts Award Supporter Offer See this post
The Festival can offer work experience and intern opportunities. The Festival can offer tickets to Festival events that include poetry readings, talks, theatrical performances, open mics and slams, film showings, workshops and much more. The Festival could also offer a showcase opportunity for performances, readings, exhibitions etc. Especially where there is a link with poetry in some way.
Ledbury Poetry Festival offers Twilight Inset sessions for teachers involving poet talks and creative writing sessions.
Contact Chloe Garner on 01531 634156 or email director@poetry-festival.co.uk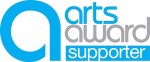 Past Events and Projects:
Joelle Taylor is poet in residence for three Herefordshire high schools
Identity is the theme of a series of writing and performance workshops for pupils at Aconbury Centre, St David's Centre in Hereford and John Masefield High School in Ledbury in February and March 2015. In the first workshop pupils will get creating immediately and then edit their poems during their second session. By their third session they will have an opportunity to film themselves performing their poems and to enter the Poetry Society's Slambassadors youth slam. This is a great project offering in depth writing time for pupils and a chance to work with a superb performance poet and workshop leader.