What do children in other countries learn by heart? What poems do they treasure? What's the Russian name for Winnie-the Pooh? Why was a crocodile the cause of a major literary scandal in
Soviet Russia?
To find out the answers to these questions and much more besides, join Modern Poetry in Translation magazine for a reading and discussion of children's poetry from around the world, and a special guest reading by Russia's favourite children's poet Marina .
Marina writes poems and stories for children of all ages, she tours Russia reading to thousands of  children, and she hosts a popular poetry request programme on Radio Russia. She is also  Russia's foremost translator of English children's literature and her translations include The Gruffalo, A. A. Milne and Hairy Maclary (as well as many grownup writers, including Shakespeare,  Chaucer and Donne).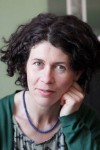 This reading is hosted by Sasha
Dugdale, editor of Modern Poetry in Translation.