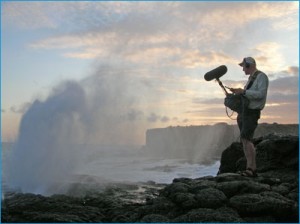 Sound recordist Chris Watson and poet Linda France recreate a special live version of their 2008 collaboration The Moon & Flowers – a lunar year in a walled garden.
They also première a new live piece, Stone Meadow, evoking the passage of the seasons in a wilder patch of Northumberland through the synergy of natural sounds and poetry.
Chris Watson is one of the world's leading recordists of wildlife and natural phenomena, well-known for his work on radio and TV, most recently for David Attenborough's Frozen Planet.
Based in Northumberland, Linda France is this year's National Poetry Competition winner. A new collection, arising from a tour of some of the world's Botanic Gardens, will be published next year.