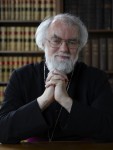 Rowan Williams was the 104th Archbishop of Canterbury and is now Master of Magdalene College at Cambridge University.
His collections include The Poems of Rowan Williams and most recently The Other Mountain.
Marina Warner is a renowned writer and academic, whose most recent book is Once Upon A Time – A Short History of Fairy Tale. She is the Chair of the 2015 Man Booker International Prize.
Join a fascinating and provocative conversation with two great thinkers.