Mona Arshi, Sarah Corbett and Eleanor Rees
Exploring altered states, inner worlds, reimagined cities and subterranean lands, Pavilion Poetry, imprint of Liverpool University Press, is launched with collections by three poets whose poetry sounds the depths of story, language, territory and selfhood.
At the centre of Mona Arshi's debut collection, Small Hands, which was joint winner of the Manchester Poetry Prize, are the slow detonations of grief at the death of her brother. Often surreal, political as well as personal, Arshi offers a powerful and original slant on the world.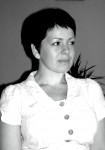 Sarah Corbett's ambitious, moving and provocative fourth collection And She Was is a verse novel, recently described by Patricia Duncker as 'fluid and irresistible', which asks us to think about the dangers and pleasures of loving.
Eleanor Rees' Blood Child sees her continuing her shape-shifting explorations of fairy tale which are rooted in her home city of Liverpool, as she searches for what Jay Griffiths has praised as an 'exquisite unearthing of meaning in nature'.