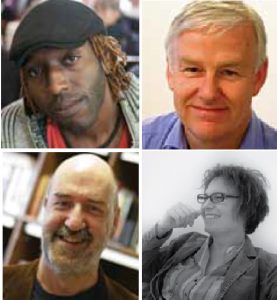 Renowned as a supreme performer, Kei Miller's poems inhabit sound, and his speaking voice brings to life beautifully the warm music of the Jamaican English of his homeland. His new collection is The Cartographer Tries to Map A Way to Zion.
Chris Beckett grew up in 1960s Ethiopia, a country he describes as a 'barefoot empire, home of black-maned lions…old priests decked out like butterflies and blazing young singers of Ethio-jazz'.
Ethiopia Boy plunges the reader into this extraordinary country. Gregory Woods is the author of five poetry collections, the latest being An Ordinary Dog.
They are joined by Poet in Residence at Manchester Cathedral, Rachel Mann. A trained philosopher, she has written a memoir of being a trans woman, lesbian and a priest, Dazzling Darkness, which was a Church Times bestseller.