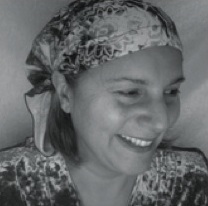 Yvonne Green was the featured poet at the Poetry Salon on Tuesday 10 May 2016 in the Panelled Room in The Master's House in Ledbury. Her new collection Honoured (Smith/Doorstop 2016) was Poetry Book Society Recommended.
Her first pamphlet, Boukhara, was published in 2007 and won The Poetry Business 2007 Book & Pamphlet Competition. Her first full-length collection, The Assay was published in 2010 and as a result of an award from Celia Atkin and Lord Gavron was translated into Hebrew in 2013, under the title HaNisuyi and published in Israel by Am Oved.
Green was Poet-in-Residence to Spiro's Ark from 2000-2003, Norwood Ravenswood in 2006, Casa Shalom from 2007-8, Jewish Woman's Aid from 2007-9 and since 2013, to Baroness Scotland of Asthall's Global Foundation To End Domestic Violence (EDV GF).
After the November 2015 Paris attacks Green read translations from Hebrew as well as some of her own work at a Poetry and Music of the Middle East event in St Albans.She currently convenes two monthly groups, one at Hendon Library called "Wall of Words" and the second at JW3, Europe's largest Jewish cultural centre, called "Taking the Temperature". She also regularly gives readings and talks on translating Semyon Lipkin.