Tuesday, 3rd July 2018




9:30 am - 5:00 pm
Chant works by the Latin poet Venantius Fortunatus, 530 – 609, including 'Vexilla Regis prodeunt', 'Pange lingua gloriosi' and 'Salve festa dies'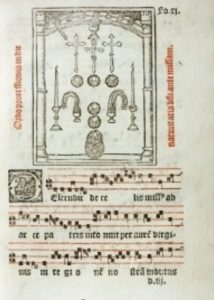 A choral workshop led by John Rowands-Pritchard.  SING GREGORIAN CHANT is a chance to experience Gregorian chant in a friendly context.
Simple recitation in English leads to some of the rich heritage of more adventurous Latin chant. All are welcome. The courses are open to anyone; women and men, singers and non-singers. Beginners are encouraged to join, together with experienced singers.
The aim is to be an entertaining, friendly, informative and enjoyable experience.
Timetable:
from 9:30 am Register
10:00 am Session
10.40 am Service of Terce
11.00 am coffee
11:30 am Session
12.40 pm service of Sext
1:00 pm LUNCH BREAK
2:00 pm Session
3:15 pm Service of None
3:30 pm tea
4:00 pm session
4:15 pm performance of chant sequence
        followed by Compline
5:00 pm end of workshop
Tutor
The day is led by John Rowlands-Pritchard who has worked as a professional singer in the cathedral choirs of Ely and of Wells, and as an oratorio soloist; and founded the group Opus Anglicanum, 5 singers and a reader. He studied mediaeval song with Professor John Stevens and early Gregorian chant with Dr. Mary Berry at Cambridge, illustrating lectures and broadcast talks for both. Experience as a Cantor with the Schola Gregoriana of Cambridge included recital work and recording in many European cathedrals and abbeys, and in the Vatican. He has directed Chant Days for university music departments, cathedral choirs, music festivals, adult education colleges, and is an Associate of the Royal School of Church Music for his work teaching the chant. He has recently worked for Glastonbury Abbey, Worcester Three Choirs Festival, Benslow Music, Sarum College, Two Moors Festival; and with the Benedictine monks of Silverstream Priory, Co.Meath, Ireland.
VENATIUS FORTUNATUS : POEMS FOR RADEGUND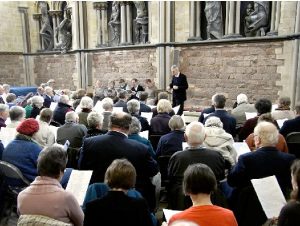 The charm and impish vitality of the 6th-century Italian poet Fortunatus (530 – 609) comes across warmly in his verse. He settled in Poitiers because of his friendship with Radegund, foundress of the Abbey of nuns there, and separated wife of the Merovingian King Clothaire I. Here Fortunatus composed some of the greatest hymns of the middle ages: 'Vexilla Regis prodeunt', 'Pange lingua gloriosi' and 'Salve festa dies'. Our programme involves chant settings of these and readings from his delightful lyrics, especially those addressed to Radegund and to Agnes the Abbess of the monastery. It was here that the fragment of the Holy Cross was placed, for the ceremonial reception of which the 'Vexilla Regis' was composed. Fortunatus was plainly delightful company. His many little friendly poems to Radegund and to Agnes, her younger protege and Abbess of Holy Cross, are full of friendship and love. They are beautifully descriptive also of flowers, the elements, places, and people. Some of these are part of the sequence alongside the passionate liturgical poems mentioned above, which he also composed for Radegund.
Pictures show John Rowlands Pritchard leading Gregorian Chant Workshops
Address:
Church Road
,
Ledbury
,
HR8 1DL
,
United Kingdom
Description:

The Parish Church of Ledbury, located at the top of Church Lane. The map marker (HR8 1DL) is the location of the photograph below if you use GPS.  Church Lane is strictly pedestrian only.  Short-term free street parking on High Street and The Homend (1 hour).  Closest Pay and Display is St Katherines, off Bye Street.  Cheaper long-stay parking at Bridge Street car park (£2 per day).  More parking information on Herefordshire Council website.

---