Friday, 5th July 2019 - Sunday, 14th July 2019




10:00 am - 5:00 pm
MAPPA LEDBURY ART EXHIBITION
Panelled Room, The Master's House
Join this artistic celebration of the Ledbury Poetry Festival's Community Programme. Hundreds of participants across the county have been creating poetry and artwork with Ledbury artist Jeanette McCulloch in response to the theme of Mappa Ledbury, taking its inspiration from Herefordshire's famous Mappa Mundi. The exhibition reflects on place and home with Ledbury at its poetic heart.
THE WATERS OF HEREFORDSHIRE
An exhibition of work by local artists and writers featuring picture books written and illustrated by Julie Louise Jones, Jose Millaks' intricate linocuts, the local books and the paintings of Valerie McLean, nature inspired glass by Mariana Pavlova, bookbinding by Jane Trevitt, and small oils by Philip Weaver.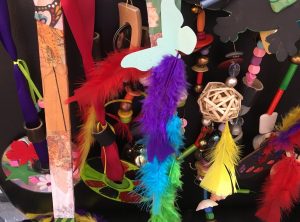 Open Door Designs (Between Ceci Paolo and Tusk), High Street, HR8 1DS
Open: Monday to Saturday 10am-4pm.
BookArt Exhibition
Friday 5-14th July 10am-5pm.
The Weaver's Gallery, Church Lane 
BookArt might be described as artwork being made from deconstructing discarded books, or manipulating the concept of a book into a new original piece. These mixed-media 'books' utilise many techniques and media including printmaking, collage, textiles, calligraphy, clay, photography and paint. Artwork from local Ledbury artists including : Jeanette McCulloch, Angie Hughes, Ann Davies, Valerie McLean, Andrea McLean, John Rose and Philip Weaver.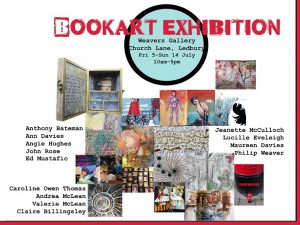 WEAVERS GALLERY – QUARTETS
4-14 July Open daily 10am – 5pm Admission Free
An exhibition of textile art inspired by T.S.Eliot's group of poems. Focusing in particular on the four elements of air, earth, water and fire, this will showcase a wide variety of styles, techniques and interpretations.