Slot 1 - 11.30am


Saturday, 7th July 2018




11:30 am - 12:00 pm

Slot 2 - 12.30pm


Saturday, 7th July 2018




12:30 pm - 1:00 pm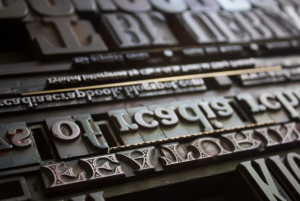 Lesley Ingram and Samantha Wynne-Rhydderch perform poems that are hot off the press in this walking tour of Tilley's Printers.
Samantha's new pamphlet from Rack Press, Ling Di Long takes its title from the Welsh phrase meaning 'to dilly dally' and celebrates walking in poems that tiptoe, trip, limp and amble in all weathers up mountains and across decks. Lesley digs into the drawers and dark corners of Tilley's to recount printing tales including The drowning of The Doves Type.
Tilley's Printers
11.30am – 12noon and again at 12.30pm – 1pm
£5
Venue Website: http://www.tilleyprinting.co.uk/
Address:
Ledbury
,
HR8 1DS
,
United Kingdom
Description:

Tilley's Alley is just off the High Street next to John Nash Antiques and Interiors.
---