Wednesday, 4th July 2018




8:00 pm - 9:00 pm
A reading and dance performance. Pascale Petit's Mama Amazonica 'is a major literary feat, and this a brilliant sequence of poems. It burns in its own supranatural light' (PBS).
About Mama Amazonica Mama Amazonica is set in a psychiatric ward and in the Amazon rainforest, an asylum for animals on the brink of extinction. It reveals the story of Pascale Petit's mentally ill mother and the consequences of abuse. The mother transforms into a giant Victoria amazonica waterlily, and a bestiary of untameable creatures – a jaguar girl, a wolverine, a hummingbird – as she marries her rapist and gives birth to his children. From heartbreaking trauma, there emerge luxuriant and tender portraits of a woman battling for survival, in poems that echo the plight of others under duress, and of our companion species. Petit does not flinch from the violence but offers hope by celebrating the beauty of the wild, whether in the mind or the natural world. Mama Amazonica is Pascale Petit's seventh collection, and her first from Bloodaxe.  Four of Pascale Petit's previous six collections have been shortlisted for the T.S. Eliot Prize.
'Since 2001, when Pascale Petit published The Zoo Father, her greatest, most singular achievement has been to tackle difficult subject matter head-on while simultaneously distancing herself from it through the use of exotic metaphor. The distancing is crucial. It lies at the core of her method, and has enabled her to procure poems of a raw, almost ecstatic, beauty and, to paraphrase Ruth Padel, to write the unwritable. In this, her seventh extraordinary collection, possibly her most integrated book so far, this sort of elongated lens is much in evidence…
'Tishani Doshi combines artistic elegance with a visceral power to create a breathtaking panorama of danger, memory, beauty and the strange geographies of happiness' (John Burnside) Tishani is a poet, novelist and dancer. Her most recent book is Girls Are Coming Out of the Woods (Bloodaxe Books), which is a PBS summer recommendation— a powerful collection of poems which deal with coastal living, gender violence, memory, happiness, ageing, and what the point of poetry might be. She lives on a beach in Tamil Nadu with her husband and three dogs. 
8pm – 9pm
Market Theatre
£9.50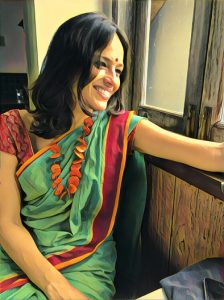 Venue Phone: 07967 517125
Venue Website: http://themarkettheatre.com/
Address:
Market Street
,
Ledbury
,
HR8 2AQ
,
United Kingdom
Description:

The Market Theatre is situated on Market Street off Bye Street 5 minutes walk from the town centre. Disabled access.  Parking in Bridge Street car park (long stay).
---