Ledbury Poetry Festival 29 June – 8 July 2018.
Ledbury is a lively and picturesque market town, close to the Malvern Hills.  It is well-known for its black and white architecture, its wealth of individual shops and its pubs, restaurants and cafes serving delicious local produce.
Ledbury is an ancient borough, dating back to the Domesday Book, where it was recorded as Liedeberge, and returned members to Parliament in the reign of Edward I. Ledbury probably takes its name from the River Leadon, on which it stands. The Old English berg (hill) has been added to the river name.
If you would like your business included in this directory, please complete the following form and email to Phillippa Slinger on manager@poetry-festival.co.uk
Ledbury Shop Windows Display Competition
Thank you to all the shops and businesses who joined in the 2017 competition! Your windows were creative and inventive and brightened up the town!
The winners in each category were:
Category 1, Outdoor Magic   Bodkins
Category 2, Poem of choice, Margaret Matteo
Category 3, 400 Years, Tinsmiths
Congratulations!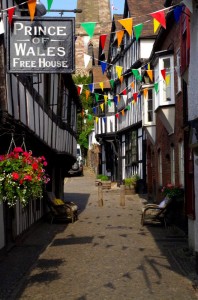 Church Lane by Harry Rook
Accommodation:
The Coach House at Homme House, Much Marcle, Ledbury, Herefordshire, HR8 2NJ. Contact Charlie Finnigan Tel: 07764 346 725 www.airbnb.co.uk/rooms/5634993 email: charlie@hommehouse.co.uk. Characterful 4 double or twin bedroom en suite C18th coach house on the private Homme House Estate.
The Dell House, 2 Green Lane, Malvern Wells, WR14 4HU. Contact Kevin and Elizabeth Rolph 01684 564448 www.thedellhouse.co.uk email stay@thedellhouse.co.uk B&B and three self-catering apartments in distinctive Regency house set in two acres of wooded gardens, 15 mins' drive from Ledbury
The Old Surgery, Bed and Breakfast, 16 The Southend, Ledbury, HR8 2EY. A discreet, charming, home-from-home in the centre of Ledbury. Two beautiful twin/superking rooms from £90 p/n.Tel:  01531 631705  M:  07786846019 email:  theoldsurgeryledbury@gmail.com
Orchard House Bed and Breakfast, The Orchard, South Parade, Ledbury HR82HA  Tel 01531 632294 Email: enquiries@orchardhouseledbury.co.uk www.orchardhouseledbury.co.uk Orchard House offers luxury B&B accommodation, a few minutes walk from the centre of Ledbury. Walled garden, heated swimming pool
Redmarley Bed and Breakfast, Orchard House, Drury Lane, Redmarley D'Abitot, Gloucestershire, GL19 3JX.  Tel 01531 650000, Mob 07973 273603,                                                                                                     Email: redmarleybnb@mail.com,   www.redmarleybnb.co.uk. Redmarley Bed and Breakfast is an attractive wisteria covered Georgian family home, set in four acres of rolling lawns and peaceful gardens, just a ten minute drive from Ledbury. With comfortable well-apportioned rooms, each with its own en-suite bathroom, a guest sitting-room and plenty of space all round, Redmarley Bed and Breakfast provides a wonderful rural escape from the stress and rigours of every-day life.
White House Cottages, Aylton, Ledbury, HR8 2RQ. Contact Serena Thirlwell Tel: 01531 670349 www.whitehousecottages.co.uk email: bookings@whitehousecottages.co.uk Five characterful self-catering cottages nestled in tranquil countryside just 5 miles from Ledbury
Woodside Country Park, Falcon Lane, Ledbury HR8 2JN. Tel 01531 670269 www.woodsidelodges.co.uk email: bookings@woodsidelodges.co.uk Range of accommodation for hire including pods, bunkhouse/studio rooms, camping and carravanning and self-catering lodges.
Please visit: http://showmeengland.co.uk/ledbury/accommodation/ and scroll down for a comprehensive list of local providers
Directory
Whether you want to lunch, do some shopping or just look around we can recommend these places to visit. The independent shops in Ledbury are one of the things that make this market town so special.
The Apothecary Shop  31 The Homend, Ledbury, HR8  1BN Tel: 01531 633448 www.theapothecaryshop.co.uk Mon – Sat  9.30am – 5pm. Organic and natural products to promote health and well-being, natural remedies, supplements, loose herbs, skin, hair, dental and personal care plus in-store therapists.
Butler & Sweatman, 64 & 155 The Homend, Ledbury, HR8 1BS Tel: 01531 631333  www.butlerandsweatman.co.uk info@butlerandsweatman.co.uk 10am – 5pm Follow us on  Twitter @Butler_Sweatman  Festival supporters since 1999, our two shops offer designer name collections. Visit us and live the magazine lifestyle! @Butler_Sweatman
Ceci Paolo Ltd, 21 High Street, Ledbury, HR8 1DS. Tel: 01531 632976 www.cecipaolo.com, email: order@cecipaolo.com Mon – Sat 9am – 5.30pm A culinary and lifestyle emporium dedicated to celebrating the enjoyment of food, wine, fashion and stylish living
Eastnor Castle, Nr Ledbury, Herefordshire, HR8 1RL 01531 633160 Open on selected days between Easter and September. See www.eastnorcastle.com email: enquiries@eastnorcastle.com. A fascinating tourist attraction including castle, lake, arboretum, children's play areas and tea room.
Ethos, Tudor House, 17C High Street, Ledbury, HR8 1DS Tel: 01531 634636 email: shop@ethos.trading.co.uk Mon – Sat 10am – 5pm. Fair trade,. organic, sustainable shop specialising in a wide range of gifts, clothing and bamboo socks
The Garsdale Retreat www.thegarsdaleretreat.co.uk email: info@thegarsdaleretreat.co.uk  Tel: 01539 234184  New exciting centre offering residential writing courses and retreats in the inspiring Yorkshire Dales. Outstanding team of tutors/guest readers including: Fleur Adcock, Ian McMillan, John Hegley. Courses for all levels. Fully catered with excellent locally sourced food.
Handley Organics  5 High Street, Ledbury, HR8 1DS , Tel: 01531 631136 handleyorganics@btinternet.com Mon – Sat  9am – 5pm. Organic fresh fruit and veg plus our own baked produce and dried goods to suit most diets.
In Stark Contrast, 17 High Street, Ledbury, HR8 1DS. Tel: 01531 632542 www.instarkcontrast.co.uk email: janepearl@instarkcontrast.co.uk   Mon – Sat 10.00am – 5.00pm Fashion shop for ladies.
John Nash Antiques and Interiors 18 High Street, Ledbury HR8 1DS Tel: 01531 635714 www.johnnash.co.uk email: enquiries@johnnash.co.uk. Mon – Sat 9am – 5pm. Interior designers and Antique furniture dealers offering the leading brands of fabrics, lighting, wallpapers and paints. All works undertaken from design to completion
The Kitchen Cupboard  21 High Street, Ledbury, HR8 1DS  Tel: 01531 635603. Mon – Sat  9am – 5.30pm. A specialist cookshop selling everything from induction compatible saucepans and frying pans to aprons, peppermills, knives bakeware and numerous gadgets
Ledbury Area Cycle Forum.  www.comecyclingledbury.com  LACF promotes leisure and utility cycling. It campaigns for improved cycling infrastructure, organises community cycling events and publishes cycling maps. The website sells maps and promotes independent tourism providers, accommodation, pubs, bike hire, and places of interest.
Ledbury and District Civic Society, www.ledburycivicsociety.org A charity promoting the protection and improvement of historic and natural features and buildings in and around Ledbury. We run Butcher Row House Museum, hire the Burgage Hall to local organisations and provide local grants.
Ledbury Books and Maps 20 High Street, Ledbury, HR8 1DS  Tel: 01531 633226 www.ledburybooksandmaps.co.uk  email: info@ledburybooksandmaps.co.uk. Mon – Sat  9am – 8pm,  Sundays during Festival  10am – 4pm. Exceptional range of books across all genres.
Ledbury News 3 High Street, Ledbury, HR8 1DS  Tel: 01531 632 507. Live till 5 Mon – Fri, through the door 'till 4 Saturday, Heaven 'till 11 Sundays. Traditional newsagents, confectioner and tobacconist
Ledbury Park Veterinary Centre The Southend, Ledbury HR8 2HD Tel: 01531 633141 www.ledburyparkvetcentre.co.uk email: info@leburyparkvetcentre.co.uk. Mon – Fri 8.30am – 6pm, Sat 8.30am – 1pm. Consultations by appointment. A small friendly veterinary practice committed to providing excellent standards of care for domestic pets, horses2180; wfwaf-authcookie-02870752arong>Market House Café 1 The Homend, Ledbury, HR8 1BN Tel: 01531 634250 www.markethousecafe.co.uk email: info@markethousecafe.co.uk. Mon – Fri  9am-4pm,  Sat 9am – 4.30pm. Breakfasts, lunches, daily specials, afternoon tea.  All homemade using locally sourced produce.  Deli sells  breads, cheeses, homemade preserves
The Muse Café, Homend Mews, Ledbury, HR8 1BN Tel: 01531 633764 www.musecafeledbury email: musecafe.ledbury@hotmail.co.uk Mon – Sat 8.30am – 6pm, Sun 10.30am – 4.30pm Check Facebook for extended hours during the Festival. Licensed with seating inside and out, serving all day breakfasts, homemade light lunches, cakes and bakes. watch out for daily specials.
Orme and Slade Natwest Chambers, The Homend, Ledbury HR8 1AB Tel: 01531 632226 email: enquiries@ormeandslade.co.uk. Mon – Fri 9am – 5pm. Family and Business Solicitors dealing with Conveyancing, Wills, Probate, Commercial Leases, Family Law, Powers of Attorney, Employment, Company and Commercial Law.
Renaissance, 1 Tudor Mews, The Homend, Ledbury, HR8 1BT Tel: 01531 635371 email: susie.mcckechnie@btinternet.com Mon – Fr 10am – 6pm, Sat 10am – 5 pm An individual menswear shop with a wide range of styles, both smart and casual for all occasions.
ThinK Travel 1 Church Street, Ledbury, HR8 1DH Tel: 01531 631114 www.thinktravelagents.co.uk email: tk@thinktravelagents.co.uk. An independent travel agent, part of the Travel Trust Association, offering all types of holidays and tailor-made itineries.
Three Counties Bookshop 6 High Street, Ledbury, HR8 1DS  Tel: 01531 635699. We sell books after many Festival events at the back of the venue, where the poets also sign their books.  The bookshop itself is just around the corner from the Burgage Hall.
Tinsmiths  8 A High Street, Ledbury, HR8 1DS. Tel: 01531 632083 www.tinsmiths.co.uk email: info@tinsmiths.co.uk Tues – Sat 10am – 5pm Fabrics off the roll, lighting and homewares. Regular exhibitions held in the architecturally acclaimed "Miracle of Ledbury" tucked away down Tinsmiths Alley
The Uncommon Touch Diane Fullerton, First Floor, Bethesda Physio Clinic, Lodge Cottage, The Homend, Ledbury HR8 1AR Tel: 01531 636507 / 07879 286544 www.theuncommontouch.co.uk email: diane@theuncommontouch.co.uk Appointments available Mon-Fri 10am-7pm Weekends by arrangement. Professionally Qualified Massage Therapist offering personally tailored massage treatments
The Velvet Bean 33 The Homend, Ledbury HR8 1BP Tel: 01531 634744 email: thevelvetbean@hotmail.co.uk. Mon – Sat 10am – 5pm. Truffles, novelties and single origin chocolates made on the premises in Ledbury. Many unique treats for all the family.
Your Name On It Ltd Unit 3B Ashvale Business Centre, Cradley, Malvern, Worcestershire WR13 5LU Tel: 01886 881081 www.yournameonit.co.uk email: info@yournameonit.co.uk Embroidered and printed clothing for work and play. We brand garments for schools, football clubs, universities, corporations, tradesmen and maybe you!