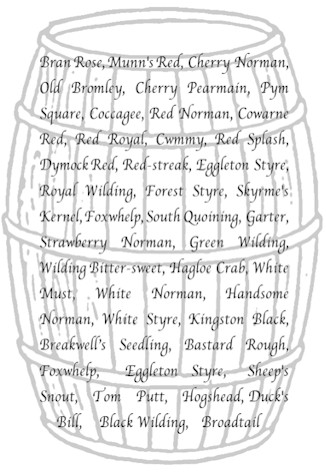 [For 2016 go to the Poetica Botanica page where we are collecting your poems based on medicinal herbs]
Welcome to The Poetry Orchard! Its trees are rooted in common ground and its apple-poems are everyone's.
We "filled" a barrel with the names of some Herefordshire apples and we asked people to contribute poems based on the name of an apple in the barrel.
To start the apples rolling, we circulated Paul Henry's poem, 'Windfalls', which gave him the idea for this orchard. It was commissioned by 'Poetry on Loan' and 'Herefordshire Libraries' and he wanted the apple names to evoke local characters so that we built up a community of apples.

Many poems were submitted and are reproduced here, and at the Big Apple Harvestime event in October 2014 a number of the poems were read aloud by the poets – recordings are also available for this – just click on the Play button to hear the poem.
Paul Henry was Herefordshire's 'Poet in Residence' for 2014.
The Poetry Orchard was developed in partnership with The Big Apple Association.

---
Windfalls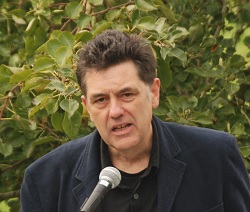 The trees are the wind's maypoles.
Their rags jingle with apples –
Old Bromley
                         Lord Hindlip
 Stoke Edith
                        Cwmmy Crab …
I drink to them, in stained glass,
their windfall of centuries –
Bran Rose
                         Doctor Hare's
 Gennet Moyle
                           Eggleton Styre …
O beaded air of Marcle Ridge
in a jar! O Weston's Vintage!
Wormsley Pippin
                      Handsome Norman
Kingston Black
                            Cherry Permain …
Once upon a Tree, a fallen kiss.
                             Paul Henry
---
Breakwell's Seedling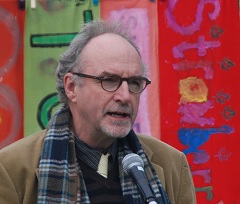 Wine buffs' wines are full
of specialist words
and intricate vocabulary
as if each word were
a significant molecular
cluster of flavour
to be juggled on the tongue.
And this cider is full of words.
One hundred apple names
to be savoured – the ripe,
the sweet, the sour –
and then all those Keatsy
words for autumn
of which my favourites
are currently 'oozings'
and 'drows'd'.
It is secretive as sunlight
at dusk, this cider
of one hundred names,
with butterflies dancing
and furtive deer.
I gulp it down
the way the female lead
gulps down kisses.
It is sensitive but dense
with desire. It prefers
implication and hint
to the out and out
confrontation proffered
by the bagpipe ciders
of Asturias. It is deep
and crisp and even.
It is the toast
of the farmers' market.
And today it toasts
the two Nerudas,
the Neruda
of Wenceslas Square
with its rococo dragon-scales
and its string quartets
and its perpetual beer
and dumplings,
and the Neruda
of the nocturnal tryst
in the captain's tower,
Matilde's Neruda,
the Neruda
of the elemental odes.
¡Viva Allende!
¡Viva la Brigada Internacional!
¡Vivan la sidra y la manzana!
Charge your glasses!
Philip Rush

---
Cwmmy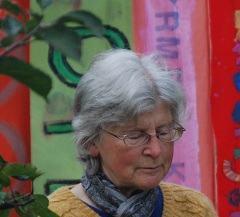 Stray cross from orchard and wild,
sweet and sour I lack sureness of stock;
paltry pip from the pleacher's bait apple,
core chucked as he heaved to his feet,
fat bacon and bread washed down
with a swig of my forebear's dry cider.
From cae under coed beside cnwc –
Cwm iau is the vale of the yoke: a meeting
of streams or a joining, as when beasts
hitched together ploughed this sour, heavy land
where the hills drop down steep
from a border more tangle than plait –
thin tree in a thicket my white
summer face laughs unseen in the high
hedge. Amid holly and hazel and birch
uncomely my one-sided crown leans over the track
to drop gifts wrapped in yellow and red,
my rosy-cheeked fruits false enticers.
Sharp windfalls hold unwept tears:
my ill-disposed ways speak shrew, yet
my varges the best of them all. When cold
wet weights the fleeces of yowes, then bring out
the lamb's-wool I'm proud of – crabs roasted,
hot ale and warm spices, sugar and cream.
Relict of time long gone.
when meaning held in the green world,
I endure, I survive, I am old.
cae   a field
coed   a wood, trees
cnwc   a mound, a knob
Cwm iau   the vale of the yoke, from which Cwmyoy
varges   verjuice, tart cider used as vinegar
lamb's-wool    an old drink.
Gillian Bate

---
The golden apples
Turn right off the road here
down the slope to the lower level
it's soft at the bottom
engage the four by four
we are in the orchards
the pickers passed last week
apples they have missed
are gleaming on the trees
slowly we pass the ends of rows
ground scarlet with windfalls
the two girls are perching
in the back of the truck
– hold on tight I shout and
– lie down low branches coming
ripe fruit is falling on us
later we will pick the golden apples
before pressing pulverise them
only then do they give up
their juice in gushes
we move slowly on
past the ruined building
past the old reservoir
the village comes into view
the girls bang on the roof we stop
they have put bandanas on
they are hauling the gun round
cranking it up aiming
the truck rocks and shudders
spits and puffs flicker in the trees
the girls bang on the roof again
we reverse out and head away
in the mirror I see a woman
holding a kind of dart
running fast and catching up
I shout to the girls – throw down
one of the golden apples!
the woman pauses to pick it up
and runs again faster than before.
Jim Dening

---
Red Royal
Spinning
together
in the washing-up
bowl blushing beauties
blissfully bobbing.
Our apples where hard
to catch as our eyes
fixed firmly shut,
our mouths like swollen
fish.
We dipped and ducked
half breathing to bite
into the elusive apples,
their shiny skins
let water spill onto
our bare feet.
Mum later covered
each apple with dark
dripping treacle toffee
our names neatly written
on lolly sticks Impatiently
waiting for them to set,
touching them until
they had dimples
fingerprints around
each one.
Mum remembers the toffee apple man
when she was a child, he cycled the
streets balancing boxes of toffee
apples on the handlebars of his bike.
We slept well that night
a sticky mess left a sign
on our pillowcases,
a smile a circle of toffee
as we slept through the sound
of the last firework of bonfire night.
Lorraine J Wood
---
Kingston Black
From body, to earth, to worm, to bird;
Transubstantiation is the word.
It takes what's left of your mortal bulk,
except for the teeth, which are left to sulk,
and of course the bones, those tired struts
no longer hidden behind ample guts,
and quietly turns the fat and lard
into the soil of someone's yard.
The worm, that hermaphroditic string,
adorns itself with muddy bling;
and once engorged on human meat
it needs to surface to excrete.
It's so preoccupied in making its cast
It fails to notice the downward blast
Of thrumbing feathers, a flashing beak;
And the worm has turned (so to speak)
From living creature, the gardener's friend,
To a bird's dinner; a grisly end.
But this just completes another stage
Of life's strange journey, another page;
Molecules taken from human remains
Are now coursing through avian veins.
Is it possible, in this vision of things
That a dead-man's smile is resurrected in wings?
Steve Cross

---
Red Royal
Sweeping through the autumn leaves
I didn't look forward to these eves,
But from time to time I got to sneak,
Away from my task, to take a peek,
Through the fields I hurriedly sped,
And stole a glance at our apples so red.
Even though there were apples to buy,
I just wanted to eat the ones that were mine!
And even though my apples gained fame,
My bond with them had certainly stayed,
I recall this to be a strong memory, this apple rhyme,
Even though I was small at the time.
Lara Gardner

---
Forest Styre
O nature ! be my spouse
take me on thy journey to unravel your mystery
exploring newness everyday
with no morning ever the same
and shadowy nights and stormy evenings
the setting sun to a new beginning.
O nature ! what might you show,
as you wash the shores with speckled water
and breathe fragrance into arid lands
and feed the trees in no mans lands
and keep them green in sun and sand.
O nature! for your humility with which you bow low to the sun
with which you feed even the smallest ant
your grace with swaying trees in the coolest breeze
as your anger vents through the storms
and your love through the flowers
as you swiftly let go of the scotching heat and sprinkle life with
thousand raindrops.
O nature ! with no difference that you render
between trees of different types as they grow side by side
and joyfully lend a hand to eachother to kiss the sunlite beams.
O nature! how does it feel to tend the feet that crushed your heart
with selfish passions not sown by your love?
now do I deserve a spouse so endearing as I belong to the same
selfish lot? I wonder.
Belita Sequeira

---
Skyrme's Kernel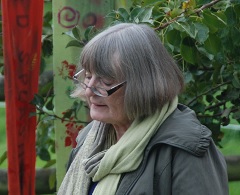 While gentlemen of England
lamented the loss
of their American colonies
Mr Skyrme of Brockhampton
looked to his orchard, bred
from a pip of apple life
a bittersharp, red-streaked
on yellow, good for cider,
named his kernel for his family.
While gentleman of England
lamented the loss
of their British Empire
Professor Skyrme
in his physics lab
hypothesized a particle
of universal life
named it the skyrmion;
a second Skyrme's Kernel.
Diane Jackman

---
Eggleton Styre
When he calls your name
You know it's time
When from the distant shores of wakening
Into the tunnels of hearing
You sense his presence by your side
And his voice connects with your mind
You obey and reach out a hand to grasp
The one that's fallen on to the grass
As hunger pangs grab your mids and squeeze
Lifting your senses o'er the evening breeze
– As a dance partner –
And you, you lift the Eggleton Styre
And chomp down hard
And what follows is a frenzy of consumption and consumation,
Your senses sent senselessly into a spin
Of satisfaction
Juices reaching for your core
Soothing what once was sore
As slowly and sure
You feel the dancer's hands loosen and caress
where once they pressed
And you fall back again into that deep sleep
As your parents look down lovingly at you and whisper
"Ah, Bless"
For your tiny tummy is once again at rest.
Good night mi bambino.
Edewede Oriwoh
---
Garter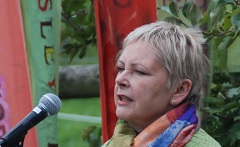 Midsummer's eve:
you peel an apple
its skin a snake
a stocking ribbon
and curl it
under your pillow.
In your dreams
you see me
offering my life
and the small
stranglehold
of marriage.
In the morning
a soft, red bruise.
Lesley Ingram

---
Strawberry Norman
An insect first discovered this,
circumnavigated
with tickling feet
immeasurable globe,
red continents
on a green sea.
Tiny-punctured and sipped.
Apple-mundi,
Genesis,
birth-star of secreted seeds.
Earth-fed, rain-splashed,
sun-ripened, wind-blown.
Sharp-sweet is life's flavour.
Angela Saunderson

---
Gennet Moyle
No stranger here, born and raised
on the red earth of Archenfield.
I have walked these Tudor Hundreds
my peddlar's pack tight with temptations,
ribbons blossom pink as her cheeks.
She calls me strong-limbed, vigorous:
a flush of scarlet warms my weathered skin.
Shall I forsake the road, hear the banns,
plant my seed in these gnarled orchards,
gather the sugar laden fruit,
and press the sharp amber juices
to drown my wandering soul?
Jayne Arnott

---
Forest Styre
a badger digs
and the earth
swallows the dust
an ocean of time
drips life
by drop
into a band of limestone
until a season pulses
into a landscape
into the curved corners
where forests of secrets grow
where spiders knit net curtains
for worms
sweet shops open in meadows
buttercups ten for a ha'penny
a jeweller sets up shop in the woods
styres suckle the fingers of giants
summer fizzes
in the empty puddles
of cobbled streets
but even man cannot stop the wind
stripping song from hedgerow
in the silence
something stirs
an army of ants shares out the soil
owls are mapping out the night
to sell to next year's tourists
a pip Googles the weather
Sarah Dolan

---
Foxwhelp
I'm not supposed to have fond memories
Of my father, from my younger years.
I'm not supposed to remember
When he made me the smallest ladder you've ever seen
Because I wasn't as tall as my big sister.
And I know I'm not supposed to think
Of how he built us things
Like our swing-set or my personal
Little step-stool, with the door in the back
Where I kept papers and toys and keepsakes.
That's not the same man my mother left.
But he built me a swing-set,
He gave me a homemade step-stool,
And he learned to make us dinner.
And he taught me where to pick apples.
He showed me how a farm works;
How a tree rewards,
And how an animal remembers.
Foxwhelp, we picked.
And that will always be my favourite apple.
Even though the tree on the lane wasn't perfect
And some of the fruit went bad too fast
And some had been pecked by low-flying birds.
But the thing about that tree was,
If you really looked you could find one or two
Of the most bitter-sweet apples.
And those are my favourite fruit.
Rose Fortune

---
Handsome Norman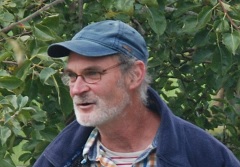 Down through aisles of orchards
along green hills
I lost myself
down lanes of blossom
as down,down I went
losing my blue hills
before finding all the summer's suns
rosy among the trees
until slipping into sleep
beneath stars rolled out among branches
I woke to boughs bearing pippins,
Pearmains, Lambournes and Stoke Ediths
with Handsome Normans hanging
between Crispins and Crummy Crabs,
each one waiting
the clasp of hand, the pull of earth
like the First and Last apple
in our long-lost Edens.
Hilary Jayne

---
Cherry Pearmain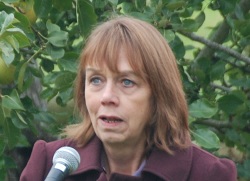 I hang in orchards
tempting boys,
a courtesan with
scarlet lips.
I make red moons for
lovers, show them flesh,
I watch them bite
on bitter pips.
Old men cup me
in their palms
and dream sweet
pressings in the dark.
Then bruised, but comely,
in the grass,
I melt, too fallen,
at the last.
Corinne Westacott
---
Dymock Red
Two crows diverged above Aston wood –
silhouette kiss, in a red streaked sky.
The first crow flew as far as she could,
beyond all wonder of where and why.
With a jackdaw's 'chak ! ', the second crow
fell into someone else's dream.
One poised moment's horizon glow
slips down a black hole, sooty seam
near as next brain cell, near as skin.
Two birds diverge. The one flies on;
the other flutters, still trapped within,
till new sky fissures, – and she's gone!
Returning home, Frost's poem of the way
distracts in darkness, and I take the turn
to Ledbury, and towards Dymock stray,
on tangled roads, hearths cold, or apple-burn.
So many paths, with no choice but to choose;
we take our chance, no going back to this.
Not seeing freedom, beyond 'win' or 'lose';
a freedom where 'the road less travelled' is.
Jane Spray
Note: Robert Frost's poem, 'The road not taken'. Frost was one
of the Dymock poets, for a while, and stayed at Little Iddens farm,
with its apple orchard. Dymock Red apple wood may still be burning in
some local cottage hearths. Jackdaws have a habit of trying to nest in
chimneys.
---
Redstreak
Cultivated in Holme Lacy,
I am Redstreak,
raised by Lord Scudamore,
he called me Redstreak.
Plucked only when I'm ripe,
when I'm red-streaked,
then beaten to a pulp,
I bleed red streaks.
A pitcher for the future,
blood fermenting,
to a pitcher full of cider,
cheeks now red-streaked.
Propagate my cuttings,
future Redstreaks.
Simon Thompson

---
Cherry Pearmain
apples for Apple day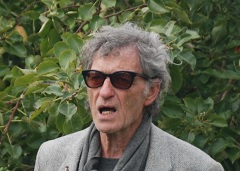 (Apple day 1999)
here's a Bramley's Seedling for Mum's pastry
a Golden Russett for our red-haired son
the juice of Cox's Orange Pippins
for his baby brother to suck on
a Cherry Pearmain for my sweetheart
she is the apple of my eye
and in memory of my dear dad
fill a plate with perfect apple pie
Beauty of Bath and Newton Wonder
Laxton's Superb – we kiss and pray
that for every home-grown Stroudie
there's a home-grown Lodgemore Nonpareil
a deserv-ed windfall for all teachers
be they average good or bad
sweet Sturmers for all shining schoolgirls
the pip for every sullen lad
a rotten apple for all preachers
young Eve was right – their God was wrong
and apple maggots for all monarchs
and their sour corps of hangers-on
some poisonous apples for Monsanto
organic apples for the Green
Golden Delicious for Newlabour
so tasteless bland and in-between
apple fritters apple dumplings
charlottes crumbles glazed French tarte
chutney strudel scrumpy cider
each reipe a work of art
sharp apples served with Demerara
cloves and cinnamon clotted cream
almonds honey baked Alaska
the stuff of everybody;s dream
so celebrate our apple history
keep apples ever close to heart
sow them grow them store them adore them
but never upset the apple cart
no never upset the apple cart
Jeff Cloves

---
Red Norman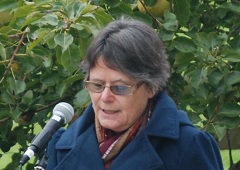 A red wheelbarrow?
a green wheelbarrow?
I'd prefer a car.
Not sure about Norman.
He nursed the strawberries
and the wall-bound raspberries.
Crab apples, strong and red;
the tree had measles.
The children had measles
and the jug was stripy
(blue stripes not red).
The dream car was red
with silver wheels.
Not much depended on that.
Perhaps the wheelbarrow was
green with a red ball wheel?
I recall a small boy
hanging on the handles,
wanting to be thirty.
But we never knew
about Red Normans,
small sharp apples
rolled into the trailer,
crushed into red juice,
fermented and fizzy
for your delectation!
Cheers Norman!
Judy Dinnen

---
New Bromley
Old Bromley
Is it for the vitamins
To sustain me through
The sniffling winter months?
Is it for the speed
At which I can crunch
To the core during break?
Is it for the frustration
Of trying to grasp something bobbing
Stubbornly in deep water?
Is it for the expression
Of noisy, unrestrained delight or
Sharp, crisp rage?
Is it for the accompaniment
Perfect for the pork, unroasted
During busy Sunday afternoons?
Is it for the shape
A comforting, solid palm-ful
Unyielding in times of stress?
Is it for the ingredient
Of the cold dry cider drunk
In six weeks of summer freedom?
Is it for the trust
That will always be tested
In a chaotic volley of arrows?
Is it for the ripeness
Among worn carpets, dog-eared books,
Unimpressed faces – something is new?
Jodie Gardiner
---
Stoke Edith Pippin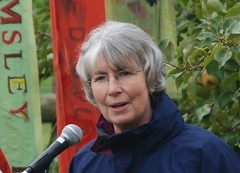 Stoke Edith 1870
Soft pale flesh,
russet freckled over gold
with rounded ribbing.
Wilson's Gazetteer
A hundred houses, a church,
drives for shooting and
the garden sundial –
'I count only sunny hours'
– a small pearmain fruit.
Great Western Railway
Sugar beet, hops, cattle and
coal in the sidings.
Tasted at my best
picked early in November.
Sweet, slightly perfumed.
Stock from this estate
Walwyns, Millwaters, Foleys
and me, the pippin.
Varasahaya
---
Bastard Rough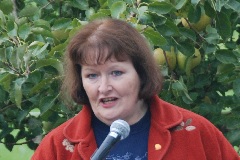 Brasher than a kiwi
rougher than a russet
as prickly as shetland wool
that irritates your skin
scratchier than sacking
itchier than hessian
as snaggy as brambles
that snatch at your shins
as coarse as a besom
or a bear's backside
or if you want it coarser
an ursine arse.
I always liked a bit of rough
the acid of the scrumpy
that rots away at innards
and dissolves whole rats
but you are the worst bred
bastard of the roughcoats –
endangered variety
and dangerous to grow.
         Sharon Larkin
---
South Quoining
There were about three dozen in the room
grey-suited bricks in the corporate wall
elements of masonry indistinguishable
from each other – except for one stone
dressed differently, standing out proud
in decorative contrast to adjoining blocks.
Some might label him creative or a rebel,
a dangerous subversive, a wedge set
to smudge the neat print of the house style
or raise a gun to shoot down groupthink.
He was the only one in the room for me,
and I was the only skirt. Two bad apples.
 Sharon Larkin
Quoin:
Exterior angle of a wall, often of large/dressed stones to contrast
with adjoining walls.
In printing, a wedge-shaped block used to lock type in a chase.
A wedge used to raise the level of a gun.
---
Cwmmy Crab
i
A stitchwort shift, a bluebell shawl,
I'll cast aside in dancing;
hart's tongue moist, fox gloves tall,
blossom frail, confetti fall,
I'm eager for the asking.
For I can call the fat cuckoo
from Broomy Hill to Dol-y-Cannau;
smooth frogspawn for my lover's pillow
down in Dinedor's dells.
ii
Eels easy slip damp meadows soft;
barn owls ghost, unseen;
badgers dig for brooding wasps,
scatter paper, fluster moths,
to feast upon a queen.
For I can see fey gloworms beckon
along faint tracks from Leinthall Starkes,
sisters beyond coiled adders' bracken
down in Llangarron's valley.
iii
Haws and rosehips; rain-jewelled hedges;
sloes darken tangled thorns.
Breathe deep, tread light; flame leaves now pledge
renewal fed by little deaths,
a rich bed to keep you warm.
For I can hear the insects scurry,
as hedgehogs feast in Beggars Ash.
We'll harvest truffles, juicy berries
down in Hoarwithy hollow.
iv
Burning apple wood, sweet-smoked bright,
you'll naked wait my coming.
Beyond Imbolc flames, snow drift white,
beyond paw-tracked path, moon's icy light,
I'll rest my ceaseless roaming.
For I can waken dead that lie
beneath the crust of Sugwas and St Weonards;
whispers linger, deeds gone by
down in Kymin's cwm.
Myfanwy Fox
---
Redstreak
(IN TOM JENKINS'S ORCHARD)
I was one of the family
sometimes scarce noticed
by Mollie, Dick or Fred but
Tom was different. He would
light his pipe close to me. We bonded,
shared the aroma of his 'Digger
Flake', rubbed between fingers,
caressed into that old briar pipe
and Swan Vesta lit.
My home, a little orchard, a small
corner. My space next to the
dew pond was sacred, ephemeral.
My spirit still flies, giving it the old
once over. Good people remembered.
You can find them in the Churchyard;
sweet smiles always.
John Edwards
---
Hagloe Crab
So far from the sea.
Legless, let alone five pairs.
Scurried sideways a ways after dropping, then nothing.
Simon Barraclough
---
Bastard Rough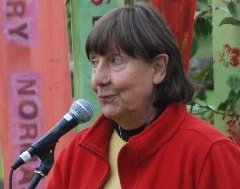 Handsome Norman
or plain Tom Putt?
(But every woman loves
a Bastard Rough).
Gill McEvoy
---
Strawberry Norman
Strawberry Norman
Has a bright red nose
A drop of Stunnem
Keeps him off his toes
Cider's for quaffing
When the harvest's done
It's not for nothing
We drink cider, my son
It's part of our history
And our heritage
Says Strawberry Norman
Under the hedge
William the Conqueror
Brought that apple here
Now we've got cider
Who needs beer!
Jane Spray
Note: Stunnem – the descriptive name of a strong cider mentioned in
'Too Soon Out of the Oven, Memories of Woolaston' by L. Hoskins
---
Green Wilding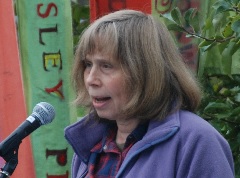 Tucked in a field corner, out of the wind's blare,
my shy Green Wilding. While frenzied trees
pounce and ripple on the mad piano air,
she stands, swaying gently, sheltered by
a huge Oak, bursting soft green fingertips,
and a great, tangled, jazzy-shadowed Yew.
As sunlight falls on brief blossom; it skips
into my mind, with ripples from another time
when I first met my Green Wilding. Back then,
a slip of a thing, just finding her feet
in the sandy loam, where I made my den,
for the view, and for sweet refuge, lurking. . . .
Green mounds upon green; field becomes meadow;
I watch green apples form, as buzzards mew.
Lying in flattened grasses, like the fallow;
her lithe limbs my shelter and delight.
The round sun tumbles down through golden leaves.
Apples, small, and drained of green, in moonlight.
Badgers investigate; sweeter these
than Foxwhelp, Hagloe Crab, or Forest Styre.
Standing in the corner of the white field,
not so sheltered now, my Green Wilding.
The great Oak is down, that was your shield.
My bed lies cold and bare in the morning.
Jane Spray
---
Stoke Edith 
Stoke, Edith.
She heard it every day
when Mrs. Roberts called the register.
She sat up straight, hands folded in her lap,
and tried to keep as rigid as her desk.
Desks were wooden, silent,
and never got in trouble,
and neither did Stoke, Edith.
Stoke, Edith.
It rang across the parade ground,
where she was one of many, dressed in green,
like apples on a tree,
but not so wayward.
Secure in a rulebound forest,
Stoke, Edith tried to reach the sky,
head high in its peaked cap,
foliage neater than topiary.
Stoke, Wilfred.
It was harder, now,
to stand tall
as she looked upon her brother's name,
carved in granite,
a permanent reminder.
She remembered his initials
scratched on bark,
now faded,
part of nature's markings.
Stoke, Edith,
handwritten
in a different kind of register,
ink blue-black as midnight
and the clothes of the three mourners,
head bowed with the weight
of fruit untasted.
Brenda Read-Brown
---
Forest Styre
There's none in the house, so I
slice pale-skinned fruit into water
and imagine the Styre's riches.
No tree in the parent orchards
still claims this knowledge. Yet
there's every chance one survives,
grafting alone in a private garden
somewhere, aged limbs cradling
hidden, precious bittersharps.
Apple. Apple. Stubborn idea
yielding again and again,
from the grasses, a suggestion
held up to blush in the light.
This home-grown thinness
dwells on the tongue like a curse.
With every sip, my sweet taste
quickens for what is uncommon.
A little cider is a dangerous thing.
Paul Adrian
---
Red Splash
What whisper graces the glass
for it's molten heart to sag, fall,
burst on the workshop floor,
leave piper mute, a fruitless tree?
Paul Adrian
---
Sheep's Snout
POMEROY (of Herefordshire)
I'm Pomeroy
Orchard Keeper for Lord Hindlip
I have relatives, I'm told,
in Somerset and Lancashire
but I'm from old
Herefordshire stock.
I'm Pomme-au-roix,
the choice of kings,
pedigree unblemished.
My waistline's spreading
but the wife doesn't mind,
she says I'm short and sweet
and she loves my soft flesh.
It's her apple crumbles;
she knows I love 'em.
I'm out in the orchard
come rain or shine.
If I nod off for forty winks
I tend to catch the sun.
I used to have freckles,
they're age spots now.
I've got a keen eye.
Folk think I'm sleeping
but I'm taking it all in.
I've watched Handsome Norman
in the meadow with
My Lady's Fingers
stroking his skin.
I see all, say nothing,
first rule of service.
They had their fun
till old Sheep's Snout
told his lordship of their games.
Last I saw of Handsome Norman
he was in the nettles
without his trousers.
Fallen.
Christine Stibbards
Varieties: Pomeroy, Handsome Norman, My Lady's Fingers, Sheep's
Snout
---
Green Wilding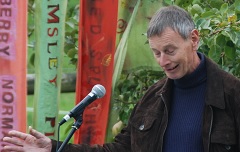 The key is blackened,
the door charred,
storeroom wreathed in smoke.
My God, can any
of the crop be saved?
That black key,
must unlock it.
Reach out, fearfully.
Aghhh, hot as hell!
Green fingers, blackened.
Black Wilding.
Jonathan Mayman

---
Fox Whelp
Open envoy of the truth with tattered   tales from
distant lands to tell.
Of merry monarchs and damsels fair.
Heaven sent for my despair.
Open gulfs he leaps with ease
and with silver tongue
weaves golden threaded tales
amongst the purple and the grey.
Mike Ennion

---
Green Wilding
The grass is greener on the other side they do say,
I went to Australia.
It was the same green.
I have to say.
I went into the country side to.
In to the wilding parts.
It was the same green to.
Brian Loughborough

---
Garter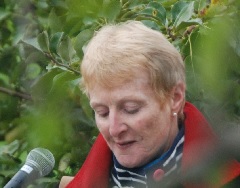 a cobbled courtyard;
teak stained wood,
except for a single chair
painted blue.
Dainty purple pansies,
yellow centred
in pots of similar hue.
Montana spreads abroad
and ivy clambers
a twisted trunk.
Exotic women eat cake,
discuss dark chocolate
and diets;
at a table set for one
a catalogue of looks
lies open;
eyes are mesmerized by
sweet flesh, flushed red;
wicked to the core.
Kez Padley

---
Strawberry Norman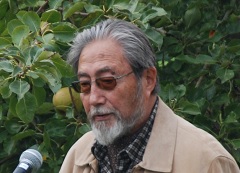 When apple blossoms shed their petals,
Apples emerge to show their metal.
But autumn's haste brings windblown fallen
To blush the cheeks of Strawberry Norman.
The orchard's stillness disturbed by hornets,
Made quite drunk from poor Norman's upset.
Rush, bring baskets to pick up Norman,
To make scrumpy for Hereford Yeomen.
Frank Waller

---
Cherry Pearmain
Come, drink the rain with me, lass, run
fingers of blossom through my hair,fly
at the wind. Grow shyly, swallow the sun,
when I'm not looking you'll still be there,
swelling like a hip, a small star and pips
in a belly, constellations under your skirt.
Come, be the apple in my eye, blush
as if you can picture the workers dance
in the barn, drinking you in, our rusty blonde,
molten summer in our grip. Let the rain roll
over you, wash your pale freckles one last time
and do the twist, lass, fall into my hands.
Angela Readman

---
Skyrme's Kernel
I was a flower once – my calyx tells you
that.
This cockled eye a souvenir of
Petals spread before partaking hands,
Snickering up the vestige of my
Scented dander; glutting until I had none.
I do not mourn these moulted silks –
Am too engrossed with motherhood,
Building my layette of waxen skin; my
Burgeoning of russet blush on fatted cheeks.
I paint myself delicious red but find
That I translate to mouths as full and bittersharp –
Am left to freefall, landing distal to the branch and
There my flavour churns to brown ferment;
The bruising soft as dewdrop demilune.
Wasps bore holes in crawl space through my flesh –
Leave grubs that gargle down my complex flavour.
I let them eat – my loculus of nested pips will be
The last to rot, then hopefully regrow.
Jane Burn

---
Foxwhelp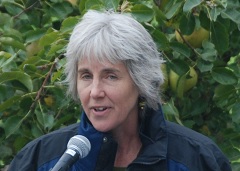 apple thickens on the branch
its skin mouth-water taut
reddening, bark-rubbed
in this acre of uprighted wands,
with dapple-dance
of windfalls, ladders
young vixen perfect in the first-light
orchard, her legs and belly
slashed with dew
small apples mumble
in the baskets, whimper in the press
their juices leak, thin yellow,
drip through channels, brew
that rough-skinned smell
and dark taste on the tongue
he scratches his white head,
sips; his hound pup lolls
on the stones by his feet
Jean Atkin

---